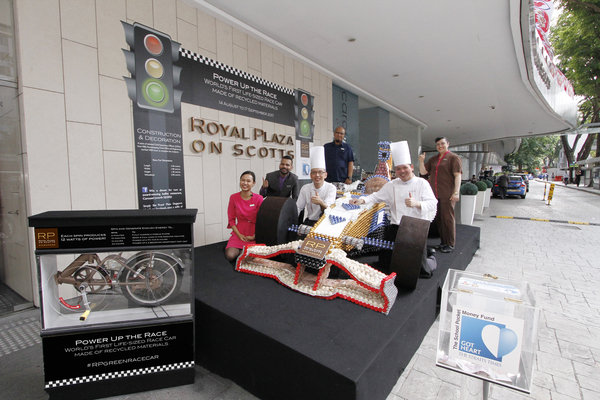 Come 15 September, Singapore will be hosting its tenth Grand Prix motor night race and to commemorate, Royal Plaza on Scotts (RP) is presenting a life-sized race car made of recycled materials.
Together with the combined efforts of the hotel's talents, also known as Chief Experience Officers (CEOs), from various departments, who started the collection since May this year, 1392 fused light bulbs and fluorescent tubes, 5825 used coffee capsules, 4270 seashells from mussels, scallops and clams, 452 old bottle caps as well as 588 drained batteries have been collected for the entire construction of the race car display.
The race car, which measures 4.40 metres long, 1.90 metres wide and 1.30 metres tall, is constructed by a team of talents from the culinary, housekeeping, front office and engineering departments led by RP's Executive Chef Darren Ong and took 1435 hours to complete.
In addition to the eye-catching race car, a hand wheel is added on to the race car. By spinning the wheel to produce electricity with kinetic energy, the public can have a go at powering up the race car and watching it light up in front of their eyes. The display also explains how much energy is generated through the motion. For example, one can generate enough energy to fully charge up a mobile phone by spinning the wheel for two minutes or power up a three room apartment for a night by spinning the wheel for 48 hours.
Along with the race car, a donation box will be placed to raise funds for the less fortunate. The total amount of funds raised will be matched dollar for dollar by the hotel to encourage the public to make donations. All proceeds will go to The Straits Times School Pocket Money Fund (STSPMF), which supports over 150, 000 cases of less privileged children and youths by providing them with monthly school pocket money.
General Manager and Chief Experience Officer (CEO) of RP, Mr Patrick Fiat, said, "With the efforts of all our CEOs, the team has created another exciting race car display for Singapore's night race and at the same time, help to raise awareness for recycling efforts and for the less privileged in our community."
Guests and the public are also invited to participate in the hotel's Share Your Moment Facebook giveaway (28 August 2017 – 18 September 2017) where the winner will receive a dinner voucher for two at award-winning buffet restaurant, Carousel (worth S$200). To take part, participants simply need to like 'Royal Plaza Singapore Hotel' on Facebook, post a selfie with the completed race car in the comments, state why they should win and tag the person they wish to bring to Carousel.
RP's life-sized recycled race car is now on display at the hotel's façade till 17 September 2017.