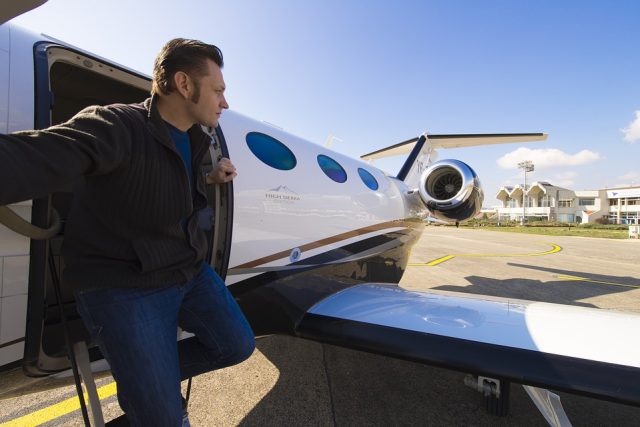 From getting kicked off due to overbooking to being trapped on the tarmac for hours, commercial travel has never seemed less appealing. Luckily, there's one company working to change the game for how Canadians travel. Think private, think luxury and very Kardashian approved. You guessed it, personal jets helis and more, because why not?
Jettly, the first of its kind in Canada, is a private jet booking web app that instantly connects travellers with cost-effective and lavish options for exclusive travel. The best part? It's all done on your smartphone and in just a few taps, voila – your personal aircraft is ready to whisk you away. If that's not enough, the experts at Jettly rounded up a few other reasons why chartering a private plane is clearly the way to go:
It's more convenient than ever
The advent of the sharing economy has revolutionized society and now it has cast its magic spell on another industry – aviation. Chartering a private jet is no longer an unimaginable task, but rather a simple and conceivable act.  With Jettly, you can book door-to-door transport services and multi-leg journeys all from the touch of your smartphone via their web app.
It saves you time
If time is money, then private travel must be the most cost effective option out there. After all, who has countless hours to waste at the airport prior to flight departure? (Certainly not busy business executives!) Not only do you skip security lines but by essentially creating your own flight schedule you can avoid long layovers and waiting around for connecting flights.
There are major money-saving deals up for grabs
Yes, we know, YYZ Deals and Next Departure have great discounts, but if you could save up to 75% on the cost of a conventional private jet charter, why would you not? Every time a jet is booked, one of the flights either to or from the destination becomes available as the aircraft repositions to pick up its next set of passengers. This is known as an empty leg flight. Here's a tip: sign up for empty leg notifications and save big!
You have direct access to more destinations
Thinking of heading up to Muskoka for the weekend? What if you could land on water just outside your cottage? Thanks to their size, flexible flight routes and access to independent airports, you can do just that. When flying aboard a private jet, you can essentially arrive at the door step of your final destination.
You can control the food
Say goodbye to microwaved pasta, and hello to fresh oysters! The sky is literally the limit when it comes to your personalized onboard menu. Make sure you put in your requests ahead of time, because the last thing you'll want is to miss out on is the Veuve!
You can bring your pets on board
Let's face it, our pets are like family and for any true and devote fur-mom putting their fur-baby along with the cargo, is just not ok! Thankfully those dark days are gone. Your beloved four-legged best friend can be treated to all the VIP perks of first class – fresh food, plush beds, and if they're well behaved maybe even some peanut butter.
 It makes booking repeat travel easier
Don't worry if you're not super tech-savvy. While technology certainly makes things easier, we know there's something to be said for traditional methods. Companies like Jettly have a dedicated team of experts ready to make your personalized travel experience a reality. Simply tell them your travel details and special requests and they will do the rest.
It's the best way to travel with a large group
Leave no man behind! Bring the whole gang on your next vacation when you fly private. No matter the size, an aircraft will be found to accommodate your needs. And for those that are always running later, don't worry, your jet will wait for them too!