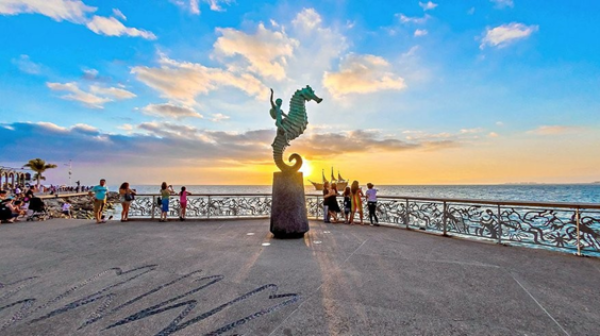 A series of artistic, cultural and sports activities make up May Fest 2018, as Puerto Vallarta continues celebrating its centennial as a municipality and 50 years as a city. Organized by the Culture Institute of Vallarta, with the full support of the Puerto Vallarta Tourism Board, the Ministry of Culture of Jalisco and the Municipal Council of Sports, the May Fest 2018 main stage will be located next to the city's original lighthouse, now on the Malecon seaside promenade.
The lineup will feature a number of local acts, such as the award-winning Xiutla folkloric ballet, the Salty Feet Jazz Orchestra, the Alas singing school and performance trio La Boquita. International performers will take the main stage, as well. Grammy-winning group La Santa Cecilia — which earns critical acclaim for its mix of genres such as cumbia, bossa nova and boleros —  be the closing act the night of May 26, while Colombian group Bomba Estereo, will close out the night of May 30.
May Fest 2018 will conclude Thursday, May 31 with the cutting of a double-anniversary cake to the sounds of a mariachi band. Closing honors will go to Mexican superstar Pepe Aguilar, to be followed by a pyrotechnic show and performance by Sonido Satanas, a native Guadalajara group whose mix of cumbia rhythms with other musical genres never fails to get listeners on their feet and dancing.
Other activities also will take place across Puerto Vallarta's neighborhoods. The Marina hosts the Centenary Expo from May 18 to June 3, with international exhibitors from Algeria, Cuba, Peru, Colombia, Uruguay, Syria, Turkey, Lebanon, Russia, Tunisia, Egypt, Panama, Thailand, Iran, Ghana and Ecuador. Visitors will be able to purchase crafts and sample regional and international cuisine. The Museo del Cuale on Cuale Island, meanwhile, will reopen during the festivities with an exhibition of the archaeological remains of a Galeón de Manila, or Manila galleon (also known as La Nao de China, or "China Ship"), which illustrates the anthropological, commercial and cultural ties of Puerto Vallarta and the Far East. The exhibition has the backing of the National Institute of Anthropology and History (INAH) and the San Diego Fort Museum. And, starting May 25, two photographic installations recalling key social, economic and cultural events that have shaped Puerto Vallarta since its founding will be shown on the Malecon.
Puerto Vallarta will celebrate its birthday the entire year. Major local events are joining in on the festivities; the MEXorc Regatta in March featured a Centennial Race from Los Arcos to the Malecon, Vallarta Down was held for the second edition and Vallarta Pride hosts a traditional Mexican feria, or fair, complete with clowns and churros in late May. This year has seen the inauguration of many new events, such as the Puerto Vallarta Open, which took place earlier this month. Other events are being worked on and will be confirmed as the months proceed. For more information about May Fest 2018, go to http://www.puertovallartaalcien.com. For more information on Puerto Vallarta, please visit www.visitpuertovallarta.com