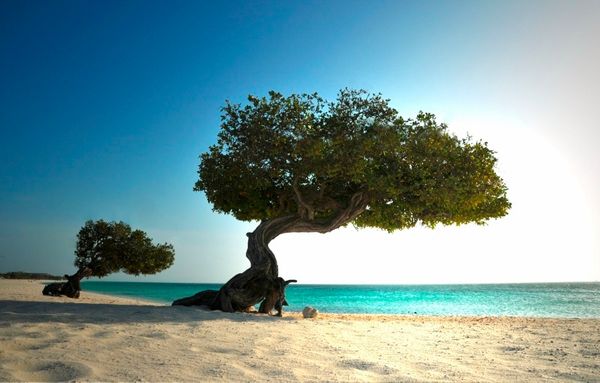 Colourful culture has long been part of the tradition of the Dutch Caribbean island of Aruba but for those who think this just refers to its annual carnival extravaganza, think again.
The island has a vibrant arts scene, with studios dotted around the island producing amazing work, from glass and ceramics to driftwood creations. And all welcome visitors, whether it is to browse, buy or take part!
For example, Vela Aruba, based on Palm Beach in front of the Marriott Resort, is a hip water sports company which has branched into offering a driftwood workshop one evening a month.  Artist Maja Lepsanovic hosts the workshop under the stars on the beach, where locals and visitors learn to paint on driftwood, turning the salvaged, weathered pieces into colourful artwork—a truly authentic piece of Aruba to take home! www.velaaruba.com
Husband-and-wife duo Ciro and Marian Abath launched Terrafuse in 2008 as a non-profit organization promoting glass art, ceramic art, and other art forms on Aruba. Terrafuse is located at Ciro and Marian's property along the road to Alto Vista, the village at the western end of the island.
Behind their quaint traditional 'cunucu' house are three studios. Ciro and Marian appreciate the special spot they have created and enjoy sharing it with the local community and visitors, who are encouraged to participate in glassblowing, bead-making, and ceramics workshops on the grounds. www.terrafusearuba.com
Meanwhile, Cosecha Store & Creative Centre is located in the heart of Aruba's southern 'Sunrise City' of San Nicolas. It is a platform for local artists and craftspeople to exhibit and sell their work. All arts and crafts sold here are certified by the national seal of craftsmanship, Seyo Nacional pa Artesania, established by the government of Aruba through the Department of Culture.
The centre also offers workshops featuring hands-on experiences in a variety of art disciplines presented by local artisans, including the occasional sip-and-paint wine and art concept, as well as workshops for children.  www.arubacosecha.com
Also in San Nicholas, the up and coming art hub of the Caribbean, Espacio Azul is a space positioned as an intersection of artists and craftspeople from the Caribbean and Latin America. More than 100 Aruban, Caribbean, and Latin American artists are featured here.  Workshops and sip-and-paint events are also held here.  www.espacioazularuba.com
Neo pop artist Elisa Lejuez wows with colour, mixed media, and silkscreen printing.  Her works have been featured in exhibits throughout the Dutch Caribbean, Miami, New York City, and Amsterdam, and have been bought by private collectors, international resort chains, and various Aruban restaurants and businesses. Elisa hosts workshops and sip-and-paint classes (by appointment) for groups at Atelier Elisa Lejuez in Noord, in the western area of the island, opposite the entrance to the Tierra Del Sol golf course. www.elisalejuez.co
For more information about Aruba, go to www.aruba.com