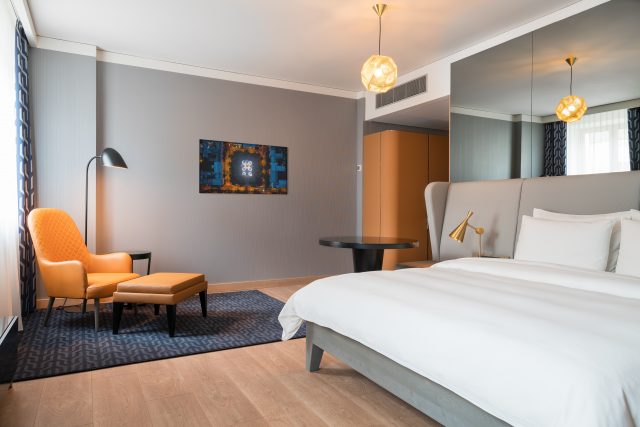 On the 12th year of the operation on Kyiv market the Radisson Blu Hotel, Kyiv located near The Golden gate presented extensively renovated rooms on two floors. This is the first stage of planned renovation of the entire Hotel.
New rooms design was developed by Lundwall Architects (http://lwa.se/) – well-known Nordic design bureau which adapts Nordic design traditions to compliment the unique and original setting. New rooms of the Radisson Blu Hotel, Kyiv are a combination of simplicity, minimalism and functionality that can easily fit to the tastes of the Hotel's multinational mix of guests.
The renovation process covered everything, from wall coatings to furniture and lamps. Some of the rooms got a completely new space zoning. The combination of different materials and colours like grey and violet creates unique atmosphere in the rooms. Industrial elements and forms are gracefully combined with natural wooden elements and textile, completing the ambiance by adding a lot of mirrors, glass surfaces and lamps.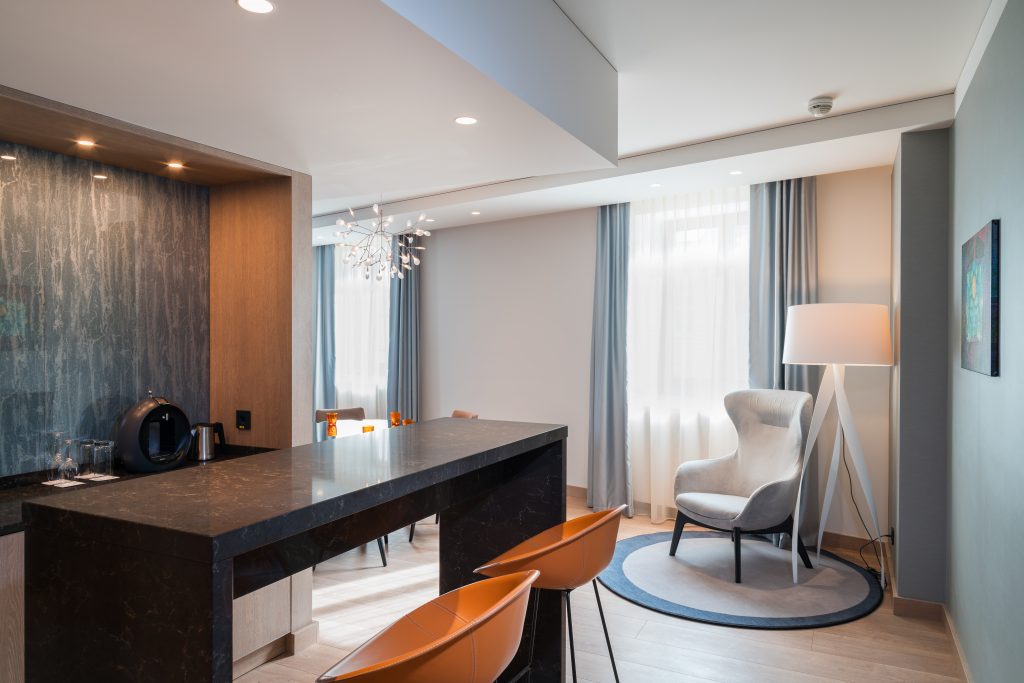 Special attention is paid to functionality of guest rooms with a dedicated working zone and gadget plugins fixed near the bed in Standard rooms, separate working tables, welcoming lounge area in Junior Suites and a spacious living room with a comfortable sofa, round table and a bar counter in  Executive Suites.
"When we entered the market back in 2005, we were the first international hotel chain which started its operation in Kyiv. Our rooms were presented in three design schemes – Maritime, Scandinavian and Italian. Some of our guests still stay with us and choose their favourite rooms as per design scheme. But nothing stays as it was. Our guests change and we need to correspond to the evolution of guest's lifestyles. Behaviour and expectations form a room of the Hotel", said Jesper Henriksen, General Manager of Radisson Blu Hotel, Kyiv and City Director.
The renovation of the rooms goes in line with the global Radisson Hotel Group strategy to provide our guests with world-class experiences at all levels.
Earlier, in spring 2017 the Hotel had the conference area fully renovated  offering the Ukrainian market a brand new meetings and events venue with the latest audio and visual equipment, sophisticated design suitable both for high level conferences and wedding parties.