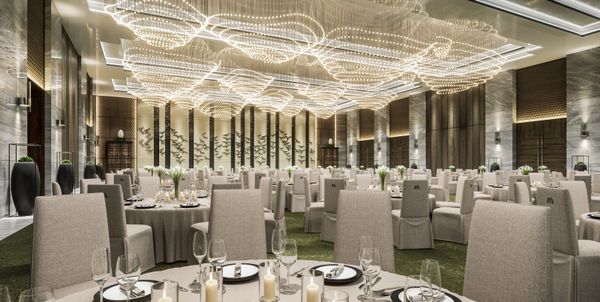 Raffles Shenzhen unveiled its Grand Ballroom for its first magnificent celebratory event with more than 800 social elites and professionals attending the launch of its stunning venue to usher in 2019 where fine cocktails and delicacies were served as part of the Raffles legendary service.
Grandeur and heritage meet cutting edge technology at Raffles Shenzhen. It is the quintessential luxury location of choice for discerning guests who wish to impress while being inspired. Its pillar free Grand Ballroom offers 1,250m² for any event ranging from elegant corporate functions to Raffles' bespoke themed weddings, which has already seen high demand from the market. The design concept is based on the salmon's annual cycle of returning to its home, just as guests return to Raffles time and again to experience the refined comforts that only Raffles can provide. The Grand Ballroom's chandeliers are designed to resemble swimming schools of salmon, with individual glass spheres akin to glittering drops of water suspended above.
The beauty of Raffles Shenzhen's Grand Ballroom is matched by an unparalleled level of gastronomy. Raffles Shenzhen's international culinary team includes Michelin star chef. Weddings and conferences are made all the more memorable when enhanced by innovative and mouthwatering dishes tailor made for each event. Further, Raffles' renowned butler service can be experienced through its dedicated Wedding Butler and Meeting Butler offerings. By engaging these unique services, professional care and attention for every aspect of a wedding or conference's program is guaranteed.
In keeping with Raffles' 130 years of traditions that have set a global standard for excellence in hospitality, Raffles Shenzhen will be the latest addition to the brand's portfolio of singular hotels. Set in the dynamic Chinese metropolis of Shenzhen, Raffles' luxury and personal hospitality services and elements of Shenzhen's vibrancy have been fused into a contemporary hotel that promises to showcase new heights of experiences.
Raffles Shenzhen is strategically situated in One Shenzhen Bay Financial Centre with direct connections to Qianhai Economic Zone in Nanshan District. The hotel features tasteful architecture and design; luxuriously well-appointed facilities; spacious guestrooms with breathtaking views; attentive yet discreet service; and exceptional culinary offerings. Watch this space for more exciting news in 2019!