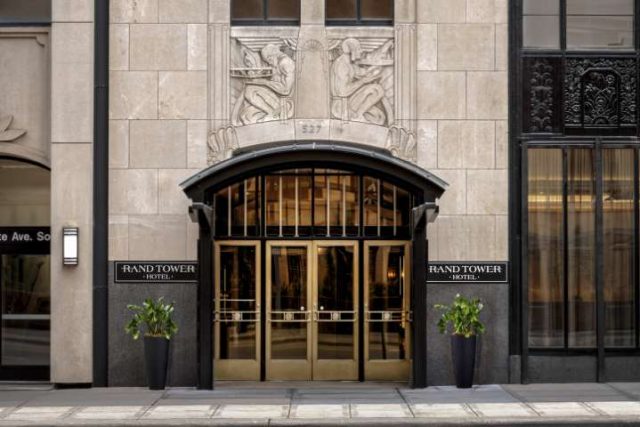 Minneapolis' historic Rand Tower Hotel made its grand opening October 28, 2022 following the completion of three brand new food and beverage venues along with curated in-room dining, all concepted by chef and Twin-Cities restaurateur Daniel del Prado.
Following a meticulous restoration of the 1920's Art Deco building and redesign by The Gettys Group, Rand Tower Hotel opened in December 2020 offering locals and modern travelers alike 270 well-appointed guest rooms and suites to enjoy. The vibrant, story-rich property proudly offers a full guest experience with the now-open Bar Rufus, Miaou Miaou and Blondette building on the renaissance of downtown Minneapolis.
The first of the new venues, Bar Rufus, opened in July 2022, and is named after the building's visionary builder Rufus Rand Jr., a war hero for the French and Twin Cities industrial giant, who built the tower in downtown Minneapolis in 1929. Bar Rufus and the entire Rand Tower Hotel are inspired by his legacy. "Aviation, camaraderie and Art Deco were the jumping off point in assembling a glamorous yet comfortable place," says Ryan Schommer, Director – Gettys Interiors, The Gettys Group Companies.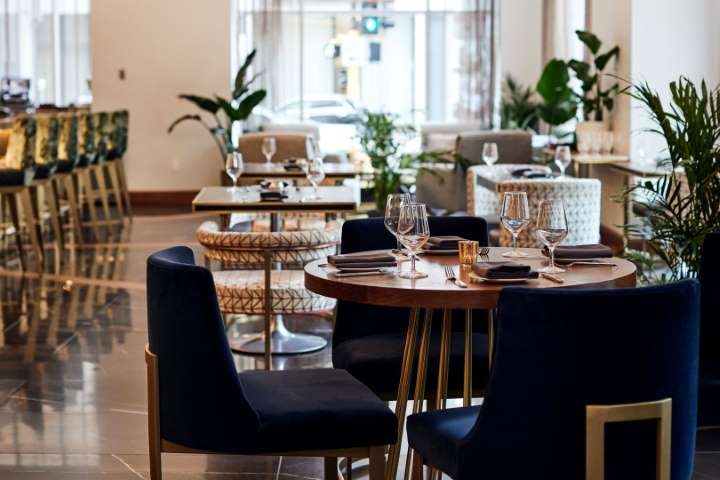 Located in the lobby, Bar Rufus incorporates mixed brass and nickel metals, mechanical parts, and slight aeronautic references without being too literal are used throughout the space. The inspiration for the leather on the chairs is the color of the bomber jackets the squadron would have worn. The bar from the velvet banquettes and the complex grilles are influenced by Art Deco and the history of the building. "Rufus Rand infused himself into the architecture with wings on the exterior friezes. That inspired us to shape the windows in an Art Deco fashion adorned with the patterning he liked," says Schommer. The bar itself has a whiskey tower that has a rotating, round brass cage for the bottles, referencing the mechanical parts, grilles and grates from the Parisian Art Deco period.
Concepted by Minneapolis Chef Daniel del Prado, Bar Rufus features recognizable cocktails, while using inventive ingredients and flavor combinations that deviate from the classic, as well as a menu of lighter bites with French influence. Capturing his bright essence and lively spirit, the menu features classic French bistro dishes including bacon vinaigrette Salade Lyonnaise, a bone marrow French Onion Soup, and a French take on the classic cheeseburger– aptly named, Le MacDo with shaved white onion, American cheese, and whole grain mustard. Bar Rufus is open for dinner and cocktails from 4-10pm daily and happy hour, Le Happy Aperitif, daily from 4-6pm.
Miaou Miaou, located in the fifth floor lounge space, offers an elegant, intimate setting for playful moments and inventive cocktails. Concepted by Daniel del Prado, this lounge honors post-prohibition cocktail culture and serves as a welcoming gathering place. Inspired by the iconic lions of the Lafayette Squadron, Whiskey & Soda, as well as the iconic, yet unknown Minneapolis cat of Daniel del Prado's Beverage Director, Congresswoman Daiquiri, Miaou Miaou is a bar that winks at itself. Leaning French in ingredients, but with a sleek, almost tropical flair – Miaou Miaou predominantly showcases French island rhums in the playful offerings of large format punch cocktails and show-stopping sips.
In addition to a thought-provoking cocktail menu, the bar features small bites, and lounge space to spend the evening. Signature items include In The Clouds with gran dovejo blanco, peche, lustau fino sherry, citrus, and bubbles, and large format punches such as Kitty Kitty Punch with rhums, mango, papaya, vadouvan, citrus and La Vedette with vodka, passionfruit, pina vermouth, togarashi, bubbles. Miaou Miaou is open Wednesday and Thursday from 5pm-10pm and Friday and Saturday from 5pm-11pm.
At Blondette, the premiere 'French Punk'-inspired restaurant on the 5th floor of Rand Tower Hotel, Daniel del Prado uses classic French techniques with innovative Pacific Northwestern ingredients. The del Prado panache takes classics and makes them visually stunning, culinarily-enticing, endlessly craveable, and relatable yet unique, pushing the boundaries of Minneapolis' culinary scene. Guests can savor culinary takes on a timeless cuisine that's been turned on its head, situated beneath a retractable roof exposed to the stars twinkling above downtown Minneapolis.
Signature menu items include Seared Scallops with celery root puree, apple, chartreuse butter, almonds; Poached Lobster with sauce americaine, artichokes, roasted fresno, and bay leaf; Charred Leeks with jalapeno bourride, pistachio, leek ash; Fricassee of Sweetbreads with pommes puree, chanterelles, spinach; and Foie Gras selections showcasing a myriad of cooking styles of Foie. Chef del Prado hopes that the return of dining in downtown Minneapolis will usher in a new chapter for this vibrant city. "There is a lot of good progress for our city," he says, "Only restaurants, hotels and bars have this unique ability to bring a community together. Blondette is open Wednesday and Thursday from 5pm-9pm and Friday and Saturday from 5pm-10pm.
Alternatively, guests can elect to experience Daniel del Prado's culinary excellence from the comfort of their own room. Signature in-room dining menu items include the Beef Tartare with horseradish, mustard seed, and fried capers; Baby Gem Salad with green goddess, seven seeds, tomato, and peas; and Burrata with grilled peaches, mint and saba. In Room Dining Hours: Breakfast 7am-10am, Dinner 5pm-9pm.
In addition to in-room dining, room featured amenities include Wi-Fi, motorized blinds, a 55" Smart HDTV, Tivoli Bluetooth sound system, a mini-fridge, a Lavazza coffee station, custom-made linens by Frette, MALIN+GOETZ luxury toiletries, Turkish cotton bathrobes, in-room safes, and mobile key access.
Rand Tower Hotel's Art Deco-era building sets the stage for a distinct, design-forward escape within Minneapolis. With a color palette inspired by the sky in honor of the hotel's aviation history, every detail highlights a story waiting to be discovered. The restoration concept was developed alongside hotel design and development expert The Gettys Group and celebrates its landmark heritage while highlighting contemporary offerings, with terrazzo floors in the lobby, detailed enameling, a stunning original spiral staircase, and other restored historical architectural elements including elevator finishes and a full exterior restoration. The Gettys Group commissioned art that honors Minneapolis from Local Language, an art consulting firm that focuses on highlighting local elements through its custom artworks and installations. Minneapolis-based modern furniture brand, Blu Dot, was brought in to provide sustainable, locally-based furniture. The design details within each room, including stretched canvases, polished brass and mixed metals, are all slightly different offering guests a unique experience within every space.
The location of the hotel is positioned for guests to enjoy attractions in downtown Minneapolis such as the First Avenue theater, a visit to the Mill City Museum, a trip to Minneapolis Sculpture Garden and so much more. With direct access to the skyway, guests can easily walk to nearby attractions in climate-controlled comfort year-round. Rand Tower Hotel is a great home base for the many activities beyond downtown as well, such as kayaking or boating down the Mississippi River, year-round freshwater fishing in "The Land of 10,000 Lakes," or imbibing through the craft beer scene.
Hotel reservations can be made by visiting www.randtowerhotel.com.