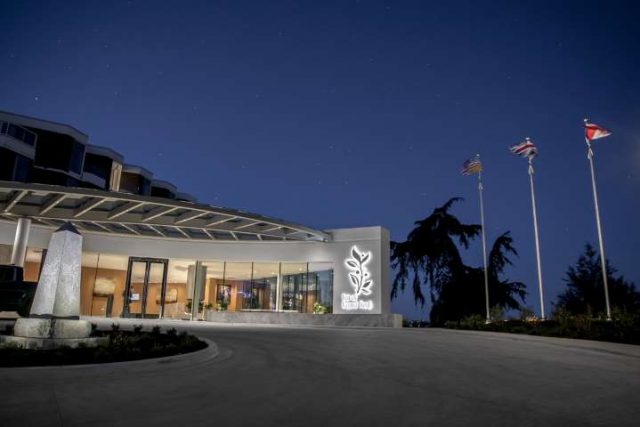 Inn at Laurel Point celebrates their official reopening following a stunning transformation. The multimillion-dollar renewal project including lobby, Aura Waterfront Restaurant + Patio, meeting and event space, and gardens, celebrates both the history and natural beauty of this award-winning property, bringing it into a new era of modern luxury.
This renewal project completes the vision of Inn at Laurel Point's founders, the late Paul and Artie Arsens. "It's an absolute joy and honour to fulfill the Arsens' dream and realize the vision of renowned architect Arthur Erickson, and designer Robert Ledingham, from over 30 years ago," says Ian Powell, Managing Director of Inn at Laurel Point. "We've taken an architecturally stunning waterfront building and completed the vision with classic modern touches and we're ready for the world to see it."
Architect John Graham, who was part of the original Arthur Erickson project oversaw the Inn at Laurel Point's renewal. Doubling in size, the new lobby features floor to ceiling windows and contemporary fireplace. The lobby also features a new 'grab & go' that will be stocked with treats prepared by the Inn's award-winning culinary team.
The entire transformation infuses modern, warm, relaxed and a serene design inspired by the area's natural beauty. "We can't wait to see the look on people's faces when they arrive at the new lobby and feel as though they're on the prow of a ship right in the inner harbour," says Graham.
Recently unveiled to guests, the renewals first phase, Aura Waterfront Restaurant + Patio has received rave reviews. With a revitalized interior and an innovative menu unique to Victoria's hotel restaurant scene, this iconic waterfront restaurant boasts stunning panoramic views of Victoria's Inner Harbour. Award-winning Executive Chef Takashi Ito, Restaurant Chef Austin Lu and their talented culinary team created a globally inspired small plates menu that offers guests a variety of bold flavours. "Offering our guests, a unique culinary experience that combines farm-direct ingredients with international flavours that inspire them is what it is all about," says Lu. "Small plates are perfect, since it means they can try a many dishes, which is always a fun way to dine with friends."
With the renewal of Inn at Laurel Point complete, the hotel is once again poised to welcome the world.