Herbivores are a creature of habit, and we hope you might be too. Alibi's getting the sourdough started, edible flowers picked, and nuts blended (to make cheese), before the wharf doors are once again at your favourite plant-based paradise – Alibi have opened a whole other set of doors – introducing Restaurant In Room.
Sydneysiders, we all deserve to have a bit of R 'n' R, and Alibi is serving a sweet side of R in R with Restaurant in Room at designer hotel, Ovolo Woolloomooloo. Alibi Bar and Kitchen is creating private dining rooms in hotel rooms on Thursday, Friday and Saturday nights, or for something more special, an overnight stay.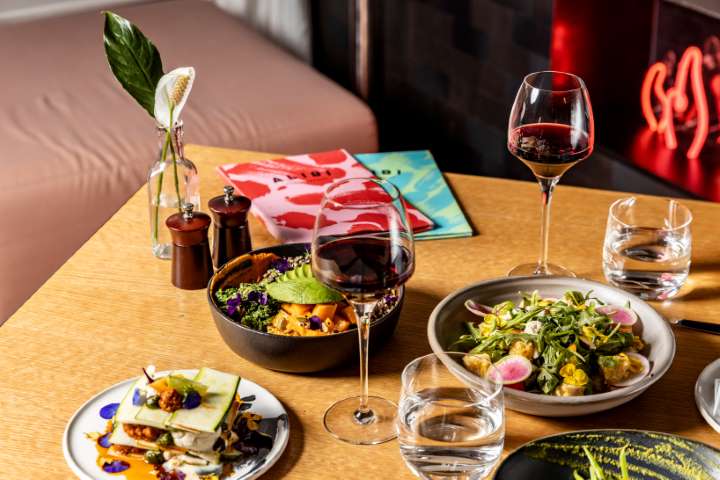 From Friday 15th May, there is now every reason to get out, practise safe social distancing and enjoy a date night out of the house. Alibi favourites you've been yearning; Creative Culinary Partner, Matthew Kenny's Kimchi Dumplings, and dishes created in collaboration with Alibi Head Chef Jordan Brogan, like the popular Spicy Udon and Activated Charcoal Ravioli, are served while perched above the iconic Woolloomooloo Wharf in the good company of your choosing. To really impress your company, making them go O-M-G, book the Ultraroo Suite which is kitted out with your very own bar – complete with socially distant bartender.
Limited bookings are available for the following:
5 Course Dinner for 2 guests $130 / Matching Beverages for 2 guests $220
Add an overnight stay:

Stay the night in a Deluxaroo Loft + $269
Stay the night in a Cityvoo Loft + $349
Stay the night in an Ultraroo Suite + $999

An overnight stay is inclusive of The Perks (Ovolo's signature inclusions from WiFi, in-room mini bar, breakfast) for 2 guests.
"We're all about adapting and evolving. From takeaway concepts with ALT CTRL EAT by Alibi and DELI by Monster, now with Restaurant in Room. Canberra's had a taste of Ovolo's take on R in R, and they love it! So much so, we have increased booking by double, and with the ease of restrictions, the team are welcoming groups of 4 – 10 as of today!" said Group Food & Beverage Director, Vince Lombino. "We can't wait to see the same success with Alibi in Sydney."
A getaway is off the cards. And your favourite bars and restaurants are closed. The Alibi experience you know and love, with a heavy side of privacy – R in R offers a private dining sanctuary.
For more information or to book Restaurant in Room call 02 9331 9000 or reservations@alibibar.com.au.