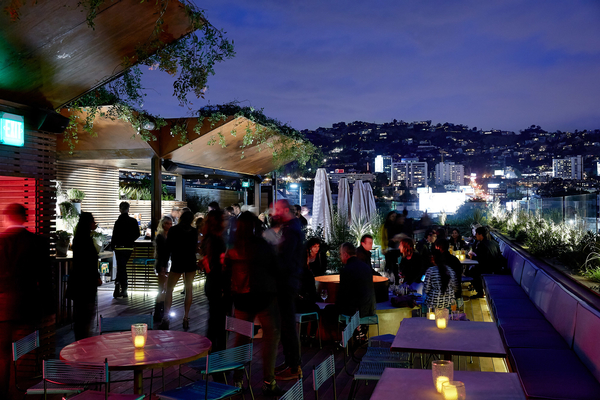 A half-million costumed funsters must know something – that West Hollywood's Halloween Carnaval is fabulously fun, free, and a young partier's bucket list experience. What's less known is how to rise above the street party frenzy and actually enjoy a grown-up version of this quintessential rite of passage (turning 30 this year on October 31) by booking a visit the weekend before — to maintain one's dignity and still revel in the city's energy. By heading to WeHo October 27 to 30, visitors can still catch the Carnaval spirit over a long weekend while enjoying a dip in hotel rates and the best reserved dinner and nightclub tables. To that end, what follows is the Guide for the Refined Halloween Partier in WeHo.
Get a Room
For visitors of a certain age and means, there are cultivated options. Book a second-floor room with a pool view; ogle and appreciate the favor returned. Or, book a brand spanking new penthouse suite 10 stories above West Hollywood, where the air is more rarified and the view of the Los Angeles basin is a balcony surprise. West Hollywood hotels raise the bar on in-room bars from mini to maxi, and guests instantly morph into a Somebody. Book two or three nights in WeHo to enjoy the rest of the city without the Carnaval craze. Go here and find your hotel: www.visitwesthollywood/hotels
Events & Parties – Why You Should Linger Longer
Roll good times through the weekend right into Sunday Funday along Santa Monica Boulevard. Translation: happy hour deals abound, beginning with Bloody Marys or bottomless mimosas before noon and continuing all the live long day, right through a more conventional afternoon happy hour until about 6:30 p.m. It's day drinking at its packed finest, all along and just off Santa Monica Boulevard. Sunday Funday rules at these places: The Abbey (692 North Robertson Boulevard), Revolver (8851 Santa Monica Boulevard) and Tortilla Republic (616 North Robertson Boulevard), from 3:00 to 7:00 p.m.
When drunken munchies are outgrown like a solid gold pair of bell bottoms, head to The Abbey (692 North Robertson Boulevard), which holds a see-and-be-seen party on the Saturday night before Carnaval. First timers to WeHo's Halloween are in for a treat, not a trick. It is all the Carnaval craze necessary for most of us.
The venerable Comedy Store (8433 Sunset Boulevard), which turned 45 years old this year, features an open mic Pot Luck on Sunday and Monday nights, when fifteen newcomers get three minutes each to earn a spot on stage. Sign up at 6:00 p.m, and the show starts at 7:00 p.m. Other nights, nationally-known comedians from Netflix and TV (without FCC filters) take the stage. Tickets are under $10 for most shows. There's a two-drink minimum so order a double; that counts as two.
The enduring and practically immortal Troubadour (9081 Santa Monica Boulevard) turns 60 this year, further proof that age is in the eye of the beholder. This music venue – which played an important role in the rise of Elton John, The Byrds, Van Morrison and Kelly Clarkson – still rocks for singer-songwriters. Redefine harmless debauchery by catching a set or two.
If You Must
The Halloween Carnaval takes place October 31, officially from 6 p.m. to 11 p.m. on Santa Monica Boulevard from Doheny Drive to La Cienega Boulevard, but city bars close at 2:00 a.m. Free bands and DJs and food trucks line the route; bars offer competing drink specials. It holds a special place in the alt universe with its killer drag queens, oh-so-gay-dress-up and general queer, bizarro excess.
In Closing
More than 2000 years ago, the Celts believed the veil between the living and the dead was thinnest on October 31, which marked the end of summer and the start of a long, cold winter. As this ritual evolved over eons, so too have sophisticated Carnaval revelers in-the-know veered toward cool-spirited cocktails and high-minded, mid-rise suites. They celebrate the ability to stay in posh surroundings; sip a cocktail as smooth as Drake's Virginia Black Whiskey (headquartered in WeHo); sit upright at a lovely bar with elbow room; drink from appropriate stemmed glasses rather than red Solo cups; and dip a toe into fun here and there, or just watch poolside and sidewalk eye candy.
As summer unwinds and airfares fall commensurately, WeHo proves that visitors can party like they aren't 21 anymore, and still brag about it. Attendees from around the globe – who've experienced Carnaval at home or traveled to a Carnaval-like event elsewhere – flock to WeHo like birds of a feather. But some do it with panache and advance reservations. Both Los Angeles International Airport (LAX) and John Wayne/Burbank Airport (BUR) serve the LA/West Hollywood area.