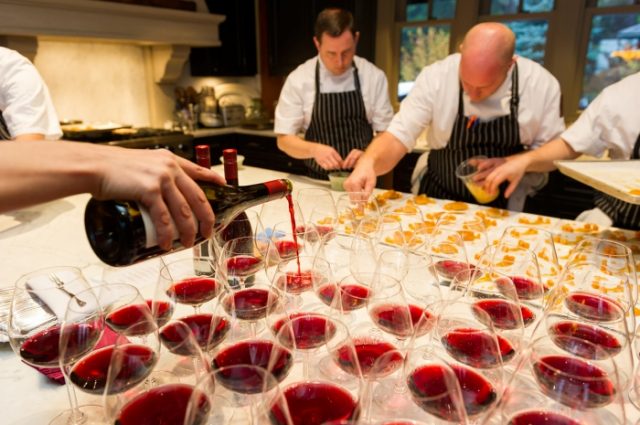 Whistler, B.C. – Finding the balance or tipping the indulgence scale, an annual dilemma at Cornucopia, presented by BlueShore Financial taking place November 9-19, 2017.
Healthy living is a large part of living in Whistler and beautiful British Columbia. Cornucopia organizers understand the growing need behind finding a balance in life – not to mention at Cornucopia, Whistler's most indulgent festival – hence the creation of Nourish in 2013. The Nourish series offers a selection of healthy topics and seminars that are sure to inspire.
Curious about getting started with healthy meals? Caveman Grocer co-founder, Kara McMaster will be hosting Mastering the Basics providing building blocks to nourishing recipes. Or, how about Tech Savvy Release – where you'll learn to release tension, erase pain and improve your posture. Cornucopia IS the kickoff to ski and snowboard season so why not get ready with Mountain Tune Up- Roll to Shred. Fuel up for the weekend at the Farmer's Breakfast, rid yourself of sugary snacks at Energy in Motion – simple recipes for the quick pick me up, or maybe you're looking for a new family tradition – check out Meatless Mondays or Plant Based Deliciousness with Whistler Blackcomb's executive chef, Wolfgang Sterr. Aura Restaurant at Nita Lake Lodge is hosting Dining With Balance and finally nutritionist and raw food chef, Merina Koly returns to serve up living foods at Live Bodies Need Living Foods!
Not to fret – festival organizers haven't forgotten about the decadent side of Cornucopia. Everyone has a guilty pleasure and this year you can learn how to pair them with wine at Guilty Pleasures: Wine and Junk Food, or how about Cocktail Cherry Bomb: Mixed Drinks with Attitude?  The always popular Bubble-icious is returning – get your tickets early, this seminar sells out every year! Chocolate may be your go-to treat but what do you wash it down with?  Wine and Chocolate or They've Got Chemistry-Pairing Chocolate with Cocktails will answer this question. Should savoury be the preference, Bottle and the Beast: Charcuterie & Wine Pairing with Oyama, Slice Advice: Pizza Pizzazz or Mix It Up & Chow It Down: Pairing Food and Cocktails
In the end, it all comes down to balance and choice. These seminars are just a snippet of what's on the schedule – so build your weekend with lodging package now available starting at $94 per person, per night for a Crush tickets and accommodation package.
Visit www.whistlercornucopia.com to purchase and to stay up to date on the latest information.