St Martin is known as one of the most enchanting and pristine islands of the Caribbean. It brings together old-world charm with a mix of modern luxury. The destination has freshness, adventure, effervescence, and a whole lot of magic. For couples looking to have a honeymoon, a romantic getaway from everyday life or to rekindle their romance, this destination is more than perfect. With a choice of 37 beaches that feature white sand, blue waters, a variety of luxury hotels and villas, couples are sure to find a little bit of paradise everywhere.
With all this choice, honing in on the right place won't be easy. Everywhere you look there are stunning views gracious accommodation, and the best of amenities. So here is some help in narrowing the field and finalizing that perfect place for a romantic rendezvous-for-two in St Martin.
Residence Adam and Eve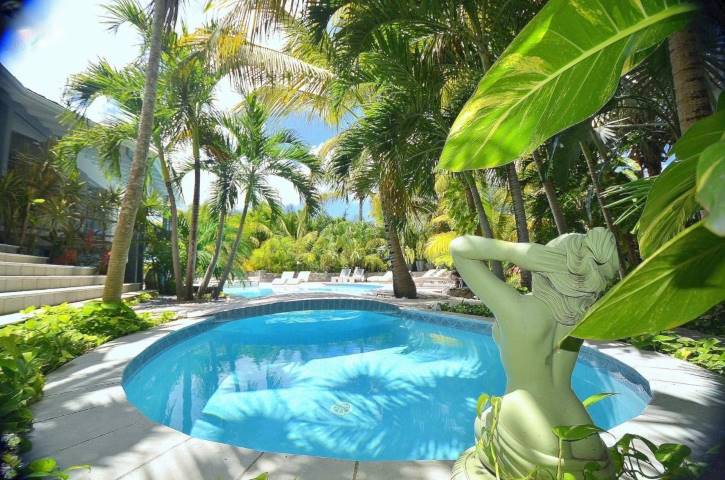 Located in the heart of Orient Bay park, this naturist hotel is truly in a garden of Eden. The accommodation consists of five elegantly decorated studios and two suites tucked among well-tended tropical gardens, ideal for honeymooners.
The Adam & Eve Residence offers a clothing-optional atmosphere. Like a villa, private catering is available although there are many restaurants and beach restaurants just a short walk away.  Access to "The Good Life" catamaran is provided by the hotel's hosts, Adam and Caroline.   There are daily or even weekly trips tailor-made by the hosts for the enjoyment of their guests.
Karibuni Hotel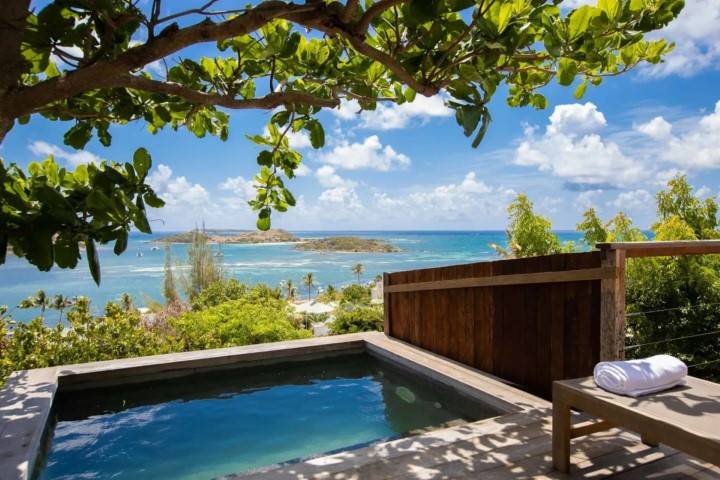 With panoramic views and an intimate, peaceful vibe, The Karibuni Hotel can be called one of the must-stay places for couples in St. Martin. The hotel offers six suites with spectacular views of the Bay of Cul de Sac, each with their own private plunge pool. Located within the Natural Reserve, The Karibuni Hotel takes its responsibility to the environment seriously, meshing an eco-friendly lifestyle with a romantic, luxurious property. Guests won't hesitate to share rave reviews as they laud this property's excellent hospitality, accommodating staff and access to any amenities you may need.
The hotel owns a very popular restaurant on Pinel Island by the same name, Karibuni, which offers outstanding French-Caribbean cuisine made from unique secret recipes. The hotel offers a private boat transfer to Pinel Island where couples can enjoy the beach chairs and umbrellas made available to them. Check into one of their exclusive suites to experience the culture, atmosphere, and history of St Martin within their walls.
Belmond La Samanna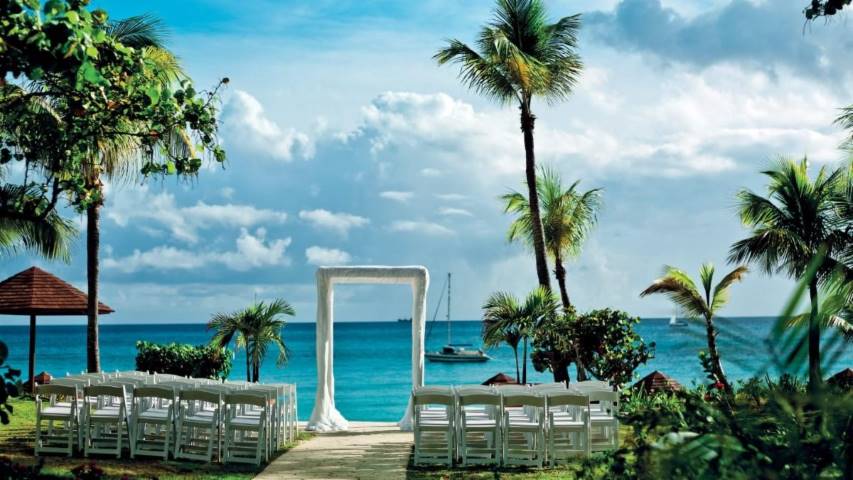 The Belmond La Samanna provides a luxurious escape, perfect for couples who seek a romantic refuge in the heart of the Caribbean. The hotel is consistently ranked among the best in the region and is set amidst lush, tropical gardens directly on the private beach, Baie Longue. Looking to get married in St. Martin? Belmond La Samanna is the perfect choice.
This authentic and romantic hotel offers a wide range of accommodation: from guestrooms to suites, to private villas – even 3-bedroom cottages. The Belmond La Samanna is a lovely retreat for couples and honeymooners alike. The couples massage at The Spa is a must. Couples can enjoy a variety of fine dining experiences that are nothing short of unique, intimate and romantic with featured gastronomic delights. For a dreamy evening filled with soft music, try the candlelit coziness of La Cave and sample rare vintages to go with your food.
Le Petit Hotel

Get away from the stresses of everyday life and the monotony of winter drab for a stay in Le Petit Hotel in St. Martin. Spend time watching and listening to the waves lapping the shores; can it get any more relaxing and romantic than that? This Mediterranean-style jewel set upon the sands of Grand Case Bay offers a tranquil atmosphere, personalized and attentive service. Le Petit Hotel is sophistication and stylishness refined into ten perfect rooms that offer oceanfront views and spacious terraces.
Known as the one real boutique hotel of St Martin, the name "Le Petit" has quite a story attached to it. When Andre Petrelluzzi built Hotel L'Esplanade in 1992, he had a unique opportunity to make a sister hotel on Grand Case Bay. Created by the same architect, both the hotels echoed a unique Mediterranean-style. The L'Esplanade staff would refer to the new property as merely "the little hotel" or "le petit hotel," which is how the name came into being.
While the hotel is almost always full, the quaintness of Le Petit Hotel makes it extra unique and peaceful. So, to stay at this beautiful, dreamy and quality-conscious hotel, book well in advance as it stays fully-booked almost year-round.
Le Temps Des Cerises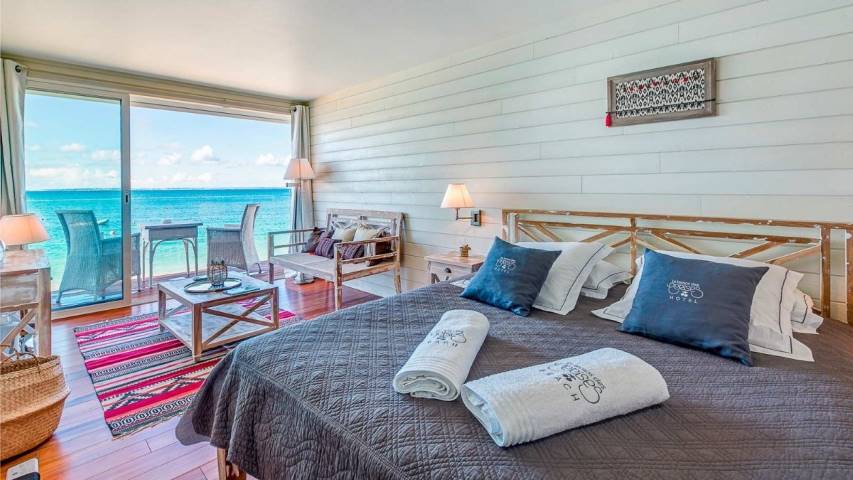 This delightful and charming hotel is nestled in the heart of Grand Case and offers nine beautifully decorated rooms for guests. Le Temps des Cerises Hotel is known for its tropical garden, vintage wooden furniture and a colourful, charming and quirky ambience.
The rooms are airy, stylish, and you have an unobscured view of the different shades of the Caribbean Sea, the Creole Rock and Anguilla from your private balcony. It is a place where you can experience turquoise-blue waters lapping gently on pristine shorelines and surround yourself with culture and exceptional cuisine. Talk about food, Le Temps des Cerises café and restaurant offers a modern selection of French cuisine with an infusion of local flavours. To add some spice to your romantic evenings, every Friday night, the hotel hosts a live reggae music band on the beach from 6:00 p.m. to 10:00 p.m.
The hotel has its shop "The Le Temps des Cerises boutique" that showcases and sells a curated selection of Caribbean arts and crafts, textiles, jewellery and accessories. Small local designers based out of France are responsible for creating these crafts. Located steps away from everything you need, be sure to book this place in advance.