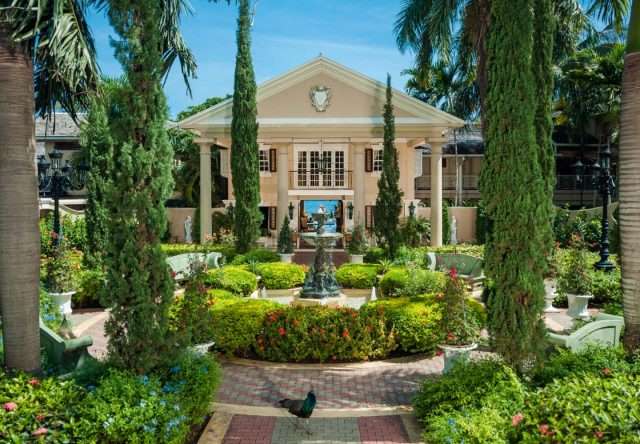 At the Royal Plantation, you are about as far away from ordinary as you could possibly imagine. Be prepared to be fussed over, pampered and treated like royalty. Still reflecting the era in which the Royal Plantation was built, 1950's glamour, character and old world luxury abound and this exclusive resort is one of Jamaica's most beautiful resort.
Royal Plantation sits atop a visually stunning bluff 25 feet above the blue waters of the Caribbean and offers 74 opulent suites, each with an awe inspiring view of the ocean. Every suite at Royal Plantation offers a stunning ocean view and includes the finest Italian bed linens, goose down duvets and quality mattresses to ensure a good night sleep. Royal Plantation offers 7 different room categories from main hotel suites to a private 3-bedroom private villa. Every room, suite and villa is extravagantly appointed with mahogany furniture, lofty king beds, air conditioning, bar, private marble bath and shower, satellite TV, and internet access.
On the culinary front, Royal Plantation offers 3 fine epicurean restaurants, and staying true to their philosophy, they insist that everything is prepared and served a la carte by world class chefs – there are no all you can eat low quality buffet meals served here!
With twin beaches available to guests, and exclusive sand coves to explore, soaking up the sun will never be so much fun and when you become parched, an attentive beach butler will bring you ice cold drinks. Royal Plantation is a serene haven, rich with natural resources and luxurious accoutrements that clear the mind and renew the spirit.