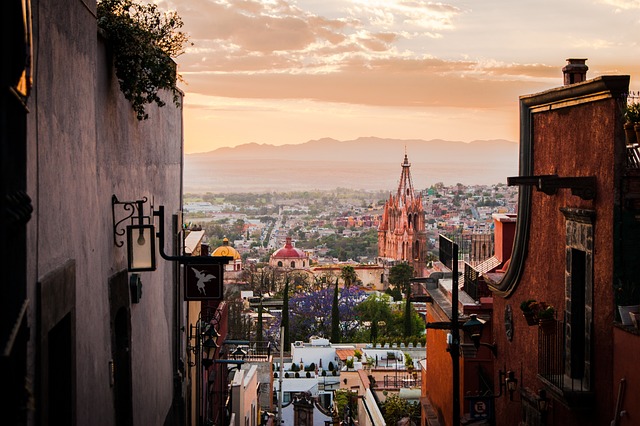 San Miguel Allende, Mexico. It's a place of incredible, well-preserved Colonial and Spanish architecture and its appreciation of the arts. Civil and religious buildings are in the Mexican Baroque style while the tallest building in the city, the Parroquia de San Miguel Archangel dazzles with a pink limestone façade. It's a haven for ex-pats and those seeking a more relaxed way of life.
Hotel Matilda celebrates the contemporary Latin art scene. Guests are immersed in relaxed and sophisticated yet comfortable accommodations, international gourmet dining, personalized spa experiences and a dynamic art scene. Hotel Matilda is the home to a private and important collection of contemporary Latin art including work by Angelo Musco, Spencer Tunick, Diego Rivera, Bosco Sodi, Luis Barba, Victor Rodriguez, Betsabee Romero, Daniela Edburg, Aldo Chaparro, and Nacho Rodriguez among others which festoon public areas.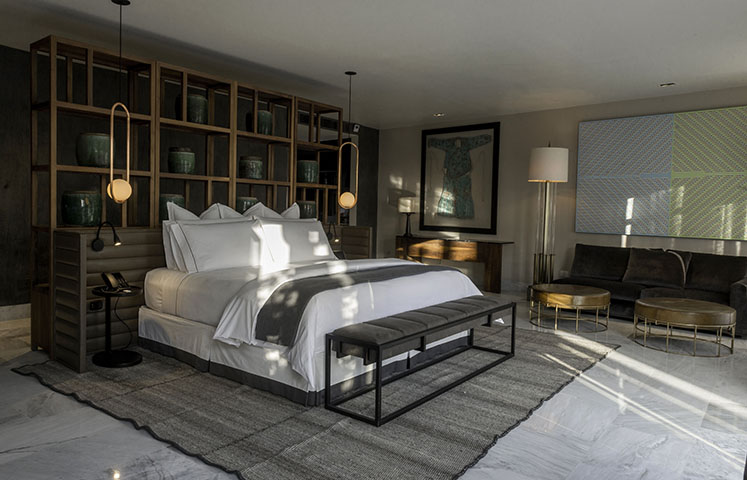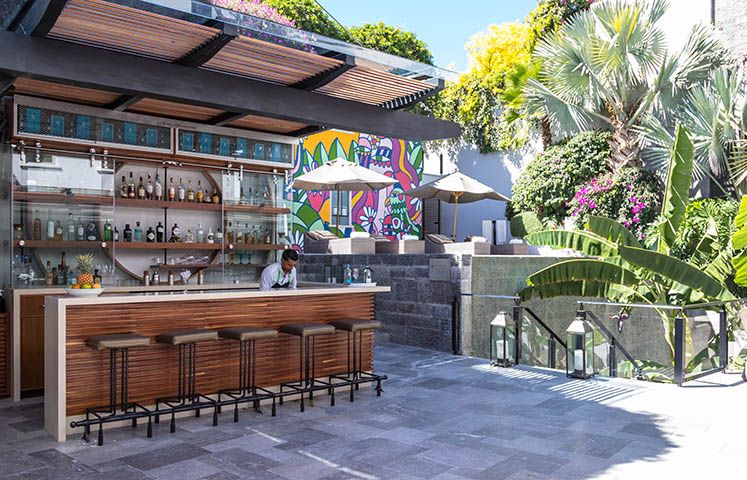 Entering Hotel Matilda, guests step from 500-year-old cobblestone streets into the 21st century – from the colonial past into a sophisticated contemporary ambiance where guests live the lifestyle of today. The architects achieved a vision of a clean-lined, edgy design that stands in timeless contrast to the beautiful colonial architecture of San Miguel. The interior designers brought creative innovations to the project: An old mill stone was adapted as a "rain chain" creating a water feature in the entry courtyard. A graphite wall treatment was developed for the guest rooms, reinforcing the art theme of the hotel because artists often begin a work of art with a graphite sketch. The neutral color scheme of the interior is a clean backdrop that juxtaposes with the vibrant tones of the many works of art and the splashes of color of the landscaping. Whimsical design features – from animal-legged side tables to drink stands held up with metal hands to tables shaped like crossword-puzzle pieces – energize the ambiance.
Recently redesigned by Casa Armida, the hotel's fabulous Owner´s Suite features a large living room, sumptuous bedroom, interior views of the architectural details of the hotel, a private balcony and a covered terrace ideal for enjoying the sunset. Casa Armida is one of the most relevant design houses in México. Led by the architect Luis Fabián Flores, this house has laid the foundations for San Miguel de Allende to be recognized as a design capital of the world. Their ongoing partnership with Hotel Matilda helps create a unique and beautiful setting.
With storied architecture and art installations, notable modern offerings and accommodations, San Miguel Allende remains one of the most popular travel destinations in Mexico.