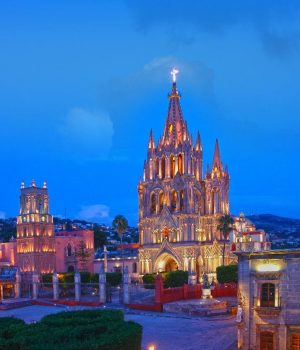 The city of San Miguel de Allende, Mexico, is a double winner at this year's edition of Travel + Leisure's annual World's Best Awards. In today's announcement, the magazine revealed that its readers have ranked San Miguel de Allende as the No. 1 Best City in the World and No. 1 Best City in Mexico, Central and South America for 2017.
Every year, the readers of Travel + Leisure, the largest travel magazine brand in the United States, vote on their favorite destinations, hotels, resorts, spas, airlines, cruise lines, tour operators, rental-car agencies and more in the World's Best Awards survey. This year's 22nd edition of the survey attracted record participation, according to its publishers. Results will appear in the August 2017 issue of Travel + Leisure and online at Travelandleisure.com.
"Over the past few years, our readers have anointed destinations as varied as Kyoto, Charleston, and Bangkok as the World's Best city. In 2017, for the first time ever, San Miguel de Allende has won this coveted title. It's clear that T+L readers are drawn to the city's artistic, historic, and culinary heritage, as well as its beauty and hospitality," said Nathan Lump, Travel + Leisure Editor-in-Chief. "San Miguel is more than a place to go to relax—it's a place that delivers a rich experience that our world travelers are finding especially compelling now."
San Miguel de Allende outperformed other destinations in the categories of Sights/Landmarks, Arts/Culture, Restaurants/Food, People/Friendliness, Shopping and Value to earn the No. 1 spot. Its ranking this year repeats its performance in the regional category, and bests its third-place finish worldwide, in last year's survey.
In addition to San Miguel de Allende being named the No. 1 Best City in the World and No. 1 Best City in Mexico, Central and South America for 2017, the properties Hotel Matilda and Rosewood San Miguel de Allende were named #1 and #2 Top City Hotels in Mexico, respectively.