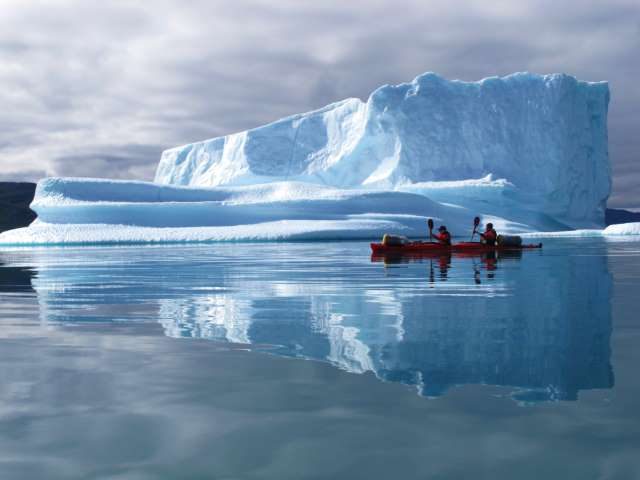 Despite being the largest island on the planet, Greenland continues to retain a quiet air of serenity, offering the opportunity to enjoy an authentic wilderness escape in the midst of spectacular icy scenery, inhabited by seals, whales, caribou, arctic fox and hare.
For adventure lovers hoping to visit the island's most scenic waters, specialist tour operator, Swoop Arctic, welcomes both experienced and novice kayakers to join its 15-day South Greenland Kayak Expedition, with departures June through to September 2020.
Travelling via Reykjavik or Copenhagen to Narsarsuaq Airport, the kayaking adventure begins with a crossing of the great Narsaq fjord, with its many icebergs, low mountains, waterfalls that flow in to the sea and numerous seals for company along the route.
Throughout the trip, kayakers will marvel at the gifts provided by Mother Nature as they paddle past ice sculptures, under arches and alongside floating ice, sometimes venturing in to areas such as the Torsukattak fjord zone which, hitherto, have been relatively uncharted by kayakers.
Among the sights that leave a lasting impression on every visitor, are the three massive Qaleraliq glaciers, gateway to the 2,500km icy plateau leading to northern Greenland; the omnipresent Inlandis ice sheet and the second largest glacier in the world. The roar of ice cracking or collapsing from the glacier in to the sea is a colossal reminder of why halting global warming is imperative.
Paddling is interspersed with hiking and exploring on foot, with participants having the chance to trek to Lake Tasersuatsiaq, where they will be rewarded with panoramic views across the Greenlandic ice cap. Undoubtedly, local wildlife such as caribou, arctic fox and hare will be spotted along the way.
The final day of the expedition is spent exploring the striking agricultural town of Narsaq, where the houses are painted in vibrant hues of red, blue and yellow, kitchen gardens provide the locals with plentiful fresh produce, and inhabitants jokingly refer to themselves as cowboys, as a nod towards their sheep and cattle farming roots.
Paddlers may choose to take optional excursions (available at an additional cost) to Qaqortoq, described as Greenland's most charming town, and the norse ruins of Hvalsey Church.
In addition, following a boat transfer from Narsaq to Narsarsuaq, there will be time to explore the Bluie West One museum, the former US military base, where time has stood still since it was used in WWII.
Prices for the South Greenland Kayak Expedition start from £1916 per person, based on twin share. Accommodation is in hostels for two nights and under canvas for 12, with all meals, expedition guides, kayaking equipment, transfers and return travel to Narsarsuaq included.
For further information, visit swoop-arctic.com.