Buckle up your helmets, buckle down your seat belts, and fasten your wanderlust to your side, because the future of cycling has arrived! Withebikes for touring, gone are the days of dusty maps and rigid itineraries as you pedal yourself into a world of touring that is liberating, thrilling, and utterly unforgettable. Breathe in the crisp mountain air as you climb to impossible heights, or sink into the calming rhythm of the countryside as you cruise through rolling hills.
These electric-powered chariots may look like any other bike, but they pack a punch that will send a surge of excitement through your veins and keep you traveling for miles on end. So whether you're a seasoned adventurer or a first-time traveler, hop on board these electrifying bikes and unlock the world of exploration, one pedal at a time!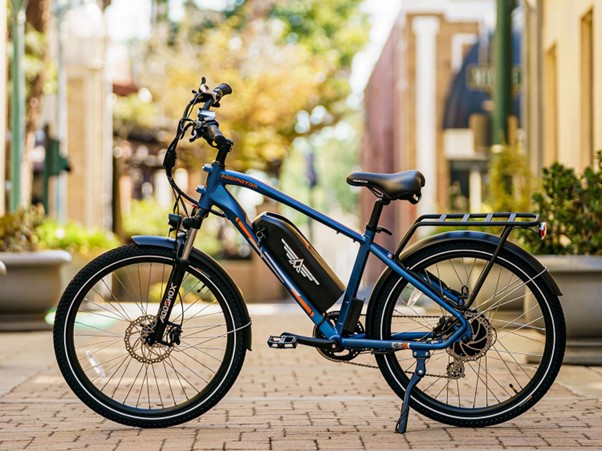 What is an E-Bike Touring
What better way to see the world and stay fit than to take an adult electric bike on tour? Say goodbye to the crushing fatigue of traditional bike tours and hello to an electrified ride that will have you pedaling through the most breathtaking landscapes of the world with ease. E-bike touring is not just a means of transportation, it's a lifestyle.
With ebikes, there are no limits to what you can achieve, and even seasoned riders can take on more difficult routes and longer distances without sacrificing fun or energy. Whether you're a lone adventurer seeking the peace of a camping trip, a couple looking to pedal and picnic, or a family eager to bond over a shared experience, there's no better way to explore the world than on an e-bike tour!
5 Reasons Why You Should Try an Ebike for Travel
No Challenge Too Great
No more huffing and puffing up those monstrous hills and mountains! Say goodbye to the fear factor of mountain ascents and enjoy efficient climbing speeds with the help of battery-powered assistance. You can tackle any challenging climb with ease and without worrying about running out of energy. One ebike that stands tall in the industry is the Addmotor Citypro E-53. With its colossal 48V 20Ah battery, you're equipped with the power to overcome any obstacle in your path. Featuring a polygon frame design, hydraulic brakes, 26*2.3″ tires for a smooth ride, and an adjustable seat with a back handle, the Addmotor Citypro E-53 is a true testament to engineering excellence. As the tenth-anniversary edition, this beauty combines style, durability, and affordability, making it the ideal vehicle for conquering the concrete jungle of the city.
The Joy of Staying Fit on the Go
Are you tired of your fitness routine getting in the way of your wanderlust desires? Well, we hear you loud and clear, my fellow explorers! With ebikes, you can have your cake and eat it, too – figuratively speaking! Welcome to an adventure-packed ride that keeps you active and reinvigorated the entire time. Ebikes allow you to go as far and as long as you desire without feeling weary or running out of steam. Cover more ground, experience more adventures, and stay in shape all at the same time.
To help you achieve your fitness goals while traveling, the Addmotor Folding Model Line offers Kenda 20″ x 4″ fat tires that help you to take on any terrain confidently without breaking a sweat or a change of clothes. Get on your Addmotor electric bike and build your dream bod, even on vacation, anytime, anywhere!
Slow Down, Reminisce
What's the point of traveling to new continents on the other side of the globe if you will enjoy it from your car's window? Ebikes offer the best way to slow down, appreciate the beauty of your surroundings, and connect with the environment in a way that traditional travel methods cannot replicate. These ebikes let you stop and take in the sights, sounds, and smells at your own pace, allowing you to explore every detail of your surroundings without missing a beat.
Enjoy a leisurely ride through stunning countryside, climb up mountains, and take winding roads that lead to hidden coves – all on your terms. With ebikes, you can take a break and rest at scenic spots, snap a picture, or bask in the moment without rushing to the next destination, providing the ultimate mindfulness experience and a much-needed break from the bustling world!
The Future is Electric
With an e-bike battery, you can reach far beyond your limits – and without breaking a sweat in the process. Gone are the days of sheer exhaustion from traveling – with ebikes, you can tackle mountains and rough terrain with ease and make it to your destination, still feeling sprightly and energized.
Leading the charge in style and comfort is the Addmotor Cruiser E-bike series. These magnificent machines blend the timeless aesthetics of classic cruiser bikes with the cutting-edge technology of ebikes. The curved top tube and long flared handlebars exude an air of sophistication, while the electric motor empowers and secures your every ride. Say goodbye to gas and hello to electrifying travel – it's the future of touring, and it's within reach for everyone!
How to Choose the Right E-Bike for Your Next Adventure
● Say No to Cheapskate Models: Skip the entry-level ebikes and go for mid-range or higher-end options that can handle the demands of touring without leaving you high and dry.
● Power On, Pedal Away: A 250W mid-drive motor with torque sensor pedal assist is ideal for most riders, keeping you within legal limits while providing plenty of power.
● Go Big or Go Home: Want more juice? Opt for a larger 500w or 750w motor or add a throttle control, but check local laws first to avoid legal headaches.
● Budget-Friendly Options: Save some cash by going for a hub motor or cadence sensors instead of torque sensors, which can slash hundreds from your purchase cost.
● Pick Your Poison: Choose from a variety of e-bike types for different terrains and styles, from mountain bikes to folding bikes, cargo bikes to tandems, and everything in between.
● Pack it Up: Look for ebikes that can handle luggage with mounting points for rear racks and a weight capacity of at least 300 pounds. Don't miss a beat while tackling the travel adventure of a lifetime!
Discover at Your Own Pace!
Why settle for a travel experience that merely scratches the surface? Electric bikes for adults offer the ultimate way to see the world, with all its beauty and majesty, in the most exciting and immersive way possible.
Leave traditional travel methods in the dust and soak up every breathtaking view, free of any worries or restrictions. Ebikes let you journey on your own terms, with no need to rush to the next destination, no traffic to contend with, and no crowds to dodge. So, get ready to rethink the way you see and travel the world – with ebikes, the possibilities are endless, and the adventure never ends!