Get ready to unleash your inner wild child as we dive headfirst into a world where the great outdoors becomes your exhilarating playground. Today, we're flipping the script on traditional exploration by introducing you to a zesty and eco-friendly ride that will have you grinning from ear to ear – the magnificent etrike!
Gone are the days when exploring the wilderness meant huffing and puffing up steep trails or getting tangled in a web of complicated gears. With the advent of etrikes, we have cracked the code of blending adventure with practicality, all while preserving the sanctity of our planet.
Let's dive into the wild unknown, where nature's chills and electric thrills await. Our incredible guide to etrike touring will help you discover a mode of transportation that gives the freedom of zero-emission travel, the practicality of agile maneuvering, and the sheer joy of embarking on unforgettable journeys that leave memories etched in our hearts.
 Get ready to ride, laugh, and live life to the fullest – all from the saddle of an etrike!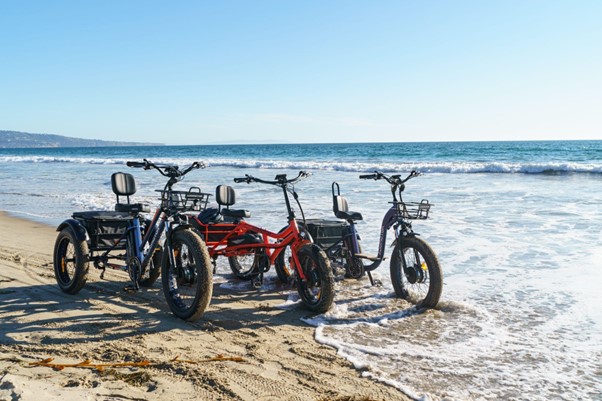 Etrikes for Outdoor Exploration
Curiosity piqued? You've probably seen them cruising around town, turning heads and leaving onlookers in awe. But what exactly are these intriguing three-wheeled wonders that have become the talk of outdoor exploration? Let's unravel the mystery!
In simple terms, an etrike is a three wheel electric bike that combines the best of both worlds: the convenience of a bicycle and the power of an electric motor. It's a brilliant fusion of human-powered pedaling and eco-friendly technology that opens up a world of possibilities for adventurers seeking thrilling outdoor experiences.
Think of it as your trusty sidekick for embarking on unforgettable escapades. The etrike's sturdy frame, three wheels, and an ergonomic design provide stability, balance, and a comfortable riding experience. With anetrike by your side, you can conquer challenging terrains, explore winding trails, and navigate bustling city streets with ease. It's like having your very own magic carpet that whisks you away to breathtaking vistas and hidden gems, all while reducing your impact on the environment!
5 Factors that Make an E-Trike the Best Travel Buddy
Unleash Your Inner Trailblazer
Buckle up and get ready to venture off the beaten path! When it comes to off-road explorations, the Grandtan etrike is your ultimate sidekick, designed to conquer rugged terrains and take you on adrenaline-pumping adventures like never before.
With a range of up to 85+ miles on a single charge, this etrike is ready to take you on epic adventures that push the boundaries of exploration. Its front suspension system ensures a smooth ride, absorbing the bumps and dips along the way. Meanwhile, the upgraded Samsung battery provides unparalleled power to cover greater distances without breaking a sweat. With the 750W front-mounted motor, you can navigate effortlessly and feel more secure, all while maintaining a steady and balanced ride.
Conquer Inclines like a Champ
Gone are the days of straining your muscles and enduring leg pain while pedaling uphill. With the powerful motor of the Grandtan three wheel electric bike at your command, conquering hills becomes a breeze. Capable of delivering a maximum torque of 80Nm and a peak wattage of 1000 watts, this etrike is your trusty companion, propelling you effortlessly through even the most challenging terrains!
Equipped with the groundbreaking EB 2.0 battery, boasting the world's first 48V*20Ah UL-certified battery cells, this etrike can take you further than ever before. With an estimated maximum range of 85 miles when using PAS 1 mode at 8 MPH, you can explore exciting new destinations without worrying about running out of power!
This etrike isn't just about power but also versatility. With a maximum load capacity of 350+1001lbs, it becomes the ultimate travel companion. You can carry luggage and even extra passengers, ensuring that you make the most out of your travels without having to worry about space or weight limitations.
The Cargo Kings of Electric Mobility
If cargo carrying capacity is your top priority, then the Grandtan electric adult trike has got you covered. Dubbed the "cargo kings of electric mobility," these etrikes come equipped with not just one but two basket attachments, making hauling, packing, and toting an absolute breeze.
The front basket is a perfect choice for storing smaller items like groceries or your personal belongings, while the rear basket is larger and designed to accommodate everything from laptops and shopping bags to pannier bags and camping supplies.
In addition, the Grandtan etrike comes with a zippered bag for the rear basket, offering complete protection for all your gear from dust, dirt, and even light rain. You can pack all your camping gear, tents, sleeping bags, cooking equipment, and more – there's no limit to what you can carry with these cargo kings at your disposal!
Etrikes, the Fluffy Clouds of Cruising!
Get ready for a ride that will take you soaring into the clouds with the Grandtan etrike. With its upgraded fat tires, this etrike ensures improved traction, durability, and a smoother riding experience that feels like cruising on fluffy clouds.
The Grandtan's innovative fat tire design features larger dimensions for better rollover capability, heightened durability, and an anti-slip cover tire that ensures excellent grip on sandy beach. Experience the ultimate in comfort on your adventures with the Grandtan's adjustable ergonomic saddle with backrest and adjustable footrest board, ensuring that every ride is a dream come true!
Eco-Friendly Exploration
The Grandtan etrike is not just a mode of transportation but a responsible choice for eco-friendly exploration. This etrike is equipped with a 360° visual full LED lighting system which provides high-quality lighting.
The Grandtan's wide butterfly-like wooden footrest provides ultimate support for your feet after a long ride, ensuring comfort throughout your travels. The eco-friendly design of the footrest reflects the Grandtan's commitment to being a sustainable and responsible choice for explorers and adventurers alike. The 5-inch LCD display gives you real-time information about your speed, battery life, and other ride settings. The low power consumption of the display means it operates efficiently, improving battery life and saving energy while keeping you informed and up-to-date throughout your travels!
Gather Your Adventure Tribe
Etrikes are the ultimate squad mobiles that take group trips to a whole new level of awesomeness! Your days of panting and pedaling furiously, desperately trying to match the speed of your pals on traditional bikes and trikes, are over. With Etrikes, the gang stays united, cruising in perfect harmony as you conquer the open road. So grab your travel buddies who share your love for adventure, strap on your boots, and get ready to hit the road – the countryside is waiting!