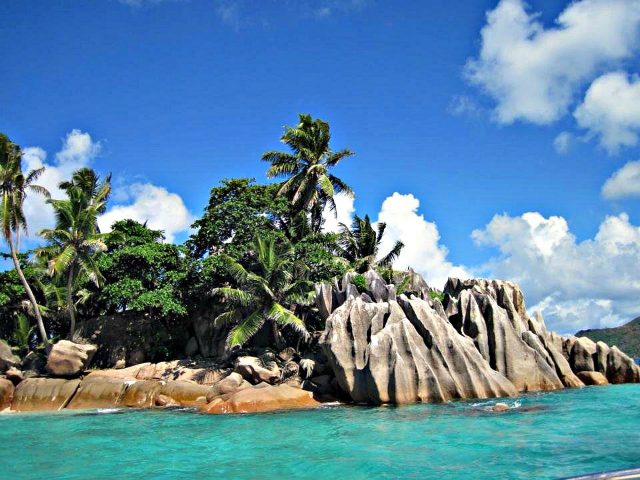 Looking for the ultimate castaway experience? Many quiet pockets of the Seychelles, be it forests, beaches or parks, offers this and much more. Read on to find out about the most unspoilt parts of the Seychelles, which can be found in both main and small islands.
Mahé: Main Island Hidden Gems
Travelling to the main islands but in search of off the beaten track experiences? The Mangrove Forest at Port Launay is one of the few remaining mangroves in the Seychelles. You can spot rare wildlife and more than 80 types of mangrove trees in this mystical slice of earth.
If you are interested in culture, Domaine de Val des Prés is your call! This craft village situated at the St Roch Au Cap offers an insight into Creole culture.  Explore Gran Kaz, a historic plantation house converted into a restaurant; La Kaz Roza, a former traditional house used by senior Seychelles citizens; and Maison de Coco, a house built of coconut products. Art shops offer paintings, pottery, clothing and souvenirs.
Curieuse Island: A Tucked Away Slice of Paradise
You've heard of the many attractions on Mahé, Praslin and La Digue but what are the best undiscovered islands? Curieuse Island is a bio-reserve that is exactly this. The protected island isn't developed for tourism, but you still can take day trip tours or rent a boat to get there.
Red-soiled Curieuse Island offers many unique activities and sights, such walking trails through dense mangrove forests. You can wander past giant granite cliffs, which are considered as some of the most magnificent sights on the island, and some of the most beautiful beaches. You'll come across friendly Aldabra tortoises, hawksbill turtles and a green sea turtle breeding ground.
Curieuse and Praslin are the only places in the world where the Coco de Mer trees grows naturally, so checking out the rare Coco de Mer is a must! You can see them at the island National Marine Park, which is open every day including public holidays.
Bird Island: A World of Secluded Natural Beauty
The northernmost island of the Seychelles, Bird Island, as the name suggests, is home to millions of sea birds and many other birds. Known as one of the few remaining authentic pieces of paradise on Earth, the island has 70 acres of tropical vegetation, coral cay and white sand beaches to offer the true castaway experience. Best of all, you can explore Bird Island on foot through several marked trails that lead to secluded corners.
And once you've enjoyed Bird Island's beautiful landscapes, you can continue to feast your eyes under water. The crystal clear and warm waters offer excellent swimming and snorkelling opportunities.
Visit seychelles.travel for more information.