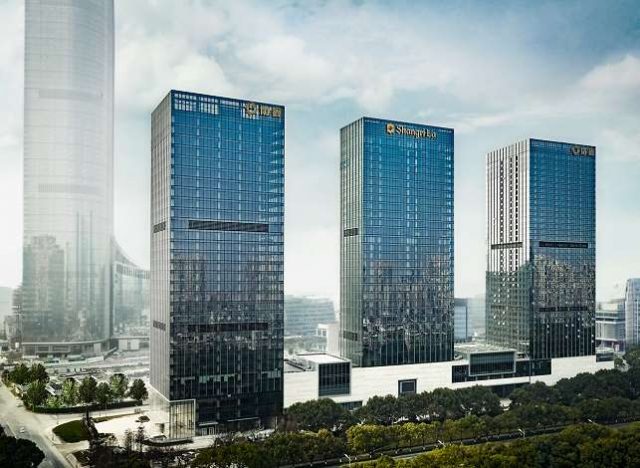 Shangri-La Group today announced Shangri-La Hotel, Suzhou Yuanqu will open June 1, 2019, enhancing the city's luxury accommodations and service offerings. A draw for both leisure and business travelers, Suzhou is famous for its classical Chinese gardens and silk production and is easily accessible by high speed train from Shanghai.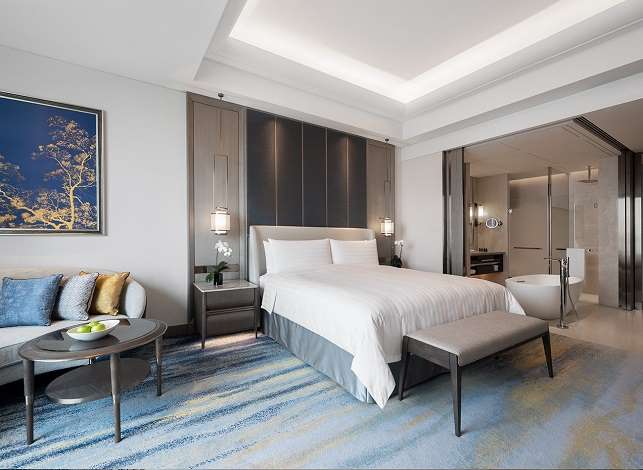 Shangri-La Hotel, Suzhou Yuanqu will have 303 guestrooms and suites and 16 serviced apartments. Starting from 48 square meters, the guestrooms are some of the largest in the city and will offer expansive views of Jinji Lake and the city skyline through floor-to-ceiling windows. Designed in a soothing palette of silver, beige and blue, the guestrooms reflect the many lakes and canals found within the city. An innovative sliding wall separates the bathroom from the living and sleeping area enabling a guest to create an open floor plan or segment the space for privacy. Guestrooms are adorned with art inspired by Suzhou's famous gardens created with a modern approach to traditional Chinese landscape paintings, while brocade fabrics pay homage to the important role that silk production has played in the city's history. The hotel's concierge level Horizon Club Lounge on level 31 will offer exclusive amenities and services.
Currently accepting reservations, Shangri-La Hotel, Suzhou Yuanqu is offering a special breakfast buffet price of CNY1 (about USD0.15) for stays booked under the flexible rate from June 1 to October 31, 2019. Golden Circle members can earn double GC Award Points for each room booking.
Travelers will be able to choose between two distinctive restaurants at the hotel. Shang Garden will serve regional Chinese cuisine, while the all-day dining restaurant Café Hong will feature live theater kitchens serving global fare. For those seeking an elegant escape to relax and socialize from day to evening, the Sip Lounge will offer an extensive selection of tea, wine, cocktails and live entertainment.
Guests can relax and rejuvenate in the Health Club on Level 7 with a 24-hour gym, 25-meter indoor temperature-controlled swimming pool, Jacuzzi, sauna, and steam bath. The Spa at Shangri-La will offer a selection of wellness therapies based upon the healing traditions of Asia.
The addition of Shangri-La Hotel, Suzhou Yuanqu will boost the city's total event space with two pillar-less ballrooms at 1,000 square meters (about 10,763 square feet) and 384 square meters (and 4,133 square feet). Seven multi-function spaces and a boardroom will complement the ballrooms and all venues will be equipped with advanced lighting, audio and video systems.
Located in the new central business district of the vibrant Suzhou Industrial Park (SIP), Shangri-La Hotel, Suzhou Yuanqu is part of GCL Plaza, an integrated commercial complex that comprises an international office tower, a high-end residence and a four-story retail space. The hotel is within walking distance of the Jinji Lake, the largest city lake park in China, as well as Suzhou International Expo Centre and Suzhou Culture and Arts Centre. The hotel is also within walking distance from the subway, making it an easy connection hub to major local attractions.
The hotel is a 10 minute drive from the SIP railway station and the Beijing-Shanghai/Nanjing-Shanghai expressway, the major thoroughfare which leads to Shanghai Pudong International Airport, Shanghai Hongqiao International Airport and Sunan Shuofang International Airport. Travelers can also reach Suzhou from Shanghai via bullet train within 30 to 40 minutes on almost 200 trains daily.
Shangri-La Hotel, Suzhou Yuanqu is the second hotel in Suzhou, China for the luxury Asian hospitality group. The first Suzhou hotel, Shangri-La Hotel, Suzhou, was opened in 2007 and is also located in the city's core business district.