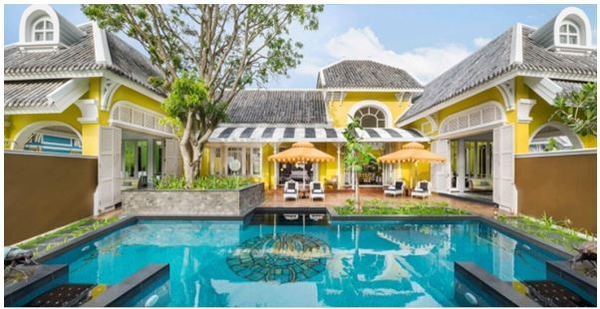 Vietnam's fantastical JW Marriott Phu Quoc Emerald Bay has opened six eye-popping, academia-inspired new villas offering a superlative private luxury retreat. The 180-700sqm villas benefit from on call butler service, private pools and sumptuous interiors replete with bold colours, bespoke prints and characteristic curios in Bill Bensley's inimitable signature style. So spectacular are the new villas that each represents its own 'department', with interiors tailored to reflect its particular academic specialism. Guests can choose from the Departments of Astronomy, Insect Study, Reptile Study, Fish Study, Mammal Study, and Ocean Study.
Phu Quoc has been dubbed "the upcoming playground of Vietnam" and the resort's designer Bill Bensley certainly had a lot of fun when conceptualising the design theme. Inspired by French naturalist Jean Baptiste Lamarck the resort is Bensley's vision of a fictional academy of learning, 'Lamarck University'. A visible evolution in the architectural style, from its supposed beginnings in the 1880s through to the 1940s, with surprising creative twists around every corner, ensures that the resort feels more like an accumulation of individual boutique hotels than a large resort, with each building modelled after an academic department.
The two one-bed villas' and four three-bed villas impressive double-height facades and windows make way for walls adorned with prints reflecting each villa's 'department'. Bensley collected these along with 5,000 antiques and artefacts for the resort during a two year tour across Europe, complimenting original vintage pieces with bespoke rugs and printed sofas.
Every angle has been visualised to ensure each view is more distinctive than the last with an inviting flow between the rooms. The bedrooms combine intricate woodwork with oversized beds, crisp white linen and large printed armchairs, perfect for curling up on with a good book after a day in the sun. Instagrammable bathrooms feature freestanding bathtubs and wrap-around vanity counters with double washbasins. High ceilings allow for the highest waterfall showers guests will have ever come across, making for an immersive rainfall experience.
Each villa's intimate walled garden and private pool area, which overlooks dense forest to the rear, boasts an inviting mosaic-lined pool and some surprising sculptures- all designed to reflect the academic specialisim, of course. With ample space for sun loungers, and some even having access to a private massage pavilion, the outdoor spaces are the perfect environment for relaxing, enjoying a cocktail and making the most of the South-East Asian sunshine with family and friends.
Beyond the salubrious surrounds of their villas, guests will find that the best spot for cocktails is The Department of Chemistry, while, for those wanting to hone their sporting abilities the Department of Physical Education is the place to go. The main hub of the resort, Rue De Lamarck, is an enchanting boulevard where boutique shops, traditional entertainment and the resort's restaurants can be found. There's also three public infinity pools and the pristine white Bai Khem (which means ice cream) beach where guests can take out kayaks, stand up paddle boards or snorkel among bustling coral reefs, all free of charge.
The six villas will be joined by two more over the coming months- the most luxurious of which, Lamarck House, due to open in November 2017, is purported to have been built in 1919 as elegant quarters for the Dean of Lamarck University.
The vision of Lamarck University is carried throughout the resort in a brilliantly creative yet subtle way, giving the resort a truly harmonious aesthetic, so whether guests choose to stay in one of the new villas, or one of the 244 spectacular suites it will be an experience unlike anywhere else.