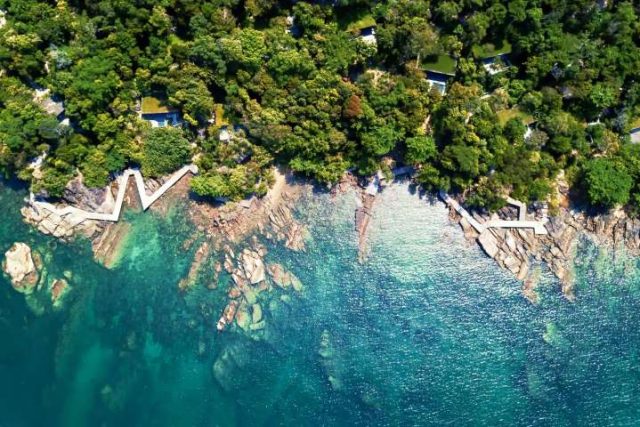 The silver lining to the pandemic has been the opportunity to rethink and reset tourism. As a priority sector in both Cambodia and Bhutan, both nations are moving away from mass tours and consumerism into rare, authentic, and meaningful experiences. By capturing the growing global trend in this direction, they aim to boost economic and environmental benefits and improve livelihoods.
Six Senses Bhutan Celebrates Reopening
In Bhutan, high-value, low-volume tourism enables investment in transformative programs that preserve Bhutan's cultural traditions, protect its heritage and environment, upgrade infrastructure, create opportunities for its young people, and build resilience. This model, which includes a Sustainable Development Fee, also protects the Kingdom's natural resources, with 70 percent of the land remaining under forest cover.
Bhutan's appeal is as much about its people as it is about its beauty, which is another important part of the guest experience. Visitors make deep connections with their guides, hosts, and local communities and want to come back.
Located in the Kingdom's western and central valleys, each of the five Six Senses lodges has a unique character and interpretation of Bhutan's spirituality, heritage, and hospitality. Six Senses Thimphu is perched on an auspicious hillside overlooking the shimmering lights of Thimphu. The "Flying Farmhouse Amidst the Rice Fields" Six Senses Punakha is a stone's throw from the majestic Punakha Dzong. Six Senses Paro is set among stone ruins and is designed to maximize what is undoubtedly one of the most scenic settings within the Six Senses Bhutan journey. Six Senses Gangtey is in a quaint and charming area in central Bhutan, well-known as the winter residence of the black-necked cranes. Built as a forest within a forest, Six Senses Bumthang is an auspicious base to discover monuments, monasteries, and winter festivals.
Guests can visit one or any combination as part of innovative itineraries or "Khamsas", accompanied by a private Guest Experience Maker guide and driver throughout the journey. To mark the Reopening Celebration, guests booking by October 31, 2022, will enjoy one additional complimentary night with any six-night paid stay and two extra nights with a nine-night paid stay. Landing at Paro International Airport, the 10-Night Khamsa journey offers a mix of some of Bhutan's not-to-be-missed sites, visiting some lesser-known places along the way.
"We have a real opportunity to showcase the more hidden side of Bhutan," says General Manager Andrew Whiffen. "From weaving through glacial valleys, rice fields, and remote mountain villages to joining Thimphu residents for circumambulations at the Memorial Chorten, trekking up to the Tiger's Nest monastery, which dangles off a cliffside, or joining young monks for breakfast or a game of football, guests are blown away. We combine these experiences with returning to the lodge to take a dip in the pool, sample local culinary delicacies, and visit Six Senses Spa for a pampering treatment."
Six Senses Krabey Island, Cambodia Reopens in time for a Festive Getaway
Post-pandemic recovery in Cambodia will rely in part on a business-enabling environment for higher-value travel and tourism. Beyond the Angkor complex and Siem Reap, Cambodia is also endowed with beautiful coastlines, important conservation areas, and a significant number of heritage and cultural sites, many of which are easily accessible from Six Senses Krabey Island. With the mainland reception just a 10-minute drive from Sihanouk International Airport, it is then a short 15-minute water transfer to the resort to enjoy cultural, wellness, sporting, and signature dining experiences.
The resort will reopen on December 2 with a renewed focus on community-based experiences to interact with locals, nature, and wildlife. Guests booking the Festive Getaway by November 30 will save 20 percent on the Best Flexible Rate.
The 40 spacious pool villas offer a private island hideaway feel without forgoing guestroom amenities, guest services, and a spa, which crowns the island and offers a wide range of holistic rejuvenation therapies. Days are as hands-on as guests like. A visit to the organic garden on the mainland includes a pick-your-own lunch. The Hook, Line, and Catch experience starts with an ethical fishing line in hand. A Spice Trail trip to the Kampot meanders past paddy fields and houses on stilts to an authentic pepper-infused lunch at La Plantation. Time-honored tips can be acquired during a Khmer Cooking Class.
There is a range of villas, from the Hideaway (perfect for two) to the Ocean (elevated for the views). Groups of friends or families can stay together in the Oceanfront duplex, which sleeps six and extends over two floors to maximize privacy. Set on the west side of the island, The Beach Retreat sleeps five and, as its name suggests, not only offers a private sundeck for lounging and alfresco dining but also direct access to a private beach cove. The toughest part about this one is leaving it.
"From December to February, the slightly cooler temperatures, low humidity, and long periods of sunshine make it an ideal time to visit," says General Manager Ateeb Shrestha. "During the dry season, you can enjoy morning yoga on the rooftop pavilion or take a spin around the island jungle gym, visit temples, go on a hike or tour, or simply relax and sunbathe during the day and enjoy our boardwalk dining or movie nights under the stars at night. The Experiences Center offers a wide range of on-island and on-water activities within the resort, plus boat excursions to the surrounding islands. Teens will love the Double-Dip Hangout, which is adjacent to the horizon-edge pool and serves house-made gelatos, and children aged 4 to 12 are kept busy at the kids' club."