Eos by SkyCity, is a 5-Star luxury hotel, with four new restaurants and two new bars, a range of the most contemporary gaming products and the most stunning VIP gaming rooms available in Australia all with a breathtaking views of the Riverbank.  
It will be a watershed moment for the state, leaving no doubt that SkyCity is Adelaide's premier destination for entertainment.
The Adelaide Casino has been an important part of South Australia's fabric since December 1985, almost 35 years ago to the day, when Premier John Bannon launched the building with a game of two-up to mark the opening of South Australia's first casino.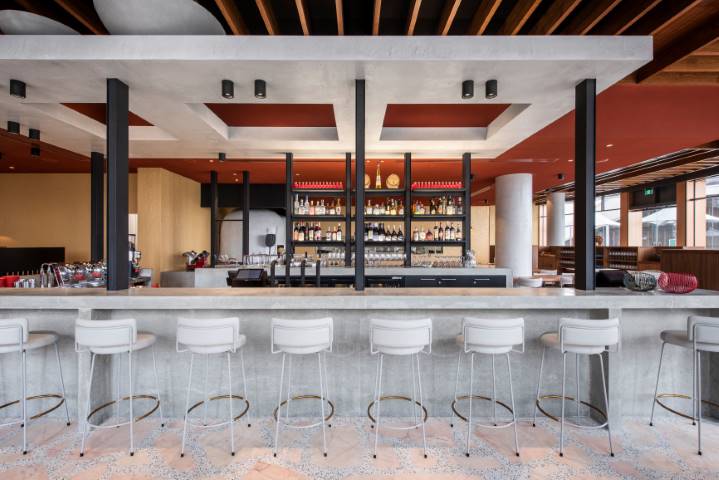 At a cost of $30 million, Adelaide's grand railway station was revolutionised. Fast forward to July 2017, and SkyCity committed $330 million to proceed with plans to expand on the Festival Plaza and form part of the rejuvenation of the Riverbank Precinct, surrounded by the iconic revamped Adelaide Oval, Festival Centre and Convention Centre.
SkyCity Adelaide General Manager, David Christian, said that as one of the state's largest private employers, he's excited about the future and the role SkyCity will play in supporting tourism, local artisans and jobs for South Australians.
"When we designed the new SkyCity Adelaide, which includes the stunning new expansion as well as a complete refurbishment of the heritage building, front of mind was to not only cater for the tourism market by showcasing South Australian producers and suppliers, but also to provide a world-class precinct where all South Australians feel excited to visit and proud to call their own.
"I feel a sense of pride in what SkyCity has achieved since taking ownership 20 years ago. In just the past 12 months SkyCity Adelaide has supported more than 700 local suppliers and employed an extra 500 staff, as well as producing 1,000 construction jobs for the duration of the project."
Boasting 270 degree-views of the city, Adelaide Hills, River Torrens and coast, SkyCity is a revolutionised tourism experience unlike anything South Australia has ever seen before.
Premier Steven Marshall said he's excited to give tourists more reasons to visit.
"There is no doubt the new SkyCity is going to be a huge drawcard for our State – it will significantly bolster South Australia's entertainment and tourism industry."
Jodi Brown, General Manager of Eos by SkyCity's 120-room 5-Star luxury hotel, says the name Eos has even more significance following a challenging period for hotel operators.
"Named after the Greek Goddess of Dawn, Eos is an embodiment of optimism. We look forward to bringing a new, extraordinary realm of luxury guest experience to Adelaide, where we will deliver a personalised approach, underpinned by indulgent experiences."
Eos by SkyCity, as well as the broader SkyCity expansion project, showcases more than $900,000 worth of local artwork. With the curation overseen by former AGSA Chair, Tracey Whiting, the artwork has been selected to integrate and complement the hotel's subtle, modern aesthetic, with the colours, textures and tones a key interior design element.
The collection features more than 900 pieces from a diverse group of 40 contemporary South Australian artists featured throughout not just Eos, but also the new restaurants and bars, including Sol Bar and Restaurant.
Sol, the Latin term for sun, is a revolutionary take on a rooftop bar and restaurant for South Australia, offering an unforgettable dining experience from breakfast through to dinner.
SkyCity also recently announced restaurants ITL and Lucky Noodle, which along with the Westward bar will have access to SkyCity's 7,500 bottle master cellar, boasting a focus on South Australian wines, as well as Huami and Conference and Events facilities, set to open in 2021.
While 2020 has been a tough year, SkyCity is thrilled to be opening this stunning entertainment establishment at a critical time. SkyCity Adelaide will help underpin the State's drive to be the most desirable destination, grow the future of South Australians, and deliver guests a world-class experience. 
Eos by SkyCity – Opening December 1
Eos by SkyCity is Adelaide's most luxurious hotel, with 120 5-Star rooms offering guests a new realm of luxury. Always personalised, Eos by SkyCity encompasses the finest in modern hospitality. Guests have at their finger-tips opulent suites, spa experiences, an in-room personal cocktail mixologist and an unpacking service.
Sol Bar and Restaurant – Opening December 1
Sol is an immersive rooftop bar and restaurant destination, celebrating the best of South Australia from its spectacular location, perched on top of SkyCity Adelaide. Curated by Head Chef Kane Pollard, Sol Restaurant's dining is an experience like no other with a strong focus on sustainability. All ingredients are locally sourced, and everything is prepared, cultured, churned and fermented in-house. Open the doors, step outside and enter the world of Sol Terrace Bar. With an extensive selection of cocktails and champagne available, it's the perfect spot to watch the sunset with those who mean the most.
ITL – Opening December 1
ITL's Italian kitchen embraces contemporary and friendly dining, featuring two large wood fired pizza ovens alongside freshly made pasta. Adjoining the Festival Plaza, ITL will be a high energy attraction for customers on the way to or from the Adelaide Oval and Festival Theatre.
The District at SkyCity – Opening December 1
The District at SkyCity, featuring the dynamic Pirate Life team, is Australia's first brewery in a casino.
The District brings together all venues on Level 1 of the heritage building; live entertainment, the Pirate Life brewery, the Sports Bar, Poker Zone and Bistro, in one unique venue.
Lucky Noodle – Opening December 3
Located on the main gaming floor of the expansion, Lucky Noodle will serve fast and fresh Southeast Asian food, delivering a quick dining option, without compromising on quality.
Westward – Opening December 3
Offering brilliant views of the River Torrens and footbridge, Westward is the perfect meeting spot pre or post game, located on the western side of the SkyCity precinct.
Conference and Events – Opening February 2021
SkyCity's dedicated Level Two Functions Floor is equipped with versatile event spaces and state of the art facilities, including the stunning SkyCity Ballroom for up to 650 guests, the Southwest Suite which can hold up to 80 guests, or three Executive Boardrooms for holding private meetings or breakout spaces.
Huami – Opening 2021
Huami, opening in 2021, will deliver Adelaide's finest Chinese restaurant, where authentic Chinese is delivered with opulence, taking diners on a contemporary journey through Southern China. In addition to the intimate dining restaurant, Huami will offer three private dining rooms and showcase a 1,200-bottle wine wall.