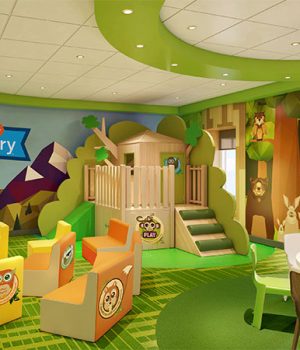 With family vacation planning in full swing for the summer, there are important decisions to be made. Will you have the time–and budget– to plan a vacation for the entire family, plus give your children that "camp" experience that makes for great childhood memories?
Yes, thanks to the cruise lines' children's programs. These programs are more than a babysitting service; they offer activities and programs that give the very best land-based counterparts a run for their money.
Do you have a budding environmentalist? Paul Gauguin Cruises offers a "unique program that introduces families to the extraordinary natural wonders of French Polynesia through direct, hands-on, interactive experiences with marine and island ecosystems."
Are you encouraging an up-and-coming Chef? Perhaps your child loves to cook and wants to know more about the culinary arts? Holland America has a Culinary Arts Center for Kids, where children can learn to make breakfast, lunch, dinner and snack items in 45-minute workshops.
Below is a sampling of what the children's programs have to offer… Be sure to click in to read about each program in its entirety, and click here to see a comprehensive listing of all the cruise lines' children's programs.
Princess Cruises offers a variety of activities for children aged 3-17, grouped by age. These groups have their own set of age-appropriate activities, often with separate facilities. Princess's larger ships feature sprawling youth centers with indoor and outdoor areas. To make planning simple, a schedule outlining the next day's youth activities is delivered to your cabin each evening.
The line features activities like ice cream and pizza parties, pajama parties and the opportunity to participate in Jr.CHEF@Sea for younger children, and teens have options like hip-hop dance classes, casino nights, mocktails, and special teen-only dinners.
Read more about Princess Cruises Children's Program here.
To book a cruise with Princess Cruises, or to find out more about the line, click here.
See more Premium Cruise Line Children's Programs here.
Royal Caribbean offers nursery programs for children and toddlers ages 6-36 months. Their programs for children are divided into different age groups, ranging from ages 3-17.
Royal Caribbean is home to the DreamWorks Experience, where young cruisers can experience activities such as story time, dance parties, parades, ice shows and aqua shows with characters from the DreamWorks Animation movies.
Kids and teens can enjoy activities like rock climbing competitions, theme nights, and pool parties into the late evening with extended hours in the Adventure Ocean and teen-only spaces.
Read more about Royal Caribbean's Children's Program here.
To book a cruise with Royal Caribbean, or to find out more about the line, click here.
See more Upscale Contemporary Cruise Line Children's Programs here.
Paul Gauguin has a unique program on select sailings in partnership with the Wildlife Conservation Society. It is designed especially for families, and lets parents and children pick and choose from a series of "onboard activities and daily excursions that reveal the natural wonders and rich culture of Polynesia by land and sea. Adults are encouraged to join in for the additional cost of the excursions."
Read more about Paul Gauguin's Children's Program here.
To book a cruise with Paul Gauguin, or to find out more about the line, click here.
See more Luxury Cruise Line Children's Programs here. (Note: most ultra-luxury cruise lines do not offer formal children's programs, so if these lines are a consideration for your family, be sure to read about their children's amenities very carefully.)
For more Family Travel resources, please visit http://www.cruisecompete.com/resources.php.
Click here to download your copy of the 2017 Family Friendly Cruise Travel Planner.
If you are dreaming of a family cruise vacation this summer, this is the time to book.
CruiseCompete member-agents are the most well-educated, forward-thinking and trusted cruise specialists in the industry. If you'd like more information or assistance planning your next family vacation, please visit us at http://www.cruisecompete.com/, or http://www.cruisecompete.com/group_cruises/.