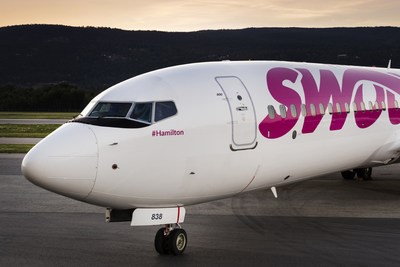 Swoop, Canada's leading ultra-low fare airline, will expand its presence in the U.S., adding
non-stop ultra-low-cost air service in New York (JFK), Chicago (ORD), Los Angeles (BUR), San Francisco (SFO) and Nashville (BNA) this summer.
The fast-growing ultra-low-cost carrier (ULCC) also recently announced it will add six new Boeing MAX-8 aircraft to it's fleet this summer in anticipation of significantly pent-up demand for leisure travel.
Swoop's announced U.S. expansion comes as the ULCC reports significantly increased passenger numbers and record bookings domestically, and the airline expects those trends to extend to U.S. leisure travel this summer.
DETAILS OF SWOOP'S NEW & INCREASED SERVICE (flights scheduled May to October 2022)
● New York:
New York (JFK) <>Toronto : 5x weekly (NEW June 20)
● Chicago:
Chicago-O'Hare (ORD) <> Toronto : 5x weekly (NEW May 30)
● Los Angeles:
Los Angeles (BUR) <> Edmonton : 3x weekly (NEW June 23)
● San Francisco:
San Francisco (SFO)<> Edmonton : 4x weekly (NEW June 6)
● Nashville:
Nashville (BNA) <> Toronto : 5x weekly (NEW May 26)

Nashville (BNA) <> Edmonton : 2x weekly (NEW June 19)
● Las Vegas:
Las Vegas (LAS) <> Toronto : 4x weekly (NEW May 20)

Las Vegas (LAS) <> Hamilton : 2x weekly (June 23)
● Phoenix-Mesa:
Phoenix-Mesa (AZA) <> Edmonton : 1 x weekly (year-round)
● San Diego:
San Diego (SAN) <> Edmonton : 3x weekly (increasing from seasonal to year-round)
● St. Pete-Clearwater:
St. Pete-Clearwater (PIE) <> Hamilton : 2x weekly (increasing from seasonal to year-round)
● Orlando-Sanford:
Orlando (SFB) <> Hamilton : 2x weekly (increasing from seasonal to year-round)

Orlando (SFB) <> Toronto : 2x weekly (increasing from seasonal to year-round)
● Palm Springs
Palm Springs (PSP) <> Edmonton : 1x weekly (seasonal to year-round)