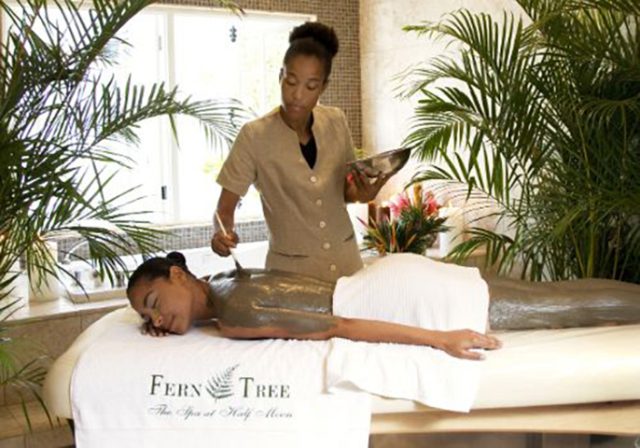 Signature Jamaican wellness experiences
There is no shortage of Jamaican spa and yoga experiences to bring a holiday to the next level and deliver some much-needed 'me time'. The following are some of the island's best wellness activities, ranging from authentic 'bush baths', tropical yoga experiences, and stunning spas.
Fieldspa at GoldenEye (Ocho Rios): Located in a quaint cottage at the edge of the GoldenEye Lagoon, this restorative spa offers a variety of authentic Jamaican bush baths. Each bush bath occurs outside and begins with a dry brush exfoliation and includes a scalp massage followed by full body hydration treatment.
Yoga at Jakes (South Coast): Jakes Hotel is a charming and laid-back property located on Jamaica's South Coast. The hotel hosts daily weekday yoga on an open-air shaded platform overlooking the Caribbean Sea. Lucky participants can even sometimes spot pelicans flying by or dolphins breaching in the distance. Jakes also offers treatments at their Driftwood Spa, which boasts products made with ingredients from the on-site garden.
Fern Tree Spa at Half Moon (Montego Bay): This award-winning spa offers guests many incredible treatments for unwinding and relaxing while on vacation. Treatments are delivered in a nurturing seaside setting and feature indigenous plants, herbs and fruit. Popular options here include a soothing coconut milk soak or coffee scrub, inspired by local Blue Mountain coffee.
Jackie's On the Reef (Negril): Wellness abounds at this quaint, eco-friendly hotel in Negril. Each morning guests can partake in free yoga and meditation offered on the open-air veranda overlooking the sea followed by a healthy breakfast. All fruits and vegetables are from the hotel's own organic garden or from local farmers, and the hotel even harvests its own rainwater.