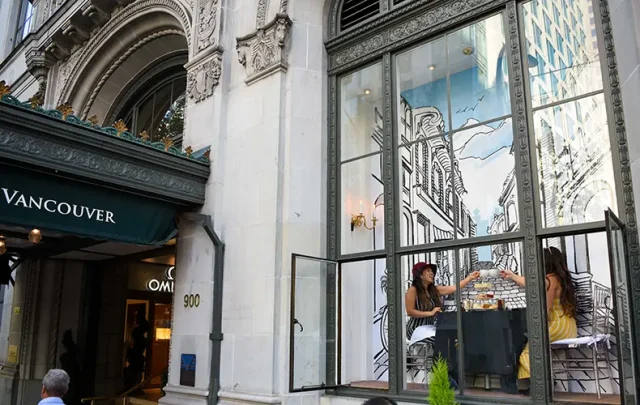 Vancouver's iconic 'Castle in the City', Fairmont Hotel Vancouver is known for its enchanting immersive Themed Afternoon Tea served at Notch8 Restaurant, but it's the unique and unusual tea setting that will be getting double takes as the beloved Tea in the Window returns on Friday, August 11, 2023.

Available Monday through Friday with seatings at 11:00 a.m. and 2:00 p.m., Fairmont Hotel Vancouver's Tea in the Window is an exclusive dining experience in the hotel's street-level window display on West Georgia Street. This limited-time tea service will be available throughout the summer and gives guests a unique opportunity to see the city from a different perspective while enjoying a spot of tea in an untraditional setting.

Tea goers will enjoy an intimate afternoon tea experience surrounded by custom art created by Mandy Lau, a Vancouver-based fashion illustrator. Lau, inspired by thoughts of afternoon tea and enjoying time with family and close friends, was pulled towards the idea of an exterior street scene inside an interior – a kind of fantasy world for passersby to stop and peer into. Created both traditionally, using graphite and ink, and digitally, the street scene perspective was illustrated to provide a sense of depth, with focus always resting on the tea table and the diners at the center of it all.

After checking in at the host stand outside of Notch8 Restaurant, the experience starts with guests being whisked up the new grand staircase to enter the unique venue for two. Service begins with guests selecting their preferred choice of LOT 35 Tea to sip on, while the culinary experience commences with house-baked buttermilk scones and golden sultana scones, served with clotted cream, and strawberry preserves. Tea sandwiches include foie gras and duck rillettes, tomato tartlet, emperor ham, smoked salmon, cucumber, and truffled egg salad. Sweets from the hotel's pastry shop include lemon meringue, cheesecake, hazelnut opera cake, cream puff, and mini Notch8 OMG cake.