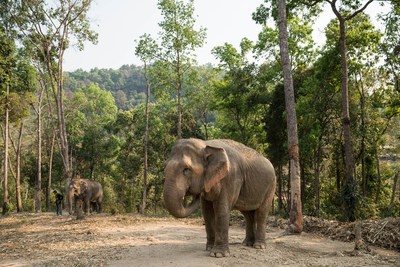 Happy Elephant Care Valley, in Chiang Mai, Thailand is about to embark on a landmark agreement to become a truly elephant-friendly venue. This move will end all physical interaction between tourists and elephants at the camp, to meet the growing demand for responsible elephant experiences.
The transformation of the venue was initiated by animal welfare charity, World Animal Protection as part of a coalition of leaders in the travel industry, including TUI Group, The Travel Corporation (TTC), Intrepid Group, G Adventures, EXO Travel, Thomas Cook Group, and others.
Thousands of captive elephants in many venues across Thailand still give rides that are the result of a cruel and intensive training process. However, a 2017 KANTAR global poll shows a significant drop of 9% (to 44%) in the number of people who find elephant riding acceptable compared to just three years ago. The poll also shows that more than 80% of tourists would prefer to see elephants in their natural environment, proving elephant-friendly tourism is on the rise.
The elephants at Happy Elephant Care Valley were previously from farms and riding camps. Until recently it was possible for close interaction between tourists and the elephants at the venue, with tourists being able to ride, bathe and feed elephants. This stopped when the travel industry coalition presented a business case demonstrating the rise of elephant-friendly tourism.
The transition will see the elephants able to behave as they would in the wild; free to roam the valley, graze and bathe in rivers as tourists experience these wonders, standing at a safe distance.
Josey Kitson, Executive Director at World Animal Protection Canada, said:
"Through the support of the world's leading travel companies we are proving that elephant-friendly venues, those without forced and dangerous interactions with wildlife, make both ethical and financial sense for camp owners.
"Happy Elephant Care Valley's move is a huge step forward for both elephants and ethical tourists. It will provide an incredible opportunity for the growing number of tourists who want a positive experience seeing elephants behaving naturally and freely as part of a herd."