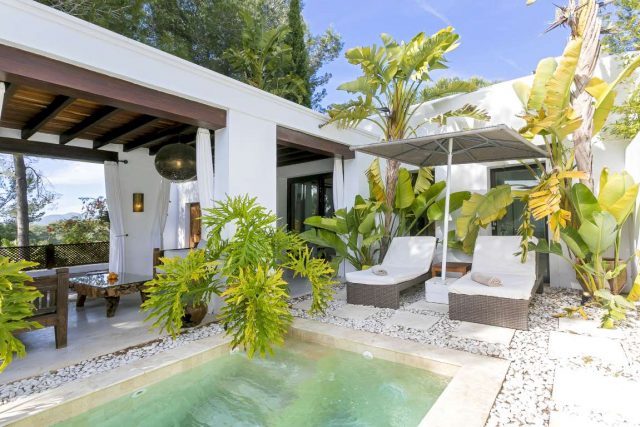 2019 promises to be a special year for The Atzaro Group in Ibiza. It marks the 15-year anniversary of Atzaro Hotel and Spa, Ibiza's award-winning five star Agroturismo hotel, which re-launched last year with a chic new interiors concept embracing natural luxury and a return to its Ibicencan roots.
Atzaro, formerly a generations-old working orange farm, is built around a lush 15-hectare estate belonging to the Guasch family (owner Victor Guasch was born in the Agroturismo). As an agroturismo (meaning a rural hotel with working farm), Atzaro has always had its ethos firmly rooted in farming and agriculture. For generations the heritage of Atzaro has been in orange farming and every year the estate produces oranges for the hotel and the north of the island, as well as vegetables and herbs for the kitchen.
The launch of the Atzaro 15th Anniversary Garden – opening August 2019
To celebrate the 15th anniversary, the hotel will be launching a magnificent landscaped three-hectare ornamental garden in August 2019, the first of its kind in Ibiza.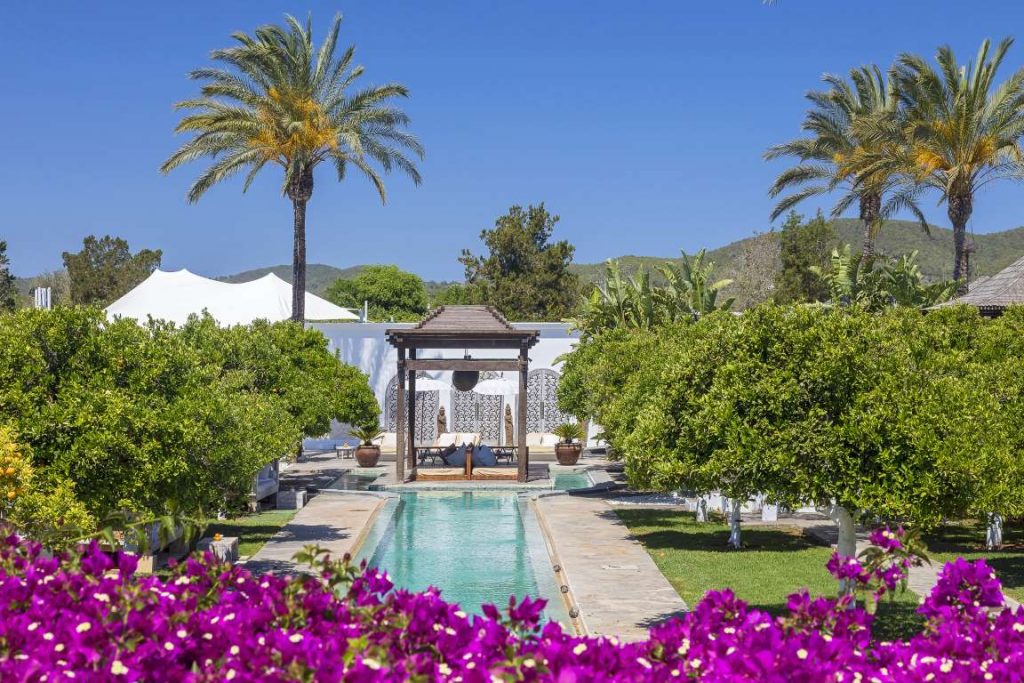 The Garden at Atzaro will be a horticultural delight; walkways meandering through beautifully planted vegetable patches, herbs, fruits, palm trees and cypresses. Cascading arches and natural passages will be strewn with hanging courgettes and squashes. Fountains and natural wood pergolas provide perfect spots to sit, and at the centre is a large grass area for sumptuous picnics and open-air cinema nights under the stars. With sustainability at its heart, the new Garden at Atzaro will mean the hotel will grow all the vegetables it needs for its in-house restaurants. A wide range of Mediterranean vegetables, fruits and herbs will be grown and harvested seasonally providing the produce for the new farm to fork food concept.
The Garden at Atzaro will be opened with a VIP celebration launch party in August 2019 – details to be announced.
Atzaro Beach relaunches and will open 1st April 2019
Set on the sparkling beach of Cala Nova in Ibiza's North-East, Atzaro Beach will be relaunched this year with a whole new design aesthetic. The concept is paired back and low key with a super relaxed authentic look reminiscent of 70s Balearic style. Created by Atzaro Design, the new exteriors combine natural woods, terracotta pots and an abundance of local plants. The colour palette is soft neutral sand tones with pops of turquoise to offset the crystal-clear waters of the sea.
A rustic wood pergola provides the shade for those long summer days and the hanging rattan lights add some low-key atmosphere to balmy nights. Gone are all the formal tables and in comes a mix of sofas, stools, tables and chairs with laid-back hanging bamboo egg chairs as well as rattan peacock armchairs. An Ibizan wooden boat provides an extra cushioned seating area to create a casual and relaxed feeling.
The food concept at Atzaro Beach has been revamped too, with the emphasis on paired back, simple natural dishes. The new menus are healthy with plenty of vegan and vegetarian dishes. Light salads, paella and seafood using locally sourced ingredients and a wholesome, rustic style. Sharing plates and tapas are perfect for grazing on, allowing visitors to mix and match their choices. Enjoy your lunch whilst lounging on the comfortable daybeds or sofas beach-side.
Next door to Atzaro Beach is the charming Atzaro Chiringuito; a simple and more relaxed paired back and barefoot beach barset amongst thebeautifully preserved duneson Cala Nova beach.
The Atzaro Group has gone from strength to strength recently, with the rave-reviewed Aubergine Restaurant named by ES Magazine as the hottest restaurant on the island for 2018. In 2018 the group also expanded into Indonesia with the launch of their beautiful super-yacht, Prana By Atzaro,a traditional but luxurious Phinisi available for charters and suite bookings in the Komodo National Park, the Spice Islands and Raja Ampat.
Atzaro Restaurant News 2019
Dining at Atzaro is a beautiful experience outside under the stars during the warm months of the summer or by fragrant log fires in winter. Seasonal ingredients grown on the estate are key to the healthy sharing plate menus. The food is rustic, fresh, and healthy, with a look of quality. Daytime and evening menus are based on a farm to fork concept with a simple and rustic but modern twist paired with an excellent local and international wine list. On the garden menu are dishes that include Atzaro's famous local creamy Burratina with tomato and pesto Salad, roasted pumpkin salad (with feta and pistachios) or try a delicious beetroot and avocado burger.
Atzaro Spa News – a new product range launches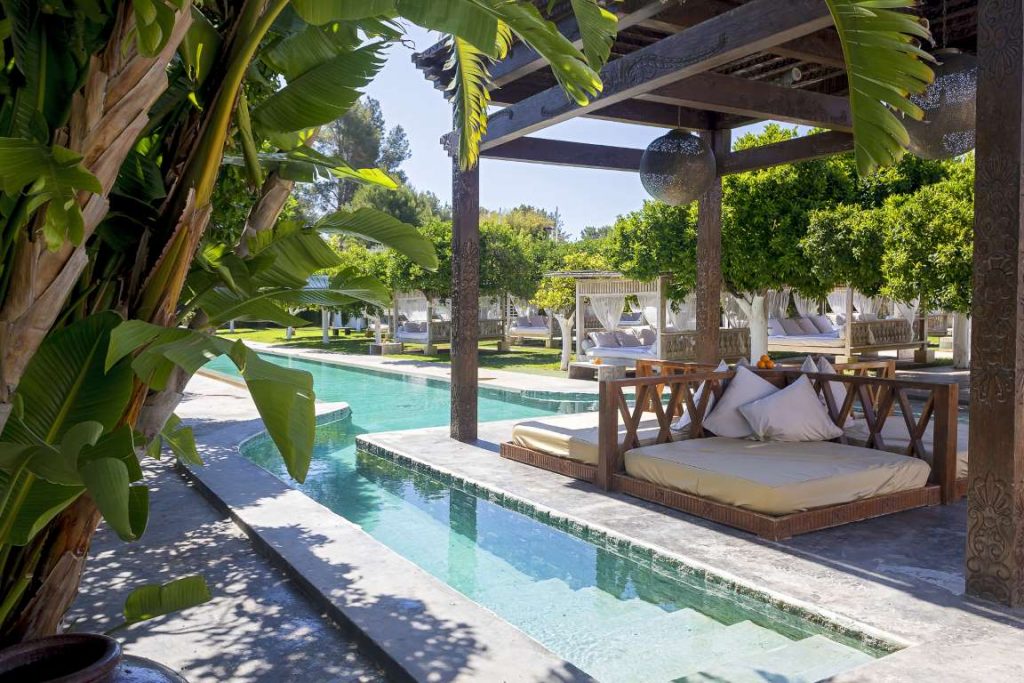 Atzaro's open-air spa and 43-metres long pool are world-famous. As part of the 15th anniversary, the spa will be launching a luxurious new holistic Atzaro Spa product range. The products will be based on Atzaro's own orange essential oil and other plants and herbs grown on the estate.
Eco-friendly and beautifully packaged organic lotions, creams and oils will be available to buy at the Atzaro Spa. These will also be the in-house product range for use in the hotel's bedrooms for guests to enjoy. There will be a range of enticing Atzaro massage and treatment oils made from the estate plants and for use during Spa treatments.