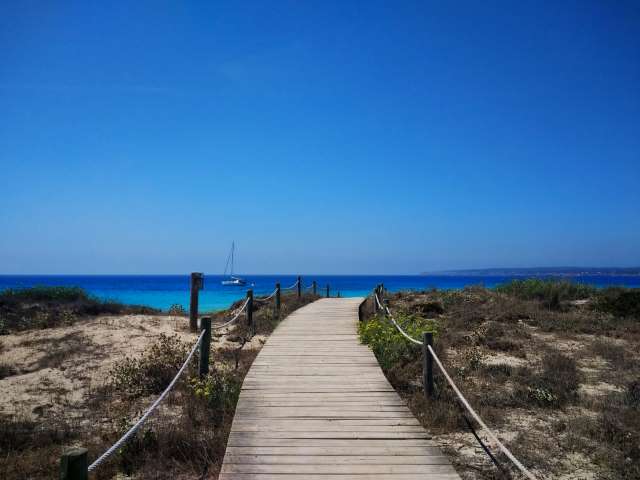 Formentera is an idyllic island located in the Mediterranean Sea, off the coast of Spain. With its stunning beaches and crystal clear waters, it's no wonder why Formentera has become a popular tourist destination.
But what truly sets this island apart from other vacation spots is its impressive selection of luxurious accommodations. From beachfront apartments to high-end resorts, hotel groups like Emar Hotels offer something for everyone looking for quality accommodation during their stay in Formentera.
Whether you're looking for a romantic getaway or just want to relax and enjoy some sun, there's something on this island that will suit your needs and budget perfectly!
The best hotels in Formentera
Emar Hotels boasts an impressive range of quality accommodations in different areas of Formentera. Here are some of the hotels, resorts and apartments that this hotel group has located all over the island.
Hotel Voramar
At the Hotel Voramar, you'll be able to experience a luxurious three-star getaway in Es Pujols. Just steps away from beautiful beaches and plenty of shops and restaurants – this is an ideal spot for couples, families, or friends!
56 rooms with two beds each are provided; they come outfitted with air conditioning systems, bathrooms (either shower/bath combo), hair dryers terraces on some floors along with other amenities such as free safes & televisions that provide access Wi-Fi connection so visitors can stay connected at all times! And if needed they can also offer 2 accessible rooms available too.
Es Pujols Apartments
Enjoy sunny Formentera in style! The Es Pujols Apartments provide the perfect stay with 45 luxurious flats just 100 meters away from a stunning beach. Every flat is complete with modern features, such as air conditioning, fully equipped kitchen and private balcony – ensuring your comfort for the duration of your holiday.
Enjoy their fantastic swimming pool with an outdoor solarium area, even request beach towels on loan if you need them! Make memories that last forever at this wonderful haven near one of Spain's most beloved shores.
Es Pi Hostal
Hostal Es Pi is a welcoming tourist accommodation located just 150 meters from the stunning beach of Migjorn. Surrounded by Ca Marí's picturesque natural environment; harmony and tranquility reign supreme along its longest island beach.
Recently renovated with modern functionality in mind, each room – single, double, or quadruple – boasts air conditioning units complete with safe (with extra charge), TV sets plus mini fridges among many other amenities to ensure guest comfort including free Wi-Fi access while balconies/terraces provide breathtaking views.
The complimentary private parking service, swimming pool with outdoor solarium and children's area round up this perfectly tranquil oasis on Earth! Don't miss out on the opportunity of trying their wonderful buffet breakfast, as well as packed lunches, drinks and snacks too!
Es Pins Bungalows
Looking for a true escape with some peace and tranquility? Look no further than Bungalows Es Pins! This formidable holiday complex is located in the area of Ca Marí, Migjorn – right in the heart of Formentera.
Immersed among pine trees and gardens, this abode enjoys an incredibly tranquil atmosphere while being just 300 metres away from its longest beach; making it your ideal destination to relax in a unique natural environment.
With 70 apartments or rooms available onsite (complete with five different room types, ranging from double rooms through to villas that can host up 10 people) as well as access to your very own bar-restaurant offering delicious A la Carte dinners – you'll never want to leave this slice of heaven!
Pinomar Apartments
Escape to the island of Formentera and experience a tranquil vacation unlike any other. Pinomar Apartments, located just 200 meters from the beach and 750 meters away from town center offer one- or two-room apartments with all that you need for an unforgettable stay; including bathroom with shower, Wi-Fi access and a free safe!
Enjoy 10 minutes out on foot exploring local bars, restaurants, and shops before retreating back into your haven filled with peace undisturbed.
La Gaviota Apartments
La Gaviota Apartments offers adults a chance to take in the beauty that Formentera's coast has to offer. Step away from the hustle and bustle of regular tourist spots, recharge your energy amid stunning vistas of the sea while still being within walking distance of Es Caló fishing village.
Choose between studios for 2 people or larger options like 3 bedroom apartments with tiled floors, white walls, wood furniture accentuated by splashes of color – perfect for those seeking peaceful tranquility!
All apartments are outfitted with modern amenities such as microwaves and Italian coffee machines so you can enjoy all kinds of comfort during your stay here at this idyllic location.
Timon Apartments
Whether you are looking for a romantic escape or an adventure with the whole family, Timon Apartments in Es Pujols have it all. Experience the best of Formentera at this fabulous location just 200 meters from the gorgeous beachfront and right in the center of town!
All one-room apartments feature two single beds (maximum 3 people capacity) they are boast a living room sofa bed, flat screen TV, fully equipped kitchenette with fridge/microwave/coffee maker combo and air conditioning to ensure your comfort.
Enjoy free Wi-Fi connection during your stay – nothing beats leisurely lounging on a comfortable balcony overlooking a picturesque landscape.
Els Pins Resort & Spa
Fancy a night in Ibiza before or after your trip to Formentera? Escape to Hotel Els Pins Resort & Spa, a stunningly renovated four-star property nestled in the beautiful Sant Antoni de Portmany bay.
Stroll along the Mediterranean Sea shore just 20 meters from your front door and discover all that the resort has to offer – perfect for couples or families alike! Relax amongst lush gardens at their renowned Wellness Centre and Spa before returning inside to enjoy two restaurants and bars on hand; one situated near the hotel's glistening pool.
Experience luxury amidst idyllic surroundings during your dream vacation today!
Proa Apartments
Find your peace at Proa Apartments, a tourist resort located in Es Pujols, North of Formentera. Their apartments are ideal for couples or groups of friends looking to stay in the heart of Es Pujols, just 100 metres from the sea and with all conveniences and services within reach.
They offer three apartment options: apartments with balcony with a total capacity of two people, standard apartments with a total capacity of three people and two-bedroom apartments with a total capacity of five people.
No matter your needs, Proa has what you'll all love..
Located in the tranquil oasis of Migjorn, Viviendas Turísticas Aguamar is a paradise just minutes away from an extensive beach. Here guests find luxurious bungalows on ground level with air conditioning and a private terrace overlooking exquisite gardens—perfect for relaxation after long days outdoors.
Apartments come with fully equipped kitchenettes to cook up tasty island meals and air conditioning to keep you cool after a busy hot day at the beach. Their pool area features magnificent Balinese beds where guests may sunbathe or bask unwinding among incredible garden views.
As you can see, Formentera offers holiday goers a wide array of high-quality lodging options. Choose one of these Emar Hotels properties and be rewarded with the perfect combination of convenience, comfort, and beauty!
Wherever you choose to stay in this Balearic paradise, you are sure to have a fantastic time discovering the island's hidden gems. Enjoy your dream holiday now – book your accommodation today!