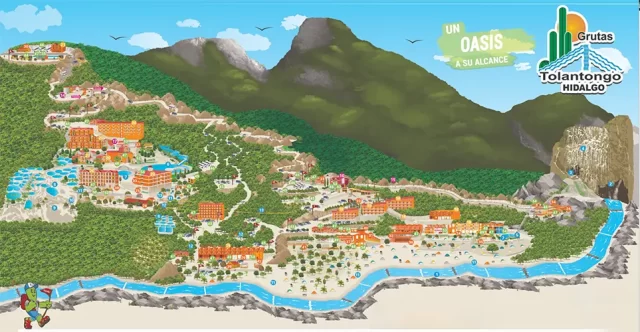 The best water parks in Mexico
There is nothing better than visiting water parks while on vacation in Mexico. You can see many destinations depending on your tastes and where you are. Take note that these are the best water parks in Mexico:
1. Grutas de Tolantongo in Hidalgo
There is a water park located among rocks and a semi-tropical environment, the Grutas de Tolantongo. This part has pools with thermal and curative waters; it also offers the option of camping, waterfalls, pools with slides, and pools ideal for swimming and organizing picnics.
Pets are not allowed, and reservations cannot be made online, only upon arrival. General admission is USD 6—those over five years of age pay the total price.
It is located in the town of San Cristóbal, in the municipality of Cardonal, Hidalgo. To get there, you have to take the Mexico-Pachuca highway. At the entrance to Pachuca, you will find a detour to Ixmiquilpan. It is a 2-hour and 20-minute drive; once in Ixmiquilpan, you will find the exit to Cardonal at the San Antonio Church. This exit should take you directly to the Tolantongo Caves.
2. Spa & Aguas Termales El Carrizal, Veracruz
With hot springs, a 53-room hotel, spa, restaurants, bars, and adventure activities such as river rafting, zip-lining, rappelling, hiking, horseback riding, and mountain biking, this is a perfect place for tourists.
People prefer it for its hot springs, good location, and ease of ecotourism. It is one of the favorites in Veracruz because it is located on the banks of the Pescados River and offers a whole experience of fun, adventure, and tranquility.
It is located in the municipality of Apazapan, Veracruz, near the town of "La Cumbre" on the Xalapa-Veracruz free highway.
3. Ventura Park
It has children's games, a pool with waves, slides, and extreme challenges such as the Kamikaze slide, twister, bubba tub, double space bowl, children's areas, restaurant, bar, and ice cream parlor. You literally have everything you need in one place.
It is located in Cancun within the Parque Nizuc complex at km 25 of Boulevard Kukulcan in the Hotel Zone. It is one of the most popular water parks in the area.
4. Balneario El Bosque, in Oaxtepec, Morelos
It has 20 pools, wave pools, diving pits, splash pools, 30 water slides, rivers, and waterfalls. It also has areas with barbecue grills and a camping area. Although it is said that the emperor Moctezuma enjoyed his baths here, it was also a place of recreation for the emperors of Pre-Hispanic Mexico.
You can also enjoy cultural activities by visiting a watchtower pyramid and several carved stones; among them, a stone in the shape of a coiled serpent and the rock of sacrifice, a mathematical stone used by Aztec astronomers.
Mexico City is 96 kilometers away, from where you can reach the resort by highway 115D Mexico-La Pera-Tepoztlán-Oaxtepec.
5. Cici Water Park, Acapulco
In this establishment, you can enjoy a wave pool, aquatic tubes, and slides such as the Tornado, the Skycoaster, where you will fly through the air, and the Kamilanche. In addition, this spa also offers a dolphin show. It also allows you to swim with these beautiful mammals, an unforgettable experience.
It is located in Acapulco, Guerrero, on Av. Costera Miguel Alemán s/n, corner with Cristóbal Colón, Costa Azul.
However, you can only enjoy these water parks if you have the necessary travel documents to enter Mexico. Therefore, most foreign tourists must present a Mexican Tourist Card.
The Tourist Card is not officially a Mexican visa and does not replace it in any way. Accordingly, if you are one of the travelers requiring a visa, you must apply for a Mexican visa separately and present both documents at the border.
All this information can be requested from the experts at iVisa. They have the necessary tools to advise you on what you need. If they identify that you need to process this travel document, they will also help you.