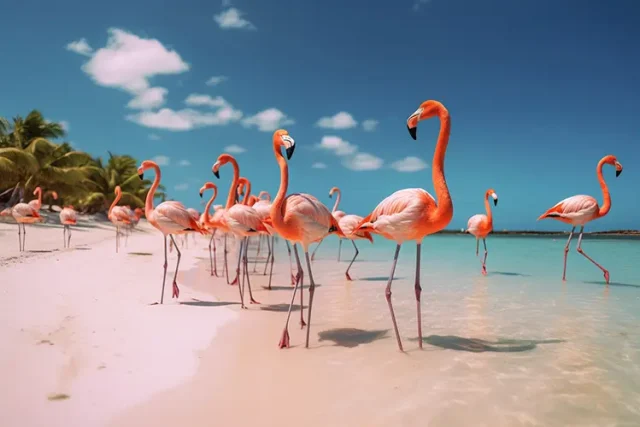 If you want to experience the Caribbean the way it was before mass tourism you're in luck. The tiny island of Bonaire and the luxurious boutique resort, Harbour Village Beach Club offer much for discerning travelers dreaming of something new.
Harbour Village Beach Club has an ideal location on a four-acre private peninsula on Bonaire to explore the Top 10 reasons the resort and Bonaire are the in-the-know travelers' destination of choice in the Caribbean.
World Class Diving – Boasting the oldest marine reserve in the world and over 340 species of fish, Bonaire is an underwater paradise. The island was designated by the National Oceanic and Atmospheric Administration as having the healthiest reefs in the Caribbean. For 19 consecutive years Bonaire was honored as the top Shore Diving destination in the Caribbean/Atlantic in Scuba Diving magazine's annual Readers' Choice Awards. Harbour Village Beach Club offers a multitude of dive classes for guests.
Underwater Accessibility – Harbour Village Beach Club makes it easy for anyone to go under the sea with its unique underwater viewing cameras. The cameras open the ocean to everyone, not just divers and snorkelers.
No Hurricanes – One of the problems of traveling to many Caribbean islands is that a hurricane can easily derail your trip. Bonaire lies outside the hurricane zone and enjoys stellar weather year-round.
Private Beach – Guests of the Harbour Village Beach Club have access to its private beach, the only such beach on the island.
Unspoiled Beauty – Thanks to flying under the radar, Bonaire retains its natural beauty and affords travelers privacy, seclusion and off-the-grid adventures.
Flamingo Central – Bonaire is home to over 10,000 pink flamingos. It's one of four breeding sites for the Caribbean Flamingo and the island boasts a flamingo sanctuary.
Windsurfing – Bonaire is one of the premiere locations in the world for windsurfing. Jibe City is the hub for beginners and pros alike.
European Vibe – As a municipality of the Netherlands, Bonaire has a distinctly cosmopolitan vibe and European flair.
Food Scene – For a small island, Bonaire has a big food scene. Sample Mediterranean cuisine at Sebastian's, try the local specialty Iguana Soup at Karel's Beach Bar or dine seaside at Harbour Village Beach Club's Spanish inspired La Balandra Restaurant.
Direct Flights – It's easy to get to Bonaire with a direct flight from New York, Houston, Atlanta or Miami.