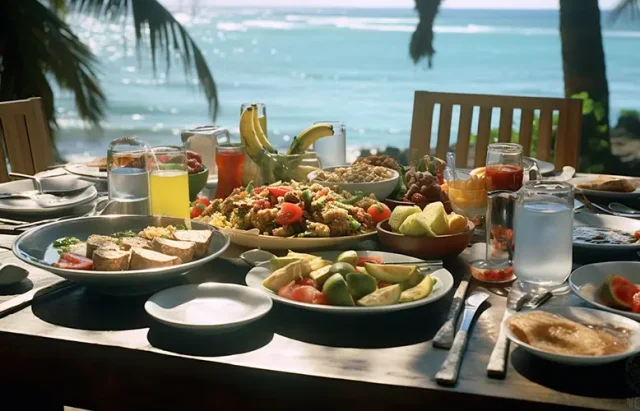 Costa Rica is a country that values biodiversity in nature and sustainability in tourism, and nowhere is this more apparent than in its cuisine. In this tropical paradise, the vibrant colors of nature are reflected in the fresh, delicious dishes awaiting travelers. The country's unique cultural food scene features local sodas (small community or family run restaurants found all over the country) and locally grown ingredients that lend themselves well to the diets of vegetarian and vegan travelers.
As firm believers of the farm-to-table movement long before it became popular, Costa Ricans are experts at creating delicious meals from fresh, local ingredients. Travellers looking for the Pura Vida on their plate can experience the following fresh, delicious dishesduring their visit.
Vegetarian and Vegan Friendly Foods
Costa Rica's abundant natural resources provide the basis for a fresh, flavorful, and colorful vegetarian and vegan food scene that will satisfy your taste buds and nourish your body.
Here are just a few examples of the incredible vegan and vegetarian dishes you can enjoy in Costa Rica:
Gallo Pinto: This traditional breakfast dish is a delicious mixture of rice and beans, usually served with a side of eggs, plantains, avocado, cilantro and tortillas. Each region of Costa Rica has their own variation of Gallo Pinto, so there is no one recipe for the dish.
Picadillo de chayote: This healthy dish features squash with traditional Costa Rican sofrito, spices, and cream, and is often served as a side dish to the Costa Rican Casado.
Sopa Negra: This black bean soup is a staple of Costa Rican cuisine, and is typically served with a side of rice.
Local Eats
Costa Rica is home to a vibrant local food culture centered around Soda's – the small local, community and family run restaurants found all over the country where travelers can experience traditional Costa Rican cuisine in a casual atmosphere. Sodas serve up authentic Costa Rican dishes, often made with fresh, locally-sourced ingredients. The National Plan for Healthy and Sustainable Food, one of Costa Rica's latest efforts to promote its competitiveness as a culinary destination, encourages the revival of highly nutritious and tasty traditional dishes.
Here are a few traditional menu options visitors will see on offer at local sodas in Costa Rica:
Olla de Carne: This hearty beef stew is made with an array of vegetables and spices, and is a beloved comfort food throughout the country.
Arroz con Pollo: This classic dish features chicken cooked with rice and vegetables, served up with a green salad, and fried beans, resulting in a flavorful and filling meal.
Casado: This hearty lunch dish features a base of rice and beans, accompanied by vegetables, plantains, and a protein such as beef, fish or chicken.
Chorreadas: A staple breakfast or afternoon item that can be prepared both sweet or savory, Chorreadas are similar to regular pancakes, with a sweet flavour and moist and spongy consistency. They are typically served with Natilla, a type of sour cream and cheese.
What many don't realize is that Costa Rica is home to one of the first international vineyards in Central America, the Copey Estate Winery, located two hours drive from the capital San Jose. Founded 12 years ago by Niv Benyehuda and his wife Karen Retana, Copey Estate Winery has become a tourist attraction and offers tours of the vineyards, and is a source of employment in the community. A 15-acre vineyard sees grapes of an international quality grown, such as Sauvignon, and Cabernet Sauvignon amongst others.
Post pandemic, Al Mercat Dota Chef José González, a graduate of Le Cordon Bleu in Paris moved his restaurant from the capital to the mountains of Copey de Dota, and looks to local farms and farmers markets for seasonal dish inspiration, with menu items such as, chayote strawberry and tomato salad, trout ceviche, and baked ribs served with tender squash puree.  
Sikwa began as a place to grab healthy street food and has since evolved into a place where Chef Pablo Bonilla educates guests about Costa Rica's Indigenous cuisine. Chef Bonilla spent years visiting and collaborating with native Tico communities, where his research and experience in ancestral techniques brought tradition to life in a contemporary fashion. Sikwa considers their establishment as a place for gastronomic education that just so happened to sell food.
Eat the Rainbow
The abundance of vibrant fruits and vegetables grown in Costa Rica are sure to catch the eye of any food loving traveler. The country's tropical climate provides the perfect conditions for growing an array of exotic fruits such as papayas, mangos, bananas and pineapples. These juicy fruits are not only rich in flavor, but also contain high levels of essential vitamins and minerals, making them super nutritious.
When it comes to vegetables, the rich soils and favorable microclimates allow for the cultivation of a variety of colorful produce like sweet potatoes, and other rainbow-colored vegetables commonly grown in Costa Rica including bell peppers, beets, and tomatoes, which add pops of color to traditional dishes.
Costa Rica is also home to some lesser-known ingredients, such as dragon fruit, passion fruit, and starfruit. These unique fruits are not only colorful but also pack a flavorful punch, with their sweet, tangy, and sometimes even slightly sour taste. Native to the country, Cas (pronounced Kas) is also known as Costa Rica Guava, and has a sweet and sour taste which when combined with fresh water, or even ice cream, is a very popular flavor. Rainbow-colored produce grown in Costa Rica is not only visually pleasing, but a testament to the country's rich agricultural heritage and commitment to growing produce through sustainable farming methods.