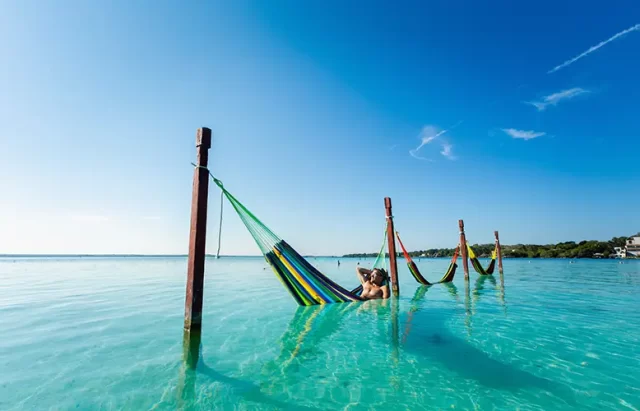 Following years of missed travel, Canadians are yearning for full sensory experiences, adventures and getaways in both their native land as well as abroad. With extra dollars saved up from the last three years of pandemic-related restraints, demand for both domestic and international travel continues to increase and summer 2023 is anticipated to be one of the busiest ever among Canadian travellers.
Although travel prices are increasingly high, Canadians are avoiding sticker shock. They've put their rainy-day dollars to good use by prioritizing postponed plans and booking far ahead of time with the intention to indulge in extra-special travel experiences this summer.
According to Narrative Research, more than one-half of Canadians, approximately 56 per cent, intend to travel in 2023.
"People have been stuck at home and thinking about travel for a long time, it's almost like jumping out of a birthday cake, they're just ready to explode and go everywhere," says Robert Townshend, President of Total Advantage Travel & Tours Inc. in Toronto, a TRAVELSAVERS CANADA affiliate.
Domestic Travel Peaks
For Canadians who missed the chance to pre-book beyond borders, domestic travel continues to be an advantageous option in avoiding the high-ticket costs of international travel. Advisors affiliated with TRAVELSAVERS CANADA are forecasting the interest in domestic travel and tours
to continue throughout the summer of 2023, Top destinations like Halifax and Banff as well as British Columbia, Newfoundland and Quebec have increased in popularity.
With high-priced airfares, some travellers are staying clear of jetting off this summer, wandering to local landmarks to get their holiday fix.
"Due to last-minute planning and inflated prices, Québecers prefer to stay in Québec, Îles de la Madeleine is the most popular destination. Europe is expensive, so some travellers are willing to wait until next year in hopes that international travel prices will drop," comments Nancy McDonald, Director of Voyage Vasco in Blainville, Québec, a TRAVELSAVERS CANADA affiliate.
Big Return to Europe
The willingness and ability to spend more on international travel have increased among some Canadians, who are eager to explore Europe with the biggest and busiest return in four years.
According to Native Research, 20 percent of Canadians travelling intend to head to Europe in 2023.
Top destinations include Portugal, Spain, France, the United Kingdom, Greece, and Croatia. The desire for exploration is peaking with many booking packages, flights, escorted tours, and hotel accommodations combined, as well as plans to visit more than one country.
New Experiences with Local Allure
Travellers are seeking authentic adventures – cultural immersion is a priority with people craving traditional cuisine, active exploration and engaging experiences.
Whether it's a winery tour and custom cooking class in Italy, or a pint at a pub with traditional live music in Ireland, this summer Canadians are prioritizing experiencing destinations rather than mere sightseeing.
"Today travel involves more than just getting on a motorboat and looking at castles through the windows, people want hands-on travel and hands-on noteworthy experiences to get to really know and feel a country," says Townshend.
Family & Friends Reunions
After three years in isolation, Canadians are craving quality time with their loved ones and they're not taking travel for granted. With money saved up during the pandemic, there's a heightened willingness to spend on bucket-list family vacations to destinations across the globe to share generational cultures, discover new spots in familiar cities, and explore a home away
from home. Popular locations this year are Mexico, specifically Cancun and Puerto Vallarta for family-friendly resorts that are cost-effective, filled with activities for kids of all ages and include family excursions.
"One of the surprises in 2023 travel trends and a good one for that matter is the number of multi-generational family requests, those travelling are creating special memories together as a family," says Ken Stewart, Owner of Crowfoot Travel Solutions in Calgary, a TRAVELSAVERS CANADA affiliate.