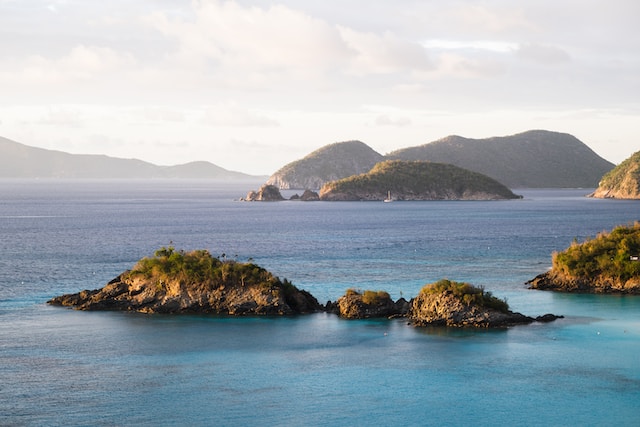 The U.S. Virgin Islands (St. Croix, St. John, St. Thomas) are known as America's Caribbean, and this reputation is well reserved. In the hustle and bustle of everyday life, silence has become the ultimate luxury and the USVI offers top choices for travelers looking for seclusion and solitude to experience their own private slice of paradise (while still having easy access to an array of attractions). 
In St. John, stay at Lovango Resort & Beach Club, featuring a private three-bedroom villa, with all resort services and sweeping tropical views or a luxury treehouses with expansive decks with spectacular ocean views. For a more sustainable option, book a stay at Calichi at Picture Point, which continues to take steps to lessen the environmental impact on the island while still providing guests with a high-end experience. 
Located on Peterborg Peninsula in St. Thomas, Villa Pallina is the perfect option for some private family fun. The property offers accommodations for ten across four bedrooms and two terraces with a hot tub and a swimming pool. At guests' disposal, there's also a network of excellent massage therapists and other bodywork professionals for a well-deserved in-room treatment. Smaller families can book a stay at the Hideaway Hull Bay, featuring two beachfront villas and eight beachside cottages crafted to create a unique barefoot-luxury vibe. The property also boasts its own two-acre farm, managed using sustainable and regenerative farming practices, allowing guests to create their own culinary experiences, from dinner on the farm to picnics on the beach. 
In St. Croix, the largest of the three islands, Carambola Beach Resort manages to feel a world away from the crowds. Choose the luxurious villa-style rooms with spacious sleeping and living areas and breathtaking ocean views. 
The USVI offers an infinite number of high-end accommodations, but there's a lot more than this. Wake up to the lullaby of lapping waves and get ready to splurge on the ultimate experiential luxury. Engage in a myriad of water sports, from snorkeling or diving in crystal clear waters to sailing in the open seas. Nicholson Yacht Charters offers the ultimate in privacy and luxury, with fully staffed catamarans, traditional sailing yachts and incredible 200-foot vessels with top deck pool, spa and fitness room. For something more casual at sea, sip rose all day aboard a vintage PINK 1974 Boston Whaler with Cabana Cruises.