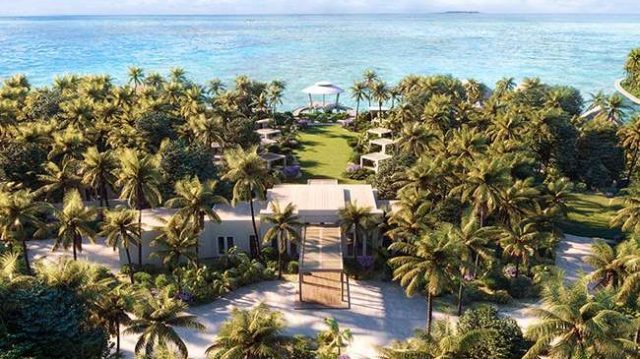 The Waldorf Astoria Maldives Ithaafushi opened last week to great acclaim for its breathtaking views, myriad dining options and glorious seascapes. But there's a lot more to this property than an aerial view can reveal.
To give you a peek at the full range of the hotel's features, we asked five property insiders for their tips about the luxuries that aren't apparent just by looking at photos. Read on to discover the true hidden secrets of the Waldorf Astoria Maldives Ithaafushi.
1. Haircut on the Beach?
Personal concierge service is a signature of the Waldorf Astoria brand, but it comes with a Maldivian upgrade here. Dino Michael, the Global Head of Waldorf Astoria Hotels & Resorts, says "every aspect of your stay is cared for" – from intimate private dinners to, yes, a haircut on the sand (this was an actual request). "I am confident to say that the personal concierge at Waldorf Astoria Maldives Ithaafushi strongly sets us apart in the luxury hospitality space," Michael says, because the team demonstrates "a passion for guests that is truly remarkable."
Personal concierges are available to help you 24/7, and they are well-versed on all that the property and surrounding area has to offer. They can tell you where to go for prime snorkeling, can book spa services for you, make dinner reservations and so much more.
2. Become Robinson Crusoe
Board the property's private yacht and set sail to explore a nearby sandbank. Here, guests can arrange for a secluded dinner paired with stunning Maldivian sunset views, unwind with a yoga session or snorkel in the surrounding water.
Daniel Welk, the Vice President, Luxury and Lifestyle Group, Hilton Asia Pacific, says that there is an "abundance of marine life surrounding the sandbank, providing guests with an amazing snorkeling experience. I've been lucky enough to visit the sandbank by myself and being the only person on the island provides a true Robinson Crusoe-like experience."
3. Taste the World from the Treetops and Beyond
Waldorf Astoria Maldives Ithaafushi is home to 11 distinct dining venues. You can literally dine among the treetops in private bamboo pods at Terra, sample Peking duck inspired by Shanghainese noble residences at Li Long and order authentic Middle Eastern flatbreads and dishes at Yasmeen. If you're in the mood for barbecue, head to The Ledge, which is a restaurant partnership between the resort and world-renowned chef and mastermind behind Singapore's Michelin-starred Burnt Ends, Dave Pynt.
But if you want to eat like Chef Vijay, the Culinary Director at the Waldorf Astoria Maldives Ithaafushi, he recommends reserving a table at Glow. This interactive, garden-to-table restaurant set in a greenhouse-like structure serves creative-yet-healthy fare cultivated from the hotel's grounds and herb garden. Chef Vijay said, "the garden features around 20 types of herbs and fruit plants, including coriander, curry leaves and olive trees and is the first thing guests see when they walk into the restaurant, providing an immersive prelude to the dining experience."
4. A True Sanctuary
It is getting harder and harder to set your out-of-office reply and resist the temptation to check in back at home. But according to Alan Watts, the President of Hilton Asia Pacific, that all changes once you check in at the Waldorf Maldives. He describes the property as "very much a sanctuary from the hustle and bustle of life" and says that he can easily relax "to the calming sound of the rising and falling waves and the salty smell of the Maldivian sea air."
He recommends checking out the five pools, dedicated spa villa and colorful marine life and leaving your phone in the room (once you've captured your photos to make friends jealous). "There is no other place I would be for a much-needed vacation with the family as we get to spend undisturbed quality time with each other," he said.
5. View the Stars from a Private Villa
The Waldorf Astoria Maldives Ithaafushi is on a private island, so chances are you won't often be surrounded by fellow vacationers. However, if you're seeking a truly secluded getaway, consider booking a Stella Maris Ocean Villa. These two villas are separated from the main resort and accessible only by boat.
Looking down on the resort from above is stunning enough. Looking up at the stars from the roof of your private villa, though – with the waves lapping the shores around you – is a transcendent experience.
Etienne Dalancon, the General Manager of the Waldorf Astoria Maldives Ithaafushi, says these villas are perfect for a private viewing of the stars. "One thing I'd love to do if I were a guest, is to turn off all the lights in the villa at night, go to the upper floor terrace and look up at the stars. The experience is incredibly intimate and personal, made possible because of the exquisite exclusivity of each villa which allows guests to completely disconnect from the outside world."