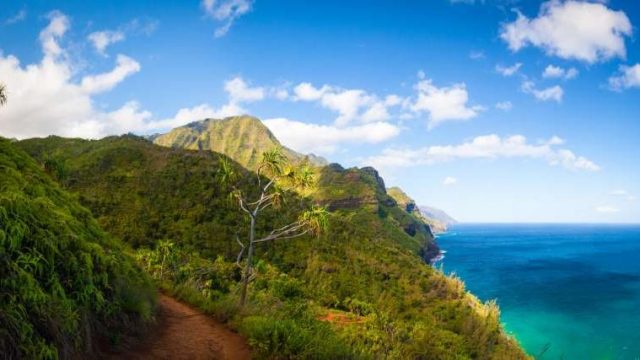 The Kauai Visitors Bureau (KVB) is reminding visitors headed to the Garden Island about new rules that have been recently introduced following the reopening of access to Haena State Park, which includes the Kalalau Trail, Hanakapiai Falls and Kee Beach on the island's famed north shore. The newly implemented rules set forth will not only reduce congestion and limit vehicular traffic, but also help protect cultural and natural resources from overuse.

This change from the Hawaii State Department of Land and Natural Resources (DLNR) Division of State Parks comes after a 14-month closure due to torrential rain and flooding in the area last April. The rules for Haena State Park limits the number of visitors to 900 per day and requires advanced reservations and a permit to enter the park.

"This is a rural community that is still rebuilding following the devastating floods last April and we ask that all visitors in the area be aware of the situation and respect the residents and new rules that have been put in place," says Sue Kanoho, KVB executive director. "I strongly encourage visitors to familiarize themselves with the new guidelines and to review the Aloha Pledge which provides comprehensive information to ensure they have a positive experience in Haena."

The Aloha Pledge can be viewed online at www.alohapledge.com.

All visitors to the park, including beach-goers, hikers and others, will be required to make an advanced online reservation prior to entering the park whether they are arriving in a private vehicle, shuttle, walking in by foot or on a bike. Anyone without a confirmed reservation will be denied access to the park and asked to turn around.
With few parking spaces available on the north shore, and to help reduce congestion on Kuhio Highway by limiting the number of vehicles traveling through, visitors are encouraged to enter by hopping on the North Shore Shuttle. A round-trip reservation ticket, which includes entry into the park needs to be purchased prior to visiting the area. The shuttle runs between Princeville and Haena State Park with stops along the way. To secure a reservation ticket online, visit https://kauainsshuttle.com.

The following resources and tips are available to assist in having a positive experience:
Advanced Reservations: Vehicles without a reservation will be denied access to the park and asked to turn around. For more information on obtaining an advanced reservation, visit https://www.gohaena.com/.
 
North Shore Shuttle: To reserve a ticket, visit https://kauainsshuttle.com. A reservation ticket includes paid entrance into the park, which helps reduce impacts on this fragile and pristine area.
 
Limited Parking: Parking at Haena State Park is very limited and requires advanced reservations. No overnight parking allowed at the Haena State Park parking lot.
 
Kuhio Highway and Side Street Parking: There is NO PARKING along Kuhio Highway in Haena. Illegal parking along the highway interferes with local traffic and will result in heavy fines up to $400. There is also no side street parking in Haena's neighborhoods as parking around homes are for residents only.
 
Narrow Highway and One-Lane Bridges: Kuhio Highway on the north shore is a narrow roadway with one-lane bridges. Drivers are asked to yield to oncoming cars at one-lane bridges.
 
Hanalei Town is Open for Business: Located on the north shore, Hanalei Town is open for business and welcoming visitors to experience its shops, galleries and restaurants. The picturesque town is made up of several historical and cultural buildings, which are home to the community's boutique shops. For a list of businesses in the Hanalei town area, visit http://hanaleitown.com.
While the north shore of Kauai is open, construction and road work continues along Kuhio Highway. For road conditions and closures, visit https://hidot.hawaii.gov/highways/roadwork/kauai.
 
KAUAI – HAWAII'S ISLAND OF DISCOVERY
Also known as the Garden Island, Kauai is green and lush with flora from mountain to ocean. The island offers more than 50 miles of white sand beach – adding up to more beach-per-mile than any island in Hawaii. Other Kauai natural wonders include 3,567-foot-deep Waimea Canyon (often called The Grand Canyon of the Pacific) and the towering 3,000-foot sea cliffs of the Napali Coast.

Kauai's abundance of outdoor activities – which includes helicopter and boat tours, kayaking, snorkeling, hiking, mountain tubing, horseback riding, ATV adventures, and zip-line tours all offer memorable vacation experiences for the entire family.

For information about Kauai – Hawaii's Island of Discovery – visit www.gohawaii.com/kauai.

The Kaua'i Visitors Bureau is a division of the Hawaii Visitors and Convention Bureau, which is contracted for marketing management services in North America by the Hawaii Tourism Authority (HTA), the state of Hawai'i's tourism agency. The HTA was established in 1998 to ensure a successful visitor industry well into the future. Its mission is to strategically manage Hawai'i tourism in a sustainable manner consistent with the state of Hawai'i's economic goals, cultural values, preservation of natural resources, community desires, and visitor industry needs.