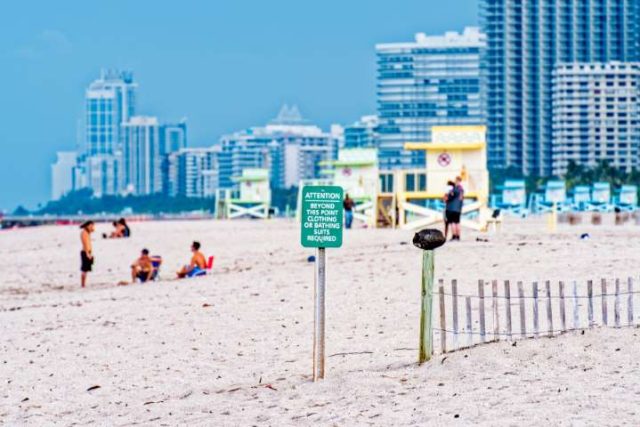 With summer on our doorsteps, it's only natural that our thoughts turn to glorious sunshine, sandy beaches and a bit of relaxation. Some might want to go a little further by visiting somewhere more secluded, leaving their clothes behind and feeling the season's heat on their skin. Nude beaches can provide the opportunity for some much needed peace and privacy compared to potentially crowded mainstream sites.
Swimwear experts Pour Moi has revealed the top beaches around the world where you can sunbathe nude by analysing traveller review data, revealing the nudist beaches that people love the most. According to the results, Florida's Haulover Beach Park is considered the best beach for nude sunbathing worldwide. Praia de Tambaba in Brazil follows up in second place and rounding out the top three is Greece's Red Beach on the island of Santorini. The top five is completed by Patara Beach in Turkey and Playa de los Muertos in Spain.
To compile the list, Pour Moi anaylsed review data of hundreds of beaches around the world that allow nude sunbathing, creating an index score out of 100 that is based on average review scores and the number of reviews the beach has received.
According to the research Spain is the best country to visit if you want to try sunbathing without your swimwear, a total of four Spanish beaches make the top 20. Greece also stands out as a great destination for nude sunbathing, with three beaches featuring within the top 20, on the islands of Santorini, Mykonos and Zante.
Some surprising entries include a Lativian beach that appears in 13th place, a country that you might not immediately think of when it comes to nude sunbathing. Similarly, Canada's Hanlan's Point Beach makes a surprise entry at 18th place – with its reputation for fierce winters it's perhaps the case that the nude sunbathing may be more of a summer pursuit at this particular beach.
The World's Top Beaches For Nude Sunbathing
Haulover Beach Park, Florida, USA (Index score = 97/100) – Located in the USA's sunshine state, Haulover Beach Park in Florida is a long established clothing-optional beach. The calming blue waters, soft waves and white sand feel great on your skin as you sunbathe or go for a light swim in the nude. Haulover Beach Park comes complete with a range of food trucks offering a variety of tasty lunch options for when you need a break from relaxing in the buff.
Praia de Tambaba, Brazil (Index score = 76/100) – If you're seeking privacy, peace and seclusion from your nude beach, then Brazil's Praia de Tambaba is for you. Perfect for those new to nude sunbathing, the beach is located a little off the beaten track and features a backdrop of stunning greenery and cascading rock formations that act as a nice barrier if you're a little shy about stripping off for the first time. The beach is said to feature a host of friendly locals who will be sure to ease any anxieties you have about making your nude debut.
Red Beach, Santorini, Greece (Index score = 70/100) – Are you a fan of otherworldly landscapes acting as a backdrop while you top up your tan? If that's the case then Greece's Red Beach is a must visit. The surreal red lava rocks famously stand tall around the beach, offering some much needed seclusion for those going topless or fully nude. Food options are available at the top of the beach where you can indulge in some lunch while you momentarily press pause on tanning.
Patara Beach, Turkey (Index score = 69/100) – Patara Beach in Turkey is a great beach for many reasons. It sits along the stunning Turkish Riviera and stretches a massive 12 miles, so there's ample space to find somewhere private to remove your clothes and get in some much needed "me time" as you soak up the sun and enjoy the crystal blue waters. The beach is also known as a protected area for nesting sea turtles, so you may get to see some adorable sights as you gaze out at the sea.
Playa de los Muertos, Spain (Index score = 67/100) – Like many beaches in our ranking, Playa de los Muertos comes with the gift of solitude and peaceful tranquillity as it lays tucked away out of sight and can only be reached by a downward hike. Once you're there there's an added bonus, as well as the option to lose your clothes. This beach is known to be perfect for snorkelling, with an abundance of wildlife to see in the beach's clear waters.
Playa Zipolite, Mexico (Index score = 66/100) – Known as Mexico's only nudist beach, Playa Zipolite has a long history of being a naturist hot spot even before it was granted legalisation in 2016, welcoming those seeking a clothes-free beach experience for more than 30 years. It's gained a reputation for being a safe haven for nudists which could be why people continue to flock here.
Es Trenc, Mallorca, Spain (Index score = 64/100) – Es Trenc in Mallorca is said to be one of the most famous beaches in this region and it's easy to understand why. Located in the south of the island, the beach stretches over two kilometres, meaning that naturists have plenty of space to find the perfect spot to lay out their towel and enjoy the Caribbean-esque waters. The remoteness and the area's wild beauty make it feel like the perfect hub for those looking to be one with nature.
Praia do Abricó, Brazil (Index score = 63/100) – Praia do Abrico is thought to be something of a hidden gem, even to those who live in Rio de Janeiro. This could be partly attributed to its stunning scenery, which gives the beach further protection from any street views. The vegetation and the mountains act as a relaxing setting when paired with the warm temperatures and blue skies. This makes Praia do Abrico the perfect getaway spot to clear your mind, take a moment to yourself and listen to calming sounds of the sea.
Banana Beach, Greece (Index score = 54.9/100) – Banana Beach is one of the largest beaches on Zakynthos island and is a short 20 minute drive from the town of the same name. The nudist beach is known as Little Banana and is tucked away from the mainstream beach but still offers plenty of amenities for those wishing to enjoy their nude outing. Here you can rent luxury sun loungers and umbrellas, in addition to a taverna where you can sample some delicious Greek cuisine and look out at the picturesque paradise that sits before you.
Paradise Beach, Mykonos, Greece (Index score = 54.7/100) – Paradise Beach is set on Mykonos' famous coastline and it certainly lives up to its name. Known as the island's original nudist beach, it's far removed from Mykonos' renowned party scene and rather than loud music, the only sounds you'll be confronted with are the murmurings of gentle chatter or the calming waves that drift in and out of the shore.
The rest of the top 20 best nude beaches
| | | | | |
| --- | --- | --- | --- | --- |
| Rank | Beach | Area | Country | Total index score /100 |
| 11 | Piscinas Beach | Sardinia | Italy | 54 |
| 12 | Playa de Maspalomas | Gran Canaria | Spain | 54 |
| 13 | Vecaki Beach | Riga | Latvia | 53 |
| 14 | Porto Ferro Beach | Sardinia | Italy | 53 |
| 15 | Wannsee | Berlin | Germany | 52 |
| 16 | Baker Beach | San Francisco | USA | 52 |
| 17 | Playa de Ses Illetes | Formentera | Spain | 52 |
| 18 | Hanlan's Point Beach | Toronto | Canada | 51 |
| 19 | Rowy Beach | Rowy | Poland | 51 |
| 20 | Playalinda Beach | Florida | USA | 50 |