Zoey Goto rounds up the best destinations to help Cupid's arrow strike, from an unforgettable deep-dive-dinner in the Indian Ocean to a James Bond inspired tropical hideaway.
Submarine Dining in the Maldives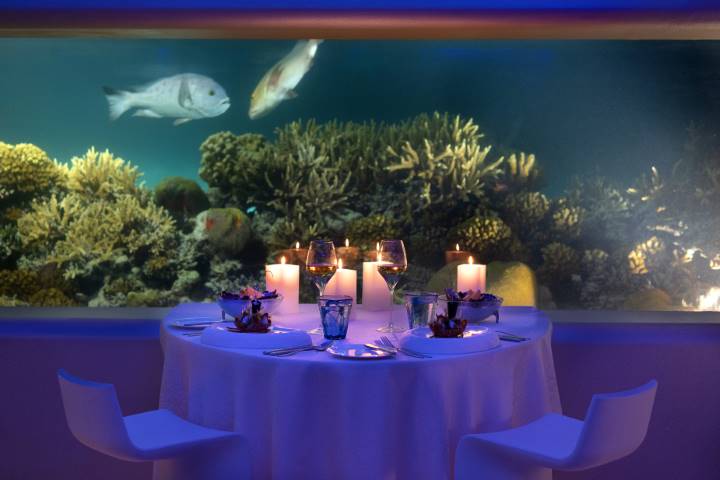 Offering all the thrills of deep sea diving, minus the wet hair, the freshly launched Immerse… Latitude 4° at the Huvafen Fushi resort nabs top prize as the coolest dinner date experience.  As the world's only private underwater dining venue, you and your loved one will have exclusive access to this 'pop down' restaurant, situated eight meters beneath the surface of the Indian Ocean.
A solo, candlelit table awaits you, nestled beside a panoramic window taking in views of the gently illuminated seascape outside. Here, your suppertime entertainment involves watching your aquatic neighbors dramatically sauntering past, including bioluminescent plankton sparking, poetically referred to as 'fire in the ocean'.
Once you've taken in the magical reef nightlife, it's time to mosey back to one of the 44 modern villas, each with a private deck, freshwater infinity pool and butler service. Taking the romance factor to the next level, this is the perfect once-in-a-lifetime experience for newlyweds.
Tie the Knot on the Remote Wedding Island of Ærø, Denmark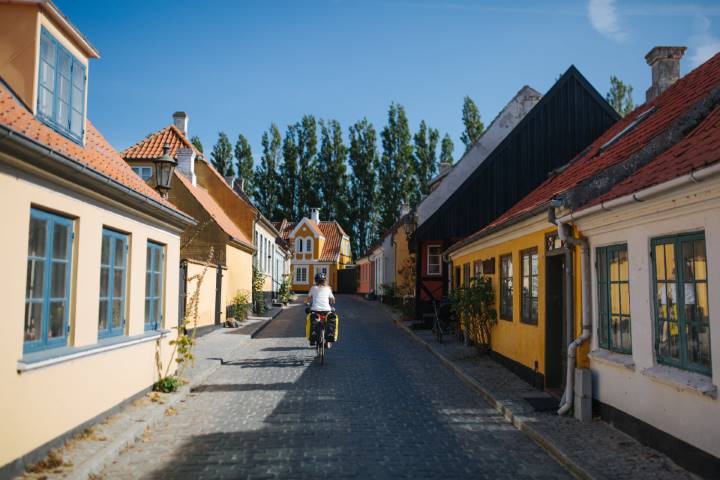 Each year, thousands of lovebirds from across the globe flock to Ærø (pronounced "air-rue") to get hitched. So what attracts them to this quaint island, just a smudge of land in the Danish Baltic Sea only reachable by ferry?
The answer can be found by visiting the old town of Ærøskøbing, known locally as the fairytale town. Here, you'll find ancient cobbled streets lined with colorful wonky houses, sitting alongside artisan shops and boutique hotels oozing charisma. This picture-perfect town, boasting practically no traffic as the locals use bikes or the free bus service, is also home to the Danish Island Wedding agency, who can help plan a ceremony at a number of scenic spots, from a peaceful, secluded beach wedding to a renewing your vows in a theatrical lighthouse, with waves crashing against the rocks.
https://www.danishislandweddings.com
https://www.visitaeroe.com/welcome-to-aeroe
Discover the Romance of the Railroad in Kentucky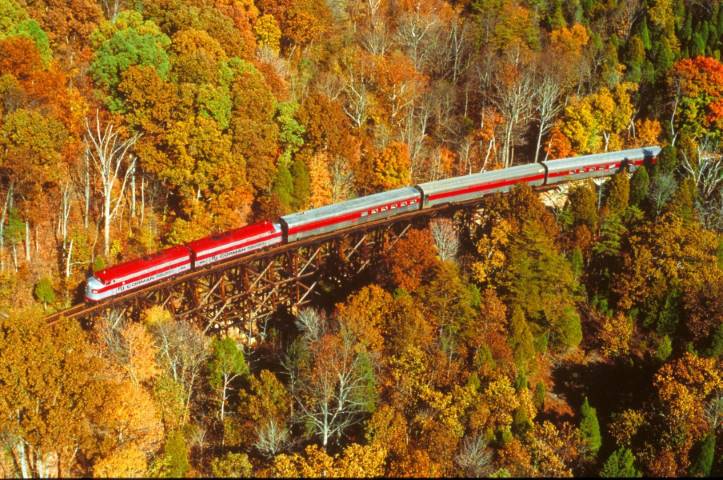 There's an irresistible romance and nostalgia to small town America. And it doesn't get more pleasing on the eye than Bardstown in Kentucky, a charming small town that's frequently voted America's most beautiful. Its winning formula is a combination of bewitching Bluegrass countryside, coupled with historic squares and a central courthouse that looks plucked straight from the pages of Hansel and Gretel. Plus, as the "Bourbon Capital of the World", Bardstown boasts no less than 11 unique bourbon distilleries.
Yet as captivating as Bardstown is to visit, couples looking for a truly unique adventure should book onto the My Old Kentucky Dinner Train, a railroad journey that transports you to a bygone era in just a few sweet hours. Once seated in the elegant dining cars, originally built in the 1940s, the train will whisk you through the scenic Kentucky countryside, soaking up spectacular views of the Bernheim Arboretum, National Research Forest and for bourbon aficionados, the Jim Beam distillery grounds. There are special Valentine's Day excursions with champagne and gourmet dining, or tap into your inner Hercule Poirot with a murder mystery journey. Bed down for the night at the Talbott Tavern in Bardstown. Built in 1779, it remains one the oldest western stagecoach stops in America and has hosted the likes of Abraham Lincoln, Daniel Boone and Jesse James.
https://visitbardstown.com/
https://www.kydinnertrain.com/
Let Them Eat Cake in Paris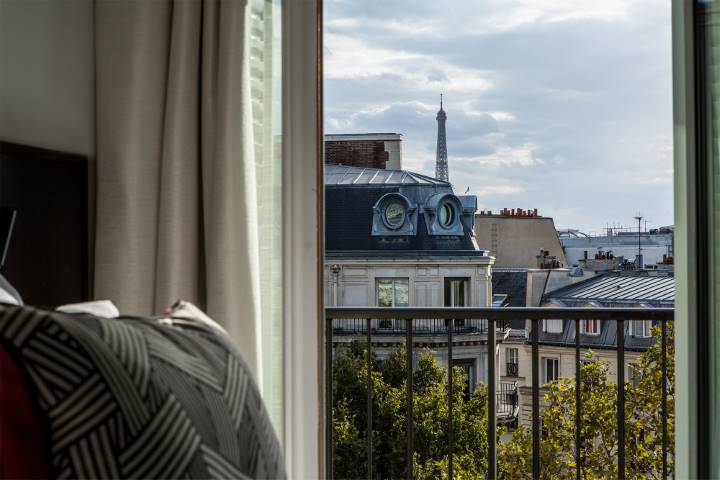 Paris has all the right elements for an unforgettable rendez-vous. With cinematic surroundings and a culture that wholeheartedly embraces lovers, it's impossible not to feel the romance of The City of Love.
And of course, let's not forget the world-class cuisine that makes Paris a truly indulgent minibreak. Gastronomy-lovers should head straight to the Fauchon l'Hotel, in the heart of the vibrant Madeleine area. Created by one of France's oldest culinary brands, the hotel has all the ingredients for a deliciously romantic stay. Just next door you'll find the renowned Fauchon patisserie and teashop, with mountains of rainbow-hued macarons and hot pink lips made from pastry to devour. Even Marie-Antoinette would leave satisfied!
Once inside the hotel's guest rooms, many of which overlook the Eiffel Tower, there's a hotel mini-bar stocked with fresh delicacies and downstairs, the menu at The Grand Café Fauchon restaurant is a carousel of traditional French cuisine, given a contemporary twist. There's also a heated terrace where you can sit back and watch the street theatre of Paris in all of its glory. Bon appétit!
Live Out Your Bond Fantasies in the Seychelles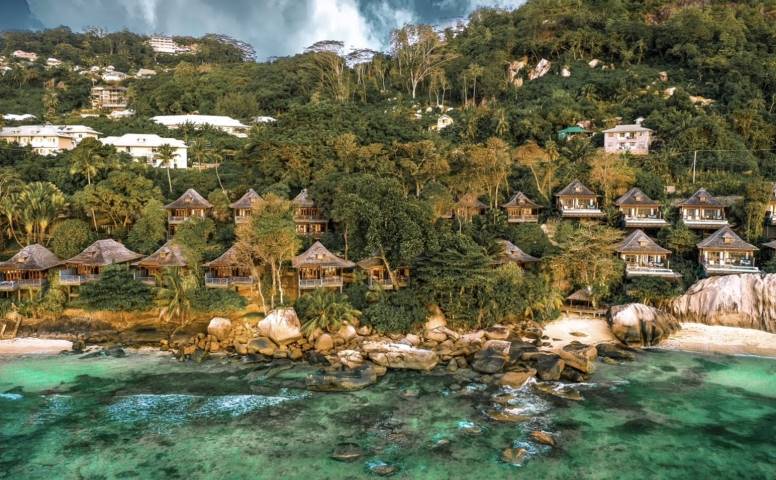 Looking for a hefty dose of 007 adventure with your romantic break? Then theHilton Seychelles Northolme Resort & Spa in the dazzling Seychelles should tick all the boxes. The recently revamped resort has just launched their For Your Eyes Only package, in homage to the James Bond novel penned at the property.
Couples can retreat into private, treehouse-style villas, nestled amongst lush greenery, overlooking the tranquil Indian Ocean. The For Your Eyes Only package includes a series of exclusive dining experiences, including a beachside candlelit three-course dinner and a floating breakfast in your own private pool. Should you tire of exploring the powdery, palm-lined beaches and hiking the muscular tropical rainforests, then head back to your villa where a petal-scattered bath will await, overlooking the lapping waves below. You can also get shaken, not stirred, with a personal cocktail making master-class.
http://www.seychelles.hilton.com
Cozy Up in a Romantic Tennessee Cabin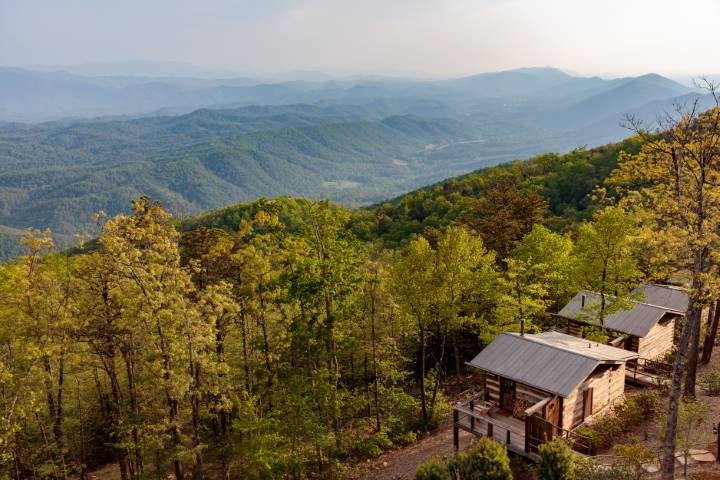 Nature-lovers can't help but fall for Blackberry Mountain's rustic-luxe cabins, nestled into the Great Smoky Mountains in eastern Tennessee. Switch off the phone, cancel those Zoom calls and kick back in front of the roaring fireplace out on the patio, taking in the epic views of these ancient and storied Appalachian Mountains. Sometimes, the most romantic act is just to escape the stresses of everyday life and spend some undivided time together.
Choose from a watchman's cabin handsomely decked out in reclaimed wood, or a stone cottage tucked into the hillside, with contemporary, light-infused interiors and floor to ceiling windows to soak up the vistas. On your doorstep there are 5,200 acres of hiking trails to explore, sweeping you from down in the holler up to rocky ridge tops, where you can walk among the clouds. Adventure-seekers can also bike the forest trails and scale craggy rock faces. Nearby, a former 1950s lookout tower has been transformed into a chic eatery serving up farm-to-table fare, and there's also an impressive menu of holistic treatments and wellness therapies to help you and your partner press the reset button hard.
https://www.blackberrymountain.com/
https://www.tnvacation.com/
A Candlelit Feast in the Abu Dhabi Dunes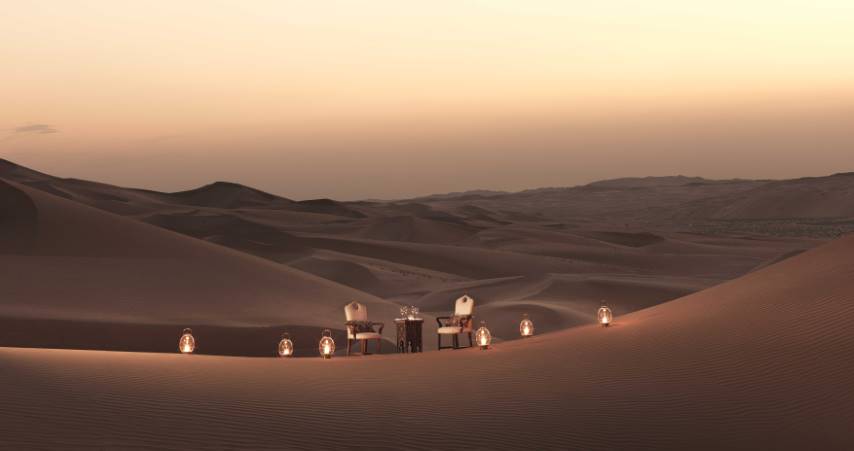 Sweep your companion up for an Arabian night like no other, lit by the glow of flickering candlelight and surrounded by climatic desert landscape. Couples visiting Anantara's Qasr Al Sarab Resort, 90 minutes from Abu Dhabi city, can now book in for the hotel's exclusive Dining By Design experience. Take a seat at your private table nestled into the dunes, and a private butler will be on hand to deliver a truly five-star service for the entire evening. Which leaves little to do aside from stargazing and indulging in the fine dining menu, which can be personalized in consultation with your dedicated chef.
Then, it's just a brief stroll through the creamy sands back to the hotel, which emerges from the dunes like a heavenly mirage, having been built to resemble an Arabian fortress, turrets, courtyards and all. There's a choice of suites with uninterrupted desert views and villas with private pools. For some serious R&R head to the spa for a Moroccan Hammam, and unwind in the steam and ice rooms.
https://www.anantara.com/en/qasr-al-sarab-abu-dhabi
https://visitabudhabi.ae/en
A Castaway Moment in the Algarve, Portugal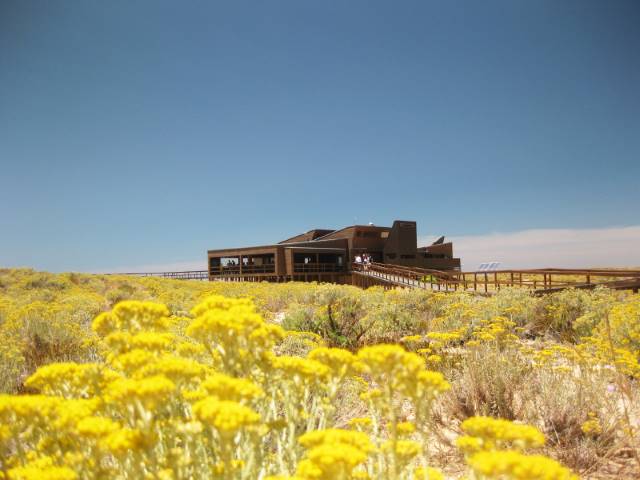 Make like Robinson Crusoe by visiting Ilha Deserta (also known as Ihla Barreta), a deserted island just off the Algarve coast in Portugal. This little slice of paradise forms part of the five barrier islands in the Ria Formosa Natural Park, recently voted one of the natural wonders of Portugal.
The castaway haven prides itself on having not a single permanent resident. Instead, a handful of sun-kissed day-trippers down their anchors (or step off the local shuttle, which takes just 15 minutes from mainland Faro) to spend a glorious day exploring the soft sandy beaches and pristine turquoise lagoons, with barely a soul in sight. Ilha Deserta offers social distancing as nature intended.
Remote it may be, but that doesn't mean that you need to pack your own sandwiches. The island is also home to the esteemed Estaminé restaurant, serving up fresh-from-the sea dishes and panoramic views of the dunes. Plus, with 300 days of glistening sunshine, the Algarve is within a hair's breadth of guaranteeing the perfect year-round climate for relaxing beachside ambles.
https://www.ilhadeserta.com
https://www.visitalgarve.pt/en
Take to the Skies in Namibia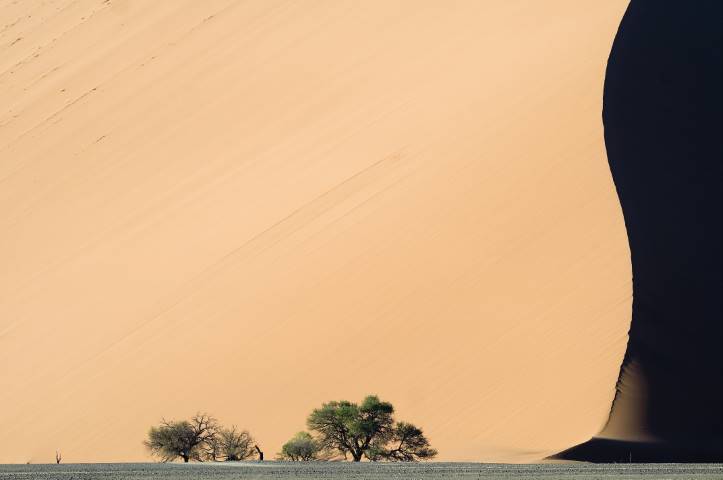 Intrepid couples have long been drawn to Wilderness Safaris' ultra high-end camps in Africa, and their Little Kulala lodge is fast becoming the go-to destination for those seeking a fix of privacy. Fresh from an extensive refurbishment, this oasis of a camp is set against the ravishingly beauty of the Namib Desert.
The exclusive camp is home to just 11 suites, each with a private pool, star-bed on the deck and a romantic rooftop for alfresco dining under the clear Namibian skies. This is Africa at its remotest, and the big draw here is Little Kulala's innovative schedule of activities celebrating the splendor and solitude of the landscape. Choose from guided mountain and riverbed nature trails, driving out to the iconic Sossusvlei dunes, and sunrise breakfasts set in the mystical surroundings. But this pared-back landscape, all sand and sky, is perhaps best enjoyed from above. Thrill seeking couples can take to the skies with an exhilarating hot air balloon ride, soaking up the breathtaking magnificence of Namibia unfolding below.