The Yukon may be famous for its gold rush history, stunning wilderness and phenomenal aurora viewing opportunities, but there is also a rich and diverse Indigenous culture that visitors can immerse themselves into. Some of the earliest evidence of the presence of humans in North America, more than 12,000 years ago, was uncovered in the Yukon. Through historic sites, vibrant celebrations and interesting locals, visitors can experience cultures dating back untold centuries and connect with First Nations people across the territory.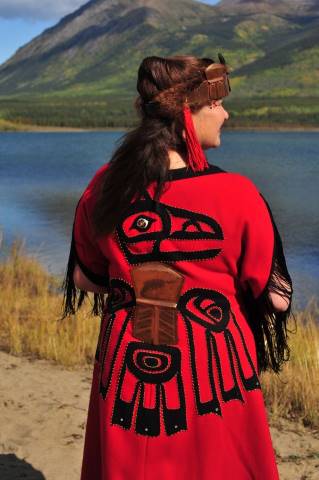 Situated in the upper Northwest corner of Canada, next to Alaska, the Yukon is Canada's most accessible northern destination. The Yukon is one of North America's most undiscovered destinations; close to 80 percent remains pristine wilderness with 5,000-metre peaks, forested valleys, unspoiled waters and untamed wildlife. The Yukon is home to more than 160,000 caribou, 70,000 moose, 22,000 mountain sheep, 7,000 grizzly bears, 10,000 black bears and 250 species of birds, with a human population of only 40,000, approximately 23% of which are indigenious people.
First Nations history runs as deep as the rivers in the Yukon. There are 14 distinct First Nations, each with their own unique traditions and cultural heritage. 11 of the 14 First Nations have signed self-government agreements and are responsible for their own resource management, economic and social programs.
Visitors are always extended a warm welcome by local First Nations cultural centres and they will discover an unparalleled richness of First Nation artwork, craft, storytelling, music and dance. Visit traditional carvers in their studios, listen to elders tell the stories of their people and learn about the living history of Yukon's first people. Respect for the land, its creatures and the forces of nature, combined with a storytelling tradition, form the foundations of Yukon's First Nations cultures.
10-day self-drive First Nations & Culture itinerary:
Explore the Yukon's cultural diversity and connect with First Nations people across the territory on this suggested self drive itinerary. This meandering journey connects several First Nation communities and six impressive cultural centres. View artifacts and handcrafts, meet elders, and learn the story of Wolf and Crow. Meet talented Yukon artists in their homes and studios. Tour local galleries and learn about indigenous arts and crafts. Visitors should plan their holiday around the Adäka Cultural Festival, held each June, and one of many celebrations of Yukon music and art.
Days 1-2 – Inland Tlingit Traditions
Starting from Whitehorse, drive through the Southern Lakes and learn about Tagish and Inland Tlingit culture. Drop by the Carcross-Tagish First Nation carving shed in Carcross. Visit the Teslin Tlingit Heritage Centre and George Johnston Museum in Teslin. Learn about the Nisutlin Delta National Wildlife Refuge.
Days 3-4 – Southern Tutchone Roots in Kluane
Stop at Long Ago Peoples Place in Champagne, an authentic recreation of a First Nation's Village, before heading west on the Alaska Highway to Haines Junction to visit Da Kų Cultural Centre and find out about Kluane's Southern Tutchone heritage. Watch a film about Kluane National Park, and join a guided interpretive walk at Kathleen Lake. Visit the Tachäl Dhäl (Sheep Mountain) Visitor Centre the next day before driving beneath the majestic Kluane Mountain Ranges into Alaska. Then circle back across the Top of the World Highway to Dawson City.
Days 5-7 – Dawson and the Han People
Start with a visit to Dänojà Zho Cultural Centre. Visit Tr'ochëk to learn about the traditional lifestyle of the Han people, and the challenges they faced on the arrival of thousands of prospectors. Drive a short distance up the Dempster Highway to the Tombstone Interpretive Centre. Take in one of Dawson's vibrant festivals, and tour the shops for local arts and crafts.
Day 8 – Yukon River and the Northern Tutchone
More cultural stops await on the southbound leg of the itinerary. Return to Whitehorse on the North Klondike Highway making stops in Pelly Crossing to visit Big Jonathan House – perhaps a side trip to Fort Selkirk – and a tour of Tagé Cho Hudän Interpretive Centre in Carmacks.
Day 9-10 – Cultural Attractions in Whitehorse
Longhouses and a giant circular fire pit at Kwanlin Dun Cultural Centre face the riverfront, reconnecting First Nations people to the river they were once intimately connected with. MacBride Museum offers excellent historical displays on Yukon First Nations people. Local galleries display carvings, textiles, beadwork and other traditional arts. For a unique destination, the fly-in village of Old Crow in North Yukon houses the John Tizya Cultural Centre.
Yukon First Nations Culture & Tourism Association: http://yfnct.ca/attractions 
For further information on the Yukon, visit www.travelyukon.com