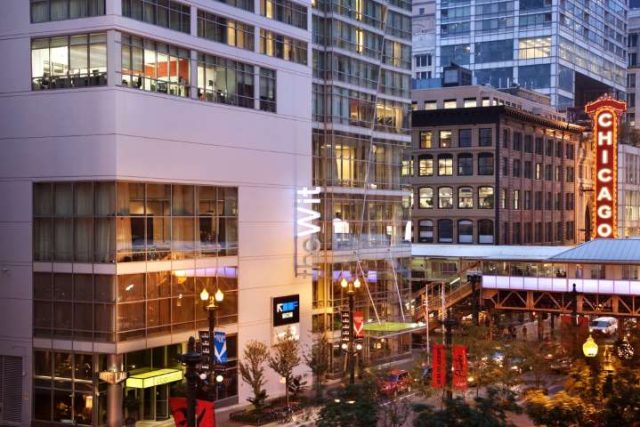 theWit hotel, located at the intersection of Chicago's entertainment, cultural and business district, is in the final stages of a multi-million dollar renovation. Upon completion in May 2023, theWit will once again set a new standard in hospitality, where new awe-inspiring design meets even more luxuriant experiences.
Hotel ownership and management announced today that with this renovation, theWit will be rebranded as theWit, a Hilton Hotel, reflecting its newly reimagined luscious accommodations and sumptuous guest experience. At the newly renovated hotel, guests will be charmed by dramatic design expressions set in a modern, soothing and sophisticated atmosphere.
"We are thrilled to join the Hilton Hotels & Resorts family, as it is undoubtedly one of the most recognized names in the industry," said Scott Greenberg, owner of theWit. "theWit is trailblazing a new path, combining the hotel's witty nature and exceptional service with upscale design, elevated food and beverage offerings, and a vibrant nightlife scene, along with a premier setting integrating cutting-edge technology for groups and meetings."
Wholly aligned with Hilton Hotels & Resorts' legacy of innovation, theWit will debut its reinvention with newly appointed guest rooms and suites, a magnificent new lobby, and plush amenities and services with spirited touches and character. The re-envisioned spaces will showcase sensual elements curated from the mind of a witty worldly collector.
Standout pieces found throughout the lobby and public corridors will include three-dimensional sculptural elements and artistic light fixtures – and each guest room will include a dramatic artistic sculpture. In addition to the reimagined interiors, theWit will debut enhanced experiences, including nightly turndown, plush linens and bedding, and premium bathroom amenities, creating an extraordinary new guest experience.
"As we look at the future of Hilton Hotels & Resorts, theWit, a Hilton Hotel perfectly embodies the spirit of the brand and the stay we will strive to deliver – energizing spaces with vibrant design, award-winning dining offerings that appeal to guests and locals alike, and truly memorable meetings and events – all delivered with the best-in-class hospitality that our flagship brand has been known for for over a century," said Matt Schuyler, Chief Brand Officer, Hilton. "We are excited to welcome theWit to our portfolio and look forward to the next chapter of our partnership as we serve savvy travelers in this sought-after destination."
Located in Chicago's downtown Loop district, where theater, shopping, dining, and entertainment converge, theWit, a Hilton Hotel offers 310 guest rooms, including 36 suites, a full-service spa and fitness center, 7,000 square feet of state-of-the-art meeting and event spaces, a business center, and an on-site experience concierge.
Renowned as a dining and nightlife venue, theWit, a Hilton Hotel is home to the signature tavern-style restaurant, State and Lake Chicago Tavern, as well as the premier rooftop restaurant and bar, ROOF on theWit, one of Chicago's most sought-after rooftop destinations. With distinctive menus curated by award-winning Chef Michael Taus, State and Lake Chicago Tavern celebrates artisanal bistro-style cuisine alongside internationally inspired plates, placing an emphasis on the finest locally sourced ingredients. Additionally, earning international praises for its stunning design and sweeping views of the city, ROOF hosts day-to-night entertainment, handcrafted cocktails, and elevated yet approachable dishes, from sushi to Neapolitan-inspired pizzas.