Whether you're into visiting Maine's fabled coastline, exploring the Western lakes and mountains or spending time in the state's lively cities, now is when you have plenty of time to make plans and get first dibs on reservations for a summer getaway.
This is the land of social distancing, because being outdoors is what summer in Maine is all about. That said, the ongoing Covid-19 situation means that there will still be restrictions. The state has taken a multilayered approach to protect Mainers and visitors, and reduce, to the greatest extent possible, COVID-19 risks associated with travel. Check out the safety checklist and the Keep Maine Healthy FAQs page to learn why Maine aims to be one of the safest places to travel this summer.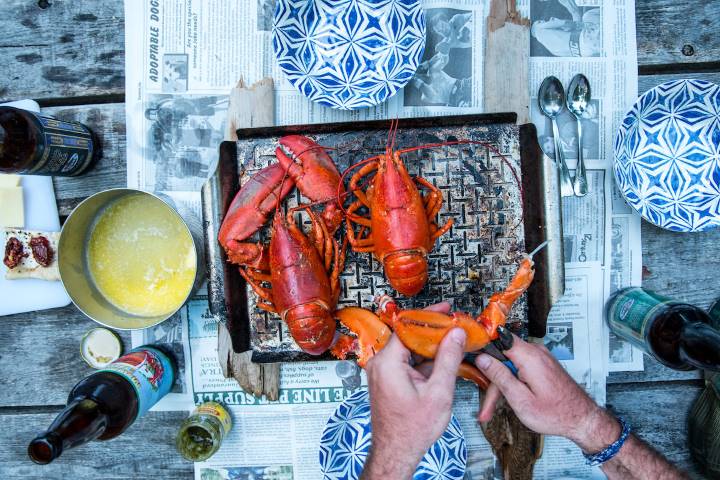 GET OUTDOORS
Watersports & Fishing
Thanks to 6,000 lakes and ponds, Maine is the place for kayaking, paddle boarding and sailing, not to mention water skiing and canoeing. Factor in the state's 3,478 miles of undulating coastline and it's clear that a day on the water is one of the highlights of a visit to the state. Maine is justifiably acclaimed for sport fishing, from casting for stripers and bluefish in Casco Bay to fly fishing for trout and bass on lakes and streams. Sporting Camps like Libby Camps, Bradford Camps and AMC lodges such as Gorman Chairback are for enthusiasts who want to get deep into the Maine woods and explore legendary rivers and ponds in pursuit of brook trout and landlocked salmon. Go to Visit Maine for more info.
Hiking & Biking
Maine has endless possibilities for summer hikes, from easy walks in the Western Foothills Land Trust Preserves in Norway to challenging mountains to summit, such as Old Speck and Mount Katahdin. There's also an array of road biking and mountain biking possibilities, from the carriage roads in Acadia National Park to easy gravel trails and single-tracks that will test any rider's skill. Sugarloaf Mountain is summer base camp for riding more than 80 miles of trails in the Carrabassett Valley while Sunday River Resort is where to stay while exploring the extensive Mahoosuc Trails near the town of Bethel. Maine also has plenty of challenging but perhaps lesser known places to mountain bike, such as Penobscot River Trails. Part of the Butler Conservation Fund, it offers bike rentals and 16 miles of mountain bike trails open from dawn to dusk.
STAY FOR A WHILE
Lodging
Maine has an amazing variety of lodging options. It's quite a range when you compare the 19th century Rangeley Inn in the Western Mountains to the hipster haven called the Press Hotel in Portland and the stately Norumbega Inn in seaside Camden. From century-old inns and bed & breakfasts to beachside hotels and motels, classic resorts and lakeside vacation cottages, there is literally accommodation for all tastes and budgets. With reservations open for 2021, now is the time to secure the best dates for a summer stay.
Camping & Glamping
Maine is synonymous with camping, with a dozen state park campgrounds, from Bradbury State Park in southern Maine to Cobscook State Park at the edge of Downeast Maine. There are the prized campgrounds within Acadia National Park, wilderness campsites scattered throughout northern Maine and nearly 200 licensed private campgrounds that can accommodate everything from tent camping to RV camping. The continued popularity of glamping has seen the opening of resorts such as Terramor Outdoor Resort and Huttopia Southern Maine. The past year was a boom time for camping in the state and the best time to make reservations is as early as possible. Go to Visit Maine for details on camping and glamping destinations.
GO SHOPPING & DINING
Retail
Maine may be known for L.L.Bean and Stonewall Kitchen, but there are dozens of smaller companies that offer Maine-made goods, from local food purveyors to artisans focused on crafts, sporting goods, gifts, fiber arts, clothing, and much more. The best source is Maine Made, an organization that builds recognition for Maine products and their producers.
Dining
Portland rewrote the playbook for dining in Maine, but that innovation and creativity has spread throughout the state. Now it's easy to have a memorable meal in small towns in the Western Mountains or Downeast Maine, or in former factory towns turned restaurant-havens like Biddeford and Saco. Alfresco dining will likely be the rule this summer, from picnic tables at lobster shacks along the coast to Portland eateries with sidewalk dining, waterside decks or garden settings. Visit Maine has the details.