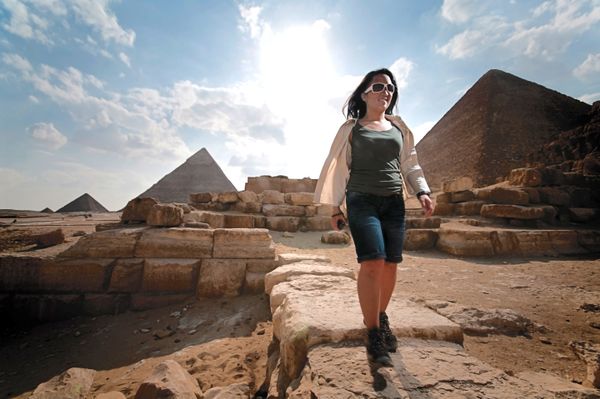 From destinations on the rebound, to places where events and investments are making it more exciting or accessible to visit, the adventure pros at G Adventures have been combing through their list of trip destinations to forecast the hot spots and new spots for adventure in 2018. The result is a mix of destinations that blend some of the tourism industry's perennial favorites, with up-and-coming contenders for the all-valuable tourist dollar.
"We looked at factors such as trending sales data, operational improvements, new flight routes, social buzz and upcoming events around the globe to develop this look-ahead for adventure seekers in 2018," said G Adventures' U.S. Managing Director Ben Perlo. "Some of it is gut instinct, though, since adventure is about putting yourself out there."
The small-group tour operator founded by social entrepreneur Bruce Poon Tip in 1990 today offers more than 700 ethical, immersive, comfort-zone busting itineraries in 100+ countries on all seven continents with a focus on transformational travel and local good. G Adventures' ten top destinations for the American adventure traveler in 2018 are as follows:
EGYPT – 2018 is poised to be an exciting year for Egypt as its new Grand Egyptian Museum is prepares to open in late 2018 as the world's largest archaeological museum. The attraction will host treasures from King 'Tut's unearthed tomb and is expected to be a significant lure that should contribute to Egypt's tourism comeback.
PORTUGAL – The west European nation had a record-breaking year in 2017 as travelers sought destinations with fewer crowds, good food and travel security, and Portugal has emerged from Spain's neighboring shadow.
SRI LANKA – The 'pearl of the Indian Ocean' is also having its moment in the sun, as local tourism authorities continue a grand road show to promote travel to the tropical country.
COLOMBIA – A high-profile, 12-year peace treaty, a Nobel Peace Prize for its President, and national investments in marketing the country overseas have all combined to boost the Pacific-Caribbean country's reputation as a great place to vacation.
KYRGYZSTAN – Between investments from the U.S. Agency for International Development (USAID) to help travelers Discover Kyrgyzstan, and a concerted push from the Adventure Travel Trade Association (ATTA), the Central Asian country known for its warm, welcoming people, yurt life and spectacular mountainscapes is finally coming into the spotlight.
MOROCCO – Foreign tourist arrivals to the North African country rose more than 13 percent during the first 8 months of 2017 vs. the same period in 2016, bringing eight million visitors from around the globe. American arrivals soared 32 percent, while arrivals from China tripled, helping Morocco's GDP climb an impressive five percent.
HAWAII– The Hawaii Tourism Authority is granting $3.5m to local community tourism and conservation groups in 2018 to promote the Pacific Island state's cultural and natural heritage and set the islands up as leaders in sustainable tourism.
SOUTH AFRICA –The southern tip of the African continent is fast becoming a destination darling for adventurous and upscale American travelers alike, thanks in part to South Africa Tourism's campaign to attract five million additional visitors in the next five years.
BOLIVIA – With its new $150 million, 119-mile Tupiza-Atocha-Uyuni highway set to openin mid-2018 and connect the Eastern and Western ranges of the Bolivian Andes, travel to and from the country's famed salt flats will become more accessible.
OMAN – Rounding out its top 10 destinations for adventure in 2018 is the 'Switzerland' of the Middle East. Oman announced plans to extend tourist visas for up to one month vs. three weeks for 2018 and its government is working to support more women entrepreneurs in tourism.
A final 'honorable mention' for 2018 travel from the small-group tour operator is for The Baltic States of Estonia, Latvia and Lithuania, which are preparing to celebrate the 100th anniversary of independence from Bolshevik Russian rule.
For more information visit www.gadventures.com.