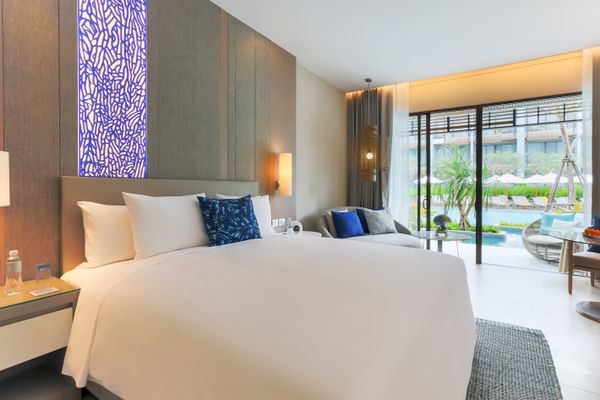 Ideally located in the tranquil Na Jomtien district in the coastal town of Pattaya, Thailand, the Renaissance Pattaya offers a modern aesthetic, sophisticated service and unique programming that reflect the Renaissance brand's signature approach to feed the curiosity, fuel the imagination and excite the senses of its guests. The thriving coastal town is renowned for its nightlife, but is also an oasis in the area of Jomtien that is becoming a firm favorite with couples and families.
"For today's business travelers, it is unexpected experiences that create social currency and interesting cocktail conversation," said Mike Fulkerson, Vice President, Brand and Marketing, Marriott International Asia Pacific. "We are thrilled to provide spontaneous discoverers with exciting opportunities for new, interesting and shareable experiences throughout their stay."
Inspired by the serene beach setting of Na Jomtien and the local fishing village that Pattaya once was, the design of the hotel is fresh, contemporary and playful with touches of the unexpected. Sophisticated use of wood, veneer and metal finishes in organic earthy tones, accented by marine shades of cobalt and gentian blue, brings the feeling of Na Jomtien beach to each space. The use of local Thai silk, cotton, chenille and jute adds a layer of local texture and complements the overall design scheme. Market leading interior design firm, P49 were behind the creative concepts at Renaissance Pattaya. The 257-room Renaissance Pattaya showcases stylish and vibrant interiors, with four room categories available, including chic Pool Villas and spacious Family Suites. Recreational facilities include two outdoor swimming pools, a kid's pool, kid's club, a 24-hour fitness center; and a luxury spa.
Recognizing the demand for fresh ingredients and inspiring culinary creations, the food and beverage outlets at Renaissance Pattaya offer a selection of popular and healthy choices. Guests can choose from all-day dining at 609 Kitchen, or fine cuts served alongside hand-crafted beverages at Pebbles Bar and Grill. Evenings at Renaissance, the bar's signature program at R-Bar introduces a new guest experience, as each day a different handcrafted cocktail will showcase local tropical ingredient from Lemongrass Mojitos to Coco Martinis. R-Bar creates a relaxing space in the lobby area, where guests can unwind and soak up the buzz of the resort whilst enjoying lite bites.
"I am excited to introduce the first Renaissance branded property in Pattaya. The new resort offers the ultimate retreat for guests looking for unexpected and local experiences; all within a stone's throw from the excitement and energy that Pattaya has to offer," said Saurabh Kukreja, General Manager, Renaissance Resort and Spa. "I look forward to creating a beyond-the-ordinary experience for our guests that will come alive throughout their stay with us."
With spaces that can accommodate meetings and events for up to 500 people, Renaissance Pattaya is well-poised to establishing itself as a premier destination for meetings and incentives in the region, offering something beyond the unexpected, R.E.N. Meetings will offer groups a non-traditional experience, rooted in creative sensory meeting design and custom-curated local Navigator excursions and networking events.