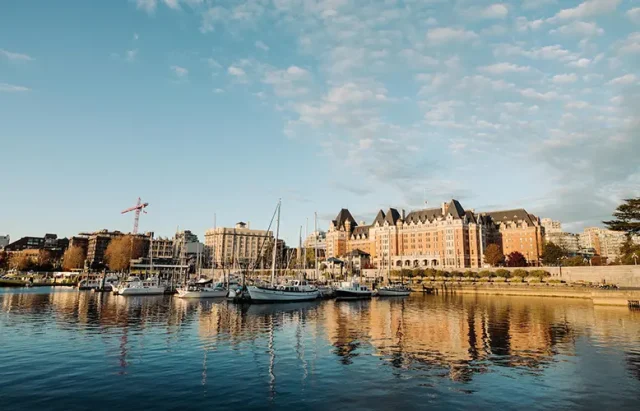 Victoria, the capital of Canada's west coast province (British Columbia), is located along the Salish Sea.
Whether you're into recreation, history, or nature, there are attractions in Victoria for everyone to enjoy no matter if you are travelling solo, with friends or family.
If you are planning to visit Victoria as part of a larger trip in North America you might want to consider Canada tours. Lots of trips are available where you can travel to see popular destinations like Victoria and other cities.
If you're planning a trip to Victoria in the near future, below are the top ten things you don't want to miss out on!
1) Victoria Harbour
Victoria Harbour is a must visit location on any itinerary and often described as one of the most beautiful harbours in the world.
Victoria Harbour is at the heart of the city and the spectacular views of the Parliament Buildings, the Empress Hotel and the boats and ocean make for amazing Instagram photos.
Whether you decide to walk through Victoria's Inner Harbour or take a horse-drawn carriage, you will love the street entertainment, the shops selling local crafts, and the pubs and restaurants. Tours of the provincial legislature are also available in the summer.
2) Butchart Gardens
This enormous flower garden features a children's carousel with hand-carved animals, restaurants, and boat tours, as the garden is located along the water. If you come in the summer, there is entertainment every night and firework displays on Saturday nights. In the winter, leading up to Christmas, an outdoor skating rink is available for use. If you happen to be here for a few days, look into one of the many hotels in downtown Victoria – preferably near the water. The nightlife in the area is simply fantastic for an evening excursion.
3) Victoria Bug Zoo
The Victoria Bug Zoo located in downtown Victoria is located just one block north of the Fairmont Empress Hotel. This is one of the attractions you won't see in your average Canada travel guide, but visit and get the opportunity to view creepy critters such as the praying mantis and the tarantula in a safe environment. It also features a millipede with 400 legs, which you are able to hold, and the biggest ant farm in Canada. This is definitely one of the most family friendly destinations on our list.
4) Royal BC Museum
At the Royal BC Museum, you can learn more about the history and culture of British Columbia. Options include viewing a model First Nations house and artistic works, stroll through the replica of a town from the 1890s-1900s, and view exhibits of plants, animals, and sea life native to British Columbia. The museum also has a huge IMAX theater and special exhibits throughout the year.
5) Whale Watching
Do you have a passion for wildlife? The oceans off the coast of Victoria are some of the most popular places to go whale watching in Canada. Some of North America's best whale watching tours leave from the downtown Victoria Harbour. You will be able to see whales, and possibly sea lions, porpoises, seals, and dolphins as well! Many of the boats have special equipment which will allow you to listen to the whales "talking" beneath the surface of the water. This really is one of the most magical experiences you can enjoy in Canada.
6) Shaw Centre for the Salish Sea
This is another top destination in Victoria for children located in the Sidney Pier Building on the waterfront in the Vancouver Island town of Sidney, near Victoria. This marine education centre features tons of aquariums containing types of marine life which reside in the Salish Sea, including starfish, jellyfish, and octopi. You can even touch some of the creatures! There is also the opportunity to take a ride on a simulated sea elevator.
7) Fishing
Do you enjoy fishing? Book a fun fishing adventure and get to escape the city and take in some spectacular scenery. You can go on a full or half-day fishing trip on a charter boat, leaving from Victoria Harbour. The surrounding waters are known for their abundance of Chinook salmon, and you will be provided with equipment and tour guides who will clean and pack your fish for you!
8) Golfing
If you have an interest in golf plan a visit to one of the two luxurious golf courses at Victoria's Bear Mountain, where you will also be able to enjoy delicious restaurants, spa treatments, and wineries. Victoria is also home to the Olympic View Golf Club, which world famous golfers like Tiger Woods has played at.
9) Cycling
If you love the great outdoors and exploring on two wheels Victoria offers a number of great cycling trails, from which you can view gorgeous scenery, farmlands, lakes, and the ocean. At the Victoria Inner Harbour Centre, you can rent various types of bikes for both kids and adults. If you're not into strenuous exercise, mopeds and motorcycles are also available for rental.
10) Kayaking
The Victoria Marine Adventure Centre, which is part of the Victoria Inner Harbour Centre, offers safe, guided kayaking tours just over two hours in length. You will be provided with all the necessary safety equipment and will have the option of choosing a single or tandem kayak. If you have never kayaked before, the guides offer instruction, and the tours follow the shoreline, so don't be afraid!
Plan Your Trip to Victoria
No matter if you are interested in a dream holiday to North America, or are planning a backpacking adventure or gap year in Canada, you have to visit Victoria and British Colombia.
This city is an all year round destination and perfect for a short city break or longer trip.
Hopefully our guide has given you some inspiration for the best places to go in Victoria, this city really is a special destination and very underrated compared to Toronto and Vancouver which get much more tourists.
Now go explore and discover the highlights for yourself.