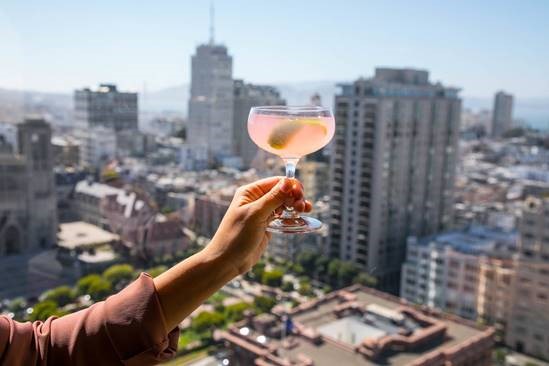 From high atop the 19th floor of the timelessly elegant InterContinental® Mark Hopkins San Francisco, the historic Top of the Mark has been enchanting locals and visitors for 82 years with its dazzling 360-degree views, sophisticated entertainment and fascinating traditions. The lounge reopened on Friday, June 4 (with a refreshed Signature Cocktail and appetizer menu), and early next month, the Top of the Mark will launch programming around a new partnership with Hanson of Sonoma Organic Vodka, including the introduction of a "Vodka Expressions" service – a Tableside cart tasting experience, where select organic vodkas from Hanson are paired with artisanal chocolates from Kollar Chocolates, and later in the summer, with caviar.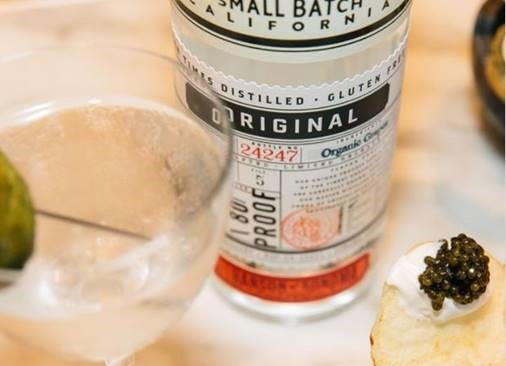 The curated Vodka Expressions service will launch on July 1, 2021. Patrons will be able to choose from a salty or sweet flight of Hanson Organic Vodkas, delivered via tableside cart. There are five flavors of Hanson Vodka – Original, Cucumber, Meyer Lemon, Mandarin, and Habanero – and each one lends itself to a special pairing flight. The indulgent sweet flight, available from early July on, is accented with delectable treats from Kollar Chocolates. Some of the sweet pairings will include Original with a Passion Fruit chocolate, Meyer Lemon with a Sunflower Seed Praline or Habanero with an Orange Grand Marnier chocolate. The salty flight (launching in August 2021) will include a choice of caviar pairings with house made potato chips, cucumber, or endive, all enriched with crème fraîche.
To enhance the indulgent experience that is Top of the Mark, a soundtrack of chic and Jazzy Lounge, some lighter Latin hints and touches of high-quality Electro Swing keep the space buzzing, vibrant, and a little sassy. Every Friday from 4:30 to 9:30PM, a DJ plays live to kick off the weekend. The new music styling is designed to appeal to both the local audience, and travelers from afar.
A new Signature Cocktails list is also on offer, and to complement these libations, appetizers such as Fennel Pollen and Orange Spiced nuts, Top of the Mark's famous Ranch House Fried Chips, and Harissa Spiced olives, are served. There are also more substantial menu items to choose from, such as Sonoma County Goat Cheese Fundido with Chorizo, Pickled Calabrian Chilies and Crostini; Tuna Tataki Tacos on a Fried Wonton Shell with Sriracha Aioli, Cilantro and Red Bell Pepper; or Short Rib Sliders with Anise and Apricot Glazed Short Ribs, Cilantro Jalapeno Slaw and Garlic Aioli.
The much-lauded Top of the Mark is both intimate and spectacular, with breathtaking panoramic views of San Francisco, the Golden Gate Bridge and the Pacific beyond. The Mark Hopkins' owner George D. Smith converted the 19th floor penthouse to a glass-walled cocktail lounge in 1939, and the aptly named Top of the Mark was an instant hit, with patrons flocking to enjoy a drink to immerse themselves in the glamour of the city, while gazing at the glittering lights of the Golden Gate Bridge International Exposition on Treasure Island.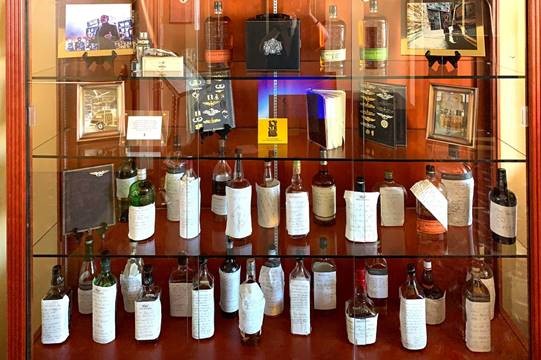 In 1941, when the United States entered World War II, Top of the Mark became a destination for Pacific-bound soldiers to have one last drink before shipping out, toasting the Golden Gate Bridge for luck. This led to traditions such as the "Squadron Bottle," where servicemen who came to the Top of the Mark would sometimes leave a bottle with the bartender for when they returned safely. Any member of their Squadron who came to the bar was welcome to sign his name to the bottle and drink for free. The only catch was that the one to take the last drink had to buy the next bottle. Even in present times, military personnel and veterans can enjoy a free "Squadron Shot."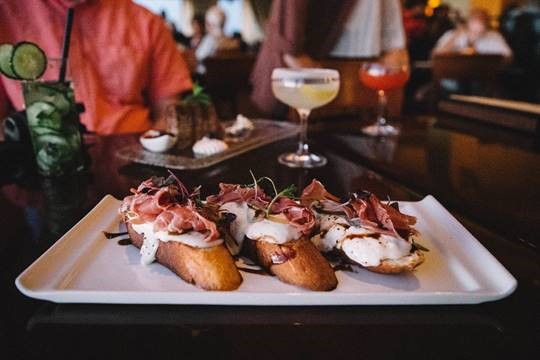 The Top of the Mark is open Tuesday through Saturday from 4:30 p.m. to 11:00 p.m. Appetizers are served from 4:30 p.m. to 9:30 p.m. Top of the Mark is located on the 19th floor of the InterContinental Mark Hopkins at 999 California Street at the crest of San Francisco's tony Nob Hill. Opened in 1939, the lounge has been a popular destination since, due to its wraparound views, sparkling entertainment, delicious bites and signature cocktails and libations. To both the people who reside in San Francisco, and to visitors from all over the world, Top of the Mark is much more than just a bar – it's a landmark, a tradition and an immersive and unforgettable experience.
For further information on Top of the Mark, please visit www.topofthemark.com.
To view a 360-DEGREE PHOTO of Top of the Mark, visit: https://bit.ly/3gWlWta
To take a 3D VIRTUAL TOUR of Top of the Mark: https://bit.ly/3hJk8nn