Are you a thrill-seeker always on the lookout for your next heart-pumping adventure? Look no further than scuba diving – whether you've already done it before or are looking to give it a try, exploring the underwater world can be an incredibly exciting experience. From swimming amidst massive sea turtles and huge schools of colorful fish to discovering wrecks steeped in history, here are the best scuba diving destinations around the globe sure to offer up nonstop thrills!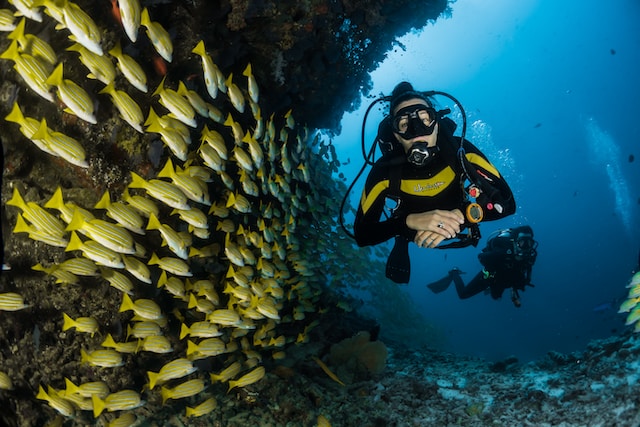 Cozumel, Mexico – Discover Hundreds of Species of Tropical Fish
Cozumel, Mexico is a true paradise for underwater explorers and marine life enthusiasts. With crystal-clear waters and an unparalleled array of tropical fish species, the thrill of Cozumel diving is simply breathtaking. As you dive into the deep blue, prepare to be amazed by the vibrant hues of fish swimming around you, including the majestic queen angelfish, the playful blue tang, and the striking French angelfish.
But that's just the beginning. Whether you're a seasoned scuba diver or a novice snorkeler, Cozumel has something for everyone. Get ready to discover an underwater world unlike any other. Remember to bring your camera to capture the sights and keep your eyes peeled for curious sea turtles cruising by!
The Maldives – Explore Some of the Clearest Waters in the World
Nestled in the Indian Ocean lies the breathtaking island nation of the Maldives. With its pristine beaches, turquoise waters, and an abundance of marine life, the Maldives is truly a paradise on Earth. It's no wonder that it's known for having some of the clearest waters in the world, making it a popular destination for snorkeling, diving, and water sports enthusiasts.
The Maldives is also home to luxurious resorts with overwater villas, providing the ultimate relaxation experience while indulging in stunning views of the ocean. Whether you're seeking adventure or just want to unwind and soak up the sun, the Maldives offers an unforgettable experience that will leave you yearning for more.
Keep in mind that the Maldives can be quite expensive, so make sure to plan ahead and budget accordingly. Now get out there and go explore!
Palau – Enjoy the Unique Underwater Ecosystems and Marine Life
Palau is a hidden gem in the Pacific Ocean, boasting unparalleled underwater ecosystems and marine life that must be seen to be believed. Home to over 1,300 species of fish, 700 species of coral, and an abundance of other aquatic creatures, Palau is a diver's paradise. But even if you're not into diving, you can still enjoy the beauty of Palau's emerald-green waters and the unique flora and fauna that thrive on its islands.
From giant clams to jellyfish-filled lakes, Palau's natural wonders will leave you in awe. So pack your bags and get ready to experience the beauty of Palau's underwater world. Additionally, Palau is known for its sustainability efforts, so you can feel good knowing that your visit supports the preservation of this remarkable destination.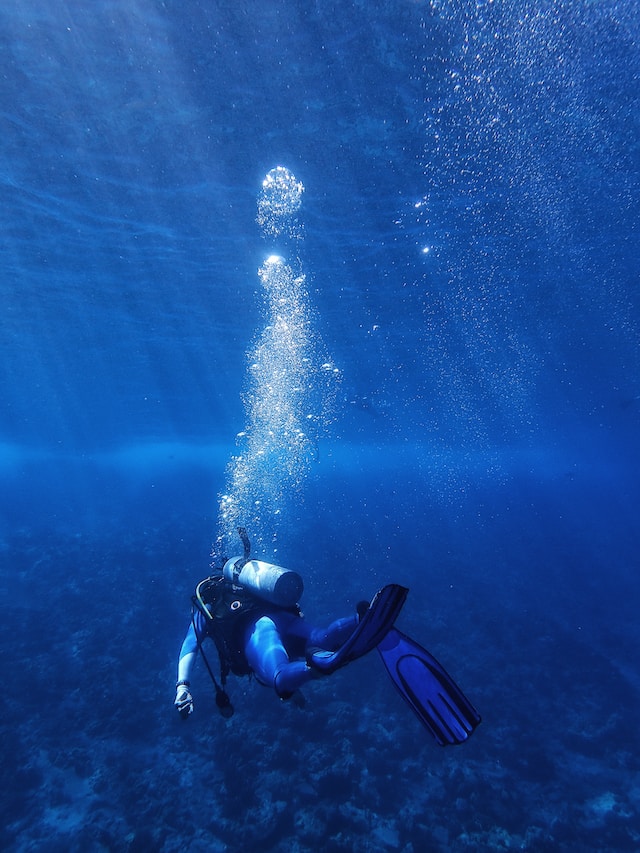 Bonaire – Experience an Unbelievable Variety of Reefs and Wrecks
Immerse yourself in the sparkling, crystal-clear waters of Bonaire, and experience an underwater world like no other. With over 80 marked dive sites, this Caribbean island offers a kaleidoscope of marine life, coral formations, and incredible shipwrecks to explore. From beginner to advanced, Bonaire offers diving experiences that cater to every level.
Discover the vibrant, multi-colored reef ecosystem filled with exotic fish, turtles, rays, and more. Or for the more adventurous, delve deeper into the eerie depths of a sunken shipwreck and uncover the secrets of Bonaire's fascinating maritime history. No matter how you choose to explore, with Bonaire's perfect year-round weather and crystal-clear waters, you are sure to have an unforgettable diving adventure.
In addition to its world-famous dive sites, Bonaire is also known for its eco-friendly resorts and sustainability initiatives, making it the perfect destination for those looking to explore while minimizing their impact on the environment. So what are you waiting for? Get ready to embark on a once-in-a-lifetime adventure in Bonaire!
Scuba diving for the thrill seeker provides incredible experiences that you can't get anywhere else. From the crystal-clear waters of the Maldives to the unique underwater ecosystems of Palau, there are endless opportunities for exploration and adventure. Cozumel, Mexico also offers some of the most vibrant and colorful marine life that you'll ever see.
Whether it's your first time or your fifth, scuba diving can be an unforgettable experience for anyone looking for a real rush of excitement. No matter where in the world you go, there is sure to be unparalleled beauty and discovery waiting below the surface. So why not take the plunge and make some amazing memories?