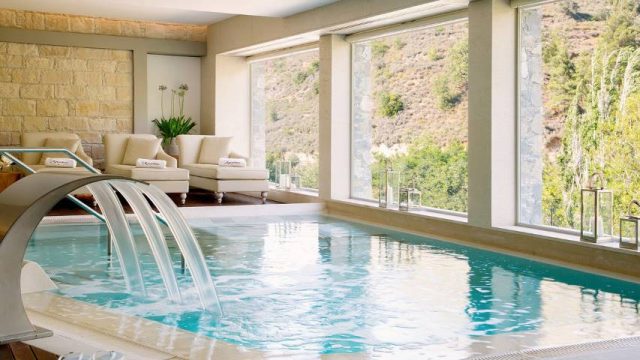 Double the wellness: Wellness for 2 at Preidhlof, Italy
Wellness for 2 at Preidlhof is a versatile and engaging programme that promotes new ways of being connected through a variety of sensory and interactive spa rituals. Relax, release and regenerate with your partner in the beautiful rural setting of South Tyrol. Share your journey to wellbeing and learn more about each other in the process. Spend precious time together on the ultimate couple's wellness retreat and leave with a stronger bond and happy memories to look back on.
Shape up in the Sun: Stay in Shape at Conrad Algarve, Portugal
Boost your fitness with this residential bootcamp holiday in Portugal, which combines intense exercise, nutritional monitoring, and spa body treatments to build your confidence and endurance. In addition to the inclusive treatments, you will also receive complimentary access to the gym, spa, and thermal areas, as well as group fitness activities. Return home empowered and ready to continue your wellness journey with the new knowledge and techniques that you have acquired.
Glow with health: Fitness & Wellness at La Palma Teneguia, Canary Islands
Enter into a world of tranquillity, vitality, and rejuvenation in the Canary Islands as La Palma Teneguia offers an incredible fitness and wellness holiday. Enjoy five rounds of the thermal circuit across your trip that includes a Finnish bio-sauna, Turkish Hammam bath and a stunning relaxation area; lie in a hammock enjoying picturesque views. You are also provided with personal treatments such as a full body massage, aromatherapy, and a hot stone massage to leave your body and spirit feeling on cloud nine.
Find serenity: Spa & Wellness Pamper at Casale Panayiotis, Cyprus
Find ultimate relaxation as the expert therapists guide you through heavenly treatments at Casale Panayiotis. Carved into the dramatic slopes of the Troodos mountains, overhanging a rippling stream, be bathed in Mediterranean light, and surrounded by orchards. The Spa philosophy intertwines modern technology with ancient practices and natural resources. Succumb to a Rasul experience with Dead Sea Mud or choose from a comprehensive range of treatments to rejuvenate the skin and body which will leave you feeling refreshed and emotionally balanced.
Refresh your body & fuel your soul: Ayurveda Detox at Vilnius Grand Resort, Lithuania
This is the ultimate detoxification retreat, using the traditional Eastern medicinal system of Ayurveda, this comprehensive experience blends a health-focused meal plan with a myriad of Ayurvedic treatments to relax the body and assist in removing any unwanted pollutants. Start every day with a nutritious Ayurvedic smoothie leading to mindful Yoga, Shirodhara, a full body Abhyanga massage and an Udvartana immersive herbal scrub massage. Leave feeling reinvigorated and equipped to live a happier and healthier life.