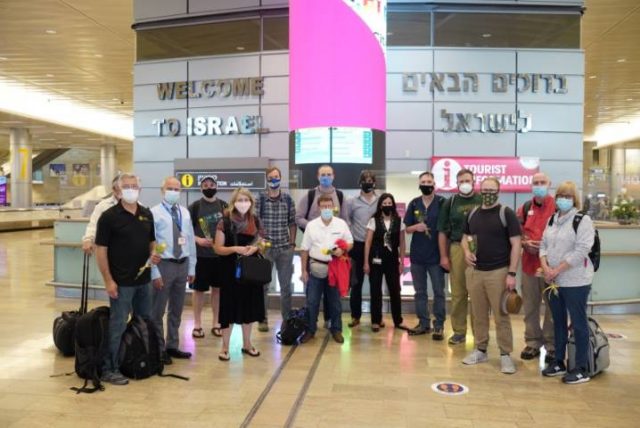 The Israel Ministry of Tourism (IMOT) has announced that the first international tourist group to enter Israel in over a year, departed Newark Airport on United Flight 090 yesterday evening and landed in Tel Aviv at 4:20PM GMT+3 / 9:20AM ET. Upon the flight's arrival Israel's Minister of Tourism, Orit Farkash-Hacohen, greeted the group in celebration, kicking off the official return of international tourism to the country.
"Today marks the start of a new "post-COVID" era. You are the first organized tourist group to visit Israel in over a year, since in March 2020 Israel shut its doors to tourists, and I am very pleased to be here with you on this momentous occasion, said Farkash-Hacohen. "Israel has overcome COVID, after being the world's leading country to vaccinate its population, and we are back to normal—restaurants, hotels, concerts, markets, national parks, and sporting venues—everything is now safely open. You are the first of what I am sure will be many tourists and we are all excited to have you here!"
This first group of tourists consists of 11 American theological students from Concordia Seminary in St. Louis, Missouri, escorted by their professor. The group's arrival marks the official start of the country's pilot program and over the next few days and weeks, 19 additional groups from around the world will arrive in Israel. The plan is to increase the number of groups allowed into the country and soon reopen to individual international tourists over the summer.
"We are eagerly looking forward to the return of international travel for Canadians as we continue to make strides in our own vaccination rates," said Gal Hana, Israel's Director of Tourism for Canada. "The reopening pilot program that kicked off last night with the first flight out of the U.S. just now arriving in Tel Aviv is only the beginning. I know firsthand that in Canada, we are eagerly awaiting the green light so travel to Israel can resume again!"
In the interest of avoiding the spread of COVID-19, all visitors arriving in Israel must be fully vaccinated, have taken a PCR test that proved a negative result, and will be tested for antibodies upon arrival.
"This is just the beginning of the long-awaited return of tourism to Israel – we plan to continue rolling out next steps and advancements in our phased approach over the coming weeks," said Eyal Carlin, Israel's Commissioner of Tourism in North America. "Israelis are ecstatic and are ready, with open arms, to welcome international visitors back to the country."