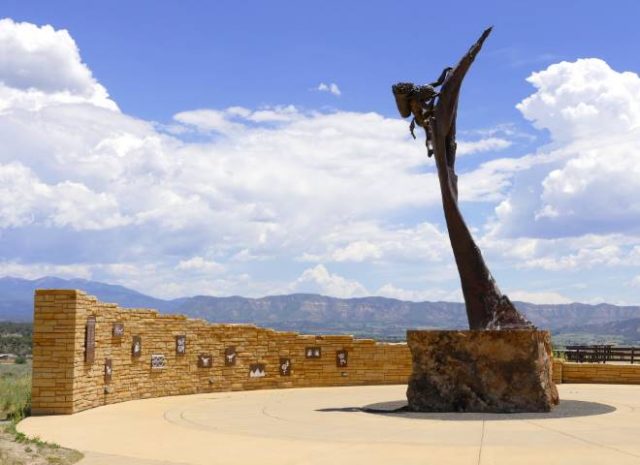 Have you ever had the good fortune of traveling to a destination where you have family or friends living? If so, you understand the power of that insider knowledge to transform an ordinary getaway into an extraordinary experience. Mesa Verde Country in southwest Colorado is offering local tips for planning a trip, courtesy of the friendly staff at the Colorado Welcome Center.
Check out their suggestions below. If you want more or have other questions for your vacation, be sure to stop by the Welcome Center at 928 E. Main St. in Cortez so they can customize recommendations specific to your needs.
Favorite Place to Take Visiting Friends & Family
"Mesa Verde National Park." Renee
"Canyons of the Ancients Visitor Center in Dolores." Jeanine
"Road drive to Groundhog Reservoir near Dolores." John
Favorite "Can't-Miss Activity" for First-time Visitors
"The San Juan Skyway, especially in the fall!" Kristina
"Mesa Verde National Park." Rod
"Hovenweep National Monument." Anna
Favorite Outdoor Activity
"I love to go walking at Summit Lake in Mancos." Renee
"Dolores River for fishing or camping." Kristina
"Any trail in Boggy Draw trail system in Dolores." Deanna
"Downhill or cross-country skiing such a feeling of freedom!" Melanee
"Watching the car races at Montezuma Speedway in Cortez." Uarda
Favorite Hiking Trails
"Bear Creek Trail near Dolores. It's a gorgeous area that has great riverside picnic areas. The trail is not very difficult and there is lots to see." Kristina
"I love Bear Creek because of the beauty of the aspens on the way up, and then the wonderful view from the top." Anna
"I would say Sand Canyon. There are so many surprises!" Ron "And because of the proximity to the cliff dwellings." Patti
"Hawkins Preserve in Cortez because of the close proximity to archaeological ruins." John
Favorite View
"Viewing the valley on the drive from Dolores to Cortez." Loretta
"Cliff Palace from the overlook and Look Out Point at Mesa Verde National Park. It is so awe inspiring!" Patti
"Spruce Tree House overlook at Mesa Verde National Park." John
"Ute Mountain." Renee
Favorite Cup of Coffee
Pippo's Café (100 W Main St., Cortez) "Talk about a blast-from-the-past kind of coffee shop!" Kristina
Silver Bean (410 W Main St., Cortez) Renee
Favorite Restaurant
Destination Grill (2121 E Main St., Cortez)
Once Upon a Sandwich (7 W Main St., Cortez)
Tequila's Mexican Restaurant (1740 E Main St., Cortez)
Thai Cortez (1430 E Main St., Cortez)
The Farm Bistro (34 W Main St., Cortez)
For more information on planning a trip to Mesa Verde Country, visit www.mesaverdecountry.com.